RELEASED: 28th February 2013
The Saga of the Footballers Awards ceremony Continues!
Cocky Ben has behaved very badly! He spiked 18 year old Karl's drink with Viagra and then locked him in the toilets! Karl could not find a way out and was trapped in there all night long! His parents were frantic with worry and called the police!
So Ben has been brought to justice! He was sent to see Mr X (the local community spanker) for punishment! Ben thinks he is a tough guy and reckons a spanking is a small price to pay for the fun of the previous night! He is already over Mr X's knee awaiting his punishment when Mr X introduces the surprise guest. He has brought along Karl to watch Ben receive his punishment!
Ben can't bear it! The humiliation is too much! But he realises he has no choice!
So once again, Ben drapes himself over Mr X's knee to receive his punishment! Ben really struggles and can't stand the fact that Karl is standing there watching and laughing!
Things then take a very interesting turn when Mr X receives a phone call and has to leave the room. Lets just say that Ben soon wipes the smile off Karl's face!!!

""""""More from Mr X! This was a very interesting shoot indeed! It was certainly Ben's toughest spanking to date. This was actually shot just before his birthday spanking. The truth is Ben is in real life a shy guy. He really struggles with the pain of spanking and having Karl there watching was a real issue for him! All adds up to a great movie!"""""""
STREAM
VIDEO
Available streams for iPad, iPhone, Android, Chrome, Safari, IE or Firefox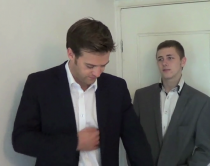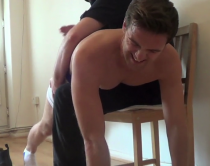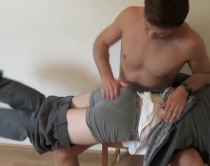 NovaDad
|
Voted Video 9/10
| 1st March 13:27
Wow! This is great!! Ben doesn't hold back when Karl is over his knees. (And, of course, Mr.X rarely ever holds back ).

From the preview following the end of this clip, it appears that Ben gets it back double in Part_Two; so as good as Part_One is, I'm looking forward to Part_Two even more! I hope I don't have to wait too long.


Mr X
|
Not voted video yet
| 1st March 15:34
Hey NovaDad! I reckon you are simply going to love Part 2! Ben does suffer the ultimate humiliation! Part Two will be released soon! :)

wardcoleman
|
Voted Video 9/10
| 1st March 15:51
Excellent! :-) Great performances by all the cast. I am really looking forward to part 2

newspank
|
Voted Video 10/10
| 2nd March 02:01
Great video with cliffhanger ending! Looking forward to part 2 - great work Mr X!

Mr X
|
Not voted video yet
| 2nd March 14:54
The gasp at the end of this movie from Mr X really makes me smile1 :)

Mr X
|
Not voted video yet
| 2nd March 15:19
Part Two is such fun! (and very nearly never happened)! Can't wait for you all to see it! :)

wardcoleman
|
Voted Video 9/10
| 3rd March 12:05
We can't wait to see it either!! LOL!!!

cami
|
Voted Video 10/10
| 3rd March 18:53
Omg, when Mr.X came throw that door i said oh shit... & when it ended i said come onnnnnnnnn .. lol can't wait until pt 2..

Rasputin
|
Voted Video 8/10
| 6th March 22:05
Pretty good, but I'm really looking forward to seeing what happens in Part 2.

loverx101
|
Voted Video 10/10
| 12th March 14:44
as an american girl I say we take all the British guys and you can have our american..because guys like Ben do not exsist over here and that saddens me haha

Mr X
|
Not voted video yet
| 12th March 15:06
hahaha! You may have a fight on your hands! I don't think the Brits will give up their guys that easily! :)