RELEASED: 9th August 2019
Bobby & Blake
Locker Room Bully
Part Two
Just the other week we saw Blake, himself no stranger to a good spanking over Coach's knee, taking advantage of young team-mate Bobby's embarrassment after catching him with his hand down his shorts in the changing rooms!
With the aid of his phone, he was quick to capture this incriminating scene for posterity.... and to use to blackmail the young lad! Take a spanking like the ones Coach dishes out, or the rest of the team get to see the picture!
But this bully wasn't going to let it go at that. At the end of that movie, we saw him warning Bobby that he wanted him to hand over his lunch money the next day, or he'd be for it!
As we pick up the story at the start of the latest male corporal punishment video from Straight Lads Spanked, it's the next day and Blake is pouncing on Bobby to demand the cash.... but since his mum makes him sandwiches for lunch, Bobby doesn't have any! Almost as if he had been anticipating that very result, Blake whips a leather tawse from his pocket and tells the younger lad that if he doesn't have any money, he will have to assume the position instead and count out 12 strokes!
Bobby has no choice but to brace himself in the doorway and let Blake whack his bottom with the tawse. But if he thought that was going to be the end of it, Blake wastes no time showing him that he was wrong! "You know it goes in threes," he tells Bobby. "Do what you've got to do and I won't send the picture out."
Bobby reluctantly takes off his tracksuit trousers and braces himself again, sticking his bottom out for Blake to direct 12 more whacks across the seat of his tight grey underpants, which again the lad is made to count out.
"Are we done now?" asks Bobby, more than a little optimistically. "No! It goes in threes!" replies his tormentor. "I'm not pulling my pants down, Blake," says the younger lad. "That's fine," says Blake...."because I'll do it!" And so saying, he grabs hold of Bobby's pants and tugs them right down to his ankles!
Poor Bobby then has to endure another dozen hard whacks with the tawse across his bare bottom, with Blake sniggering all the while!
But even when he has had three dozen whacks with the tawse, this poor lad's ordeal isn't over. Blake throws down the strap, sits down on a bench and hauls Bobby over his knee to give him a hard spanking with his hand on the younger lad's already very sore red bottom! "This bit's just for me!" laughs the bully-boy as he rains down a torrent of hard smacks with gusto.
But as we all know, injustice never goes unpunished in the world of SLS.... and who should appear on the scene but Coach! And he is none too pleased to find Bobby over Blake's knee getting his bare bottom smacked!
Whatever will happen next? Will Coach send Blake a strongly worded letter? Will Blake be made to launder the team's kit for the next month? Will the bully be told to apologise and no more will be said on the matter? Stay tuned to find out!
STREAM
VIDEO
Available streams for iPad, iPhone, Android, Chrome, Safari, IE or Firefox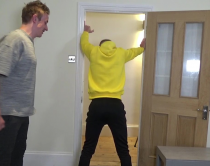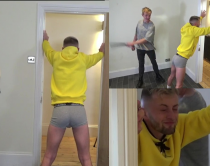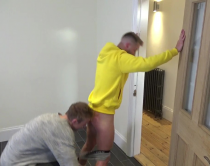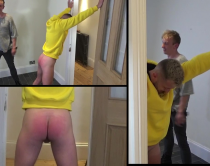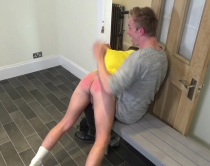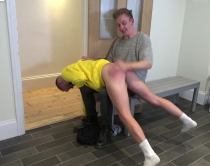 LoveGood | 23rd November 2019 21:21
When will we get the next entry in this story? Seems like it's leading to another part but it's been months now and still nothing :(
Reply

Daddy_David | 15th August 2019 10:07
I realize of course the next part has already been done, but something to consider when doing a scenario like this is that poor Bobby has done something wrong too and needs to be punished by the proper authority figure. Blake's spankings don't count. Coach needs to spank both of them. And tell their dads.
Reply

newspank | 12th August 2019 13:18
What a great lpairing these two are becoming. Blake is tremendous in the dominant role so more of that please!
Reply

tinhead | 10th August 2019 10:18
Blake is a superstar and Bobby is gorgeous. These two are fast becoming favourites!
Reply

LoveGood | 10th August 2019 06:37
Loved this, Blake's really getting into his role here! And Bobby still looks great, with his perfect spankable ass. Blake's cockiness I hope leads to a severe and painful thrashing that has him kicking and squirming (where the spanking hurts so much they instinctively put their hands up to protect their bottoms and get them pinned behind their backs). Also, that classic bit at the end was hilarious!
Reply

banjoboy | 9th August 2019 20:05
Loving how Blake's cocky attitude is growing and Bobby as expected continues to be a superstar
Reply