RELEASED: 19th July 2019
Bobby & Blake
Locker Room Bully
Young Bobby is feeling randy and takes advantage of an empty locker room to 'take care' of things whilst the older team are on the pitch playing football.
Bobby settles back and uses his phone to find some suitable 'entertainment' to fuel his base desires!
Just as he is warming up, with his hand in his boxer shorts, vigorously stimulating something, he is abruptly interrupted as Blake walks in!
Blake has been sent off early and catches Bobby in the act. Not only that, he has some photo evidence to use as blackmail!
Blake decides to use the power and have some fun with young Bobby.
Bobby is given a choice, take a spanking or the rest od the team finds out!
Poor Bobby is in the unfortunate position of having to get over this older lads knee for a painful spanking!
Blake takes a lot of delight of replicating the type of spanking the coach would dish out. Bobby soon finds out that Blake is serious as he takes him through the stages.
Stage One - Spanked over his shorts
Stage Two - Spanked over his underwear
Stage Three - Bare Bottom Spanking!
STREAM
VIDEO
Available streams for iPad, iPhone, Android, Chrome, Safari, IE or Firefox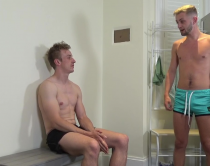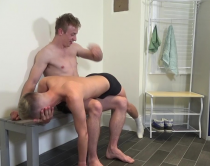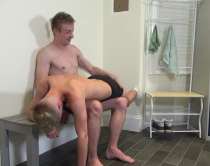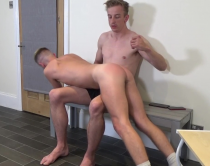 tinhead | 25th August 2019 00:51
Dave, I just watched this again and had to log on just to praise it again! Blake is mesmerising. Wearing just his shorts, you can watch his body and cocky face as he lays into Bobby. His bully-ish and mocking attitude is stunning. As for Bobby - his cute arse and reactions to the spanking make my day. But A* for Blake - he is terrific!
Reply

tinhead | 24th July 2019 10:42
OMG this is brilliant and Blake is an emerging spanker star!
Reply

blakeirl | 20th July 2019 23:58
Reply

mstr_spkr | 19th July 2019 17:30
Great video. Blake seemed to enjoy himself as a spanker and he did a decent job. Bobby, as always, took it well. If there is some turnaround, I hope Bobby is as good a spanker as Blake. I can't wait for episode 2 of this saga!

So does Bobby's dad spank Blake for Blake having spanked his son or does Coach spank Blake for usurping his authority (or maybe both?) OR, does Bobby get some revenge because Blake left his (unlocked?) phone in the locker room and he finds something incriminating for turnaround blackmail? Perhaps all three?

I'm glad Blake has stayed on after his initial fiasco. He is a very good guy to have around, both as spanker and spankee. And, as banjoboy said, "Bobby is a superstar!"
Reply

banjoboy | 19th July 2019 14:53
Bobby is a superstar!
Reply