RELEASED: 3rd July 2013
Brother In Charge
Part One
Andy & Patrick
"Warning! - This Movie May Break Your Heart!"
Andy and his brothers are going through some tough times. Suddenly finding themselves without parents. Andy has had no choice but to take over the role of Dad and try and keep the family together.
Younger brother Patrick is not making it easy and gets arrested for selling gear!
It just happens that Andy went to school with the Police Officer that arrested Patrick and begs the officer to bring Patrick home for Andy to deal with.
Andy is so upset with Patrick he can barely look at him. Patrick is shamed and sorry. Andy lectures the young man whilst trying to work out how to deal with him. Eventually he asks Patrick, "What would Dad do if he was here" - Patrick angrily replies, "But he is not here, that's the thing, it's just you!!!"
Andy is trying to stay strong despite his own grief and the love he has for his brother. Eventually he works out what has to be done and drags Patrick over his knee and spanks him hard, exactly like Dad used to dish out.
STREAM
VIDEO
Available streams for iPad, iPhone, Android, Chrome, Safari, IE or Firefox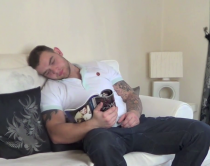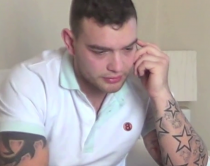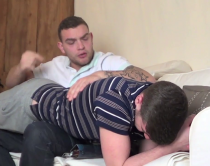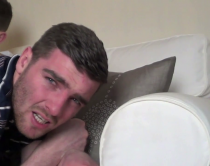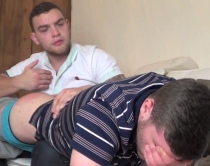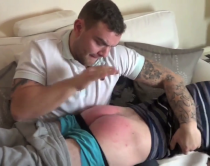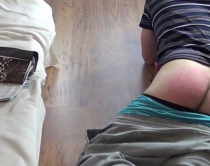 lorilee
|
Voted Video 10/10
| 4th July 11:13
Andy was Awesome as always, Almost broke my heart watching him going through his plight to do something with Patrick, Got to hand it to Patrick he is getting better all the time and to let his brother spank him says a lot about him. I will be looking foreword to part two. Art great job and Dave you are one to reckon with keep it up.

cami
|
Voted Video 10/10
| 4th July 12:00
O M G , yep your right dave. I was sorry for andy but i would of spanked the hell out patrick & hard too. This time your not my patrick. lol. Yes andy i hope your not done with patrick cuz he did not lean anything from that spanking. The movie was out of this world it was well done & acting was unbelievable i truly felt sorry for andy & i wanted to knock the crap out of patrick & he is 1 of my fav guys on here.. i sure hope andy is not done with patrick.. AWESOME movie & Art you did amazing job bring this movie to life with the camera shots.. 1 for Andy . 1 for Art & 0 for Patrick.. lol .

cami
|
Voted Video 10/10
| 4th July 12:01
& Mr.X you out did yourself again. with these story lines for these movies..

tlaser
|
Not voted video yet
| 4th July 12:46
great story! oh man, Patrick is insanely attractive, and those eyes... wow.

welshboy
|
Voted Video 10/10
| 4th July 14:03
The editing and the filming of this story was first rate. As was the acting of both brothers, looks like it came from the heart I loved this story and both Andy and Patrick told it well. Andy is a very good spanker and as the spankie Patrick's bum turned a nice shade of red, loved the blue underwear Patrick. Dave it looks like this story is going to be a winner, I can not wait for the next one.

Art
|
Not voted video yet
| 4th July 18:09
Thanks lorilee and cami. You make working on the videos a pleasure because you always say such nice things.

regina
|
Voted Video 10/10
| 5th July 01:48
GREAT MOVIE AND STORY LINE. Both guy did great job acting, I actually feel bad for both of the guy one for Andy having to deal out the punish something a older brother should never have to do. Patrick learn how to not get caught next time!:) or move to US where they are try to Legalistic WEED there will be a lot of happy American(I'll be one if them)!

Art you as always make those movie a masterpiece and thanks for jump on board an helping Dave.

gkk1952
|
Not voted video yet
| 6th July 18:11
Very nice story

Art
|
Not voted video yet
| 6th July 19:40
Wow - thanks, regina. That's an awesome thing to say. I'm glad to be on board. :-)

matt
|
Voted Video 9/10
| 8th July 18:11
This is a fantastic video. The acting is really strong and completely believable. Andy is just great; a natural actor and a super sexy guy. And Patrick seems to get hotter with each shoot. Maybe it's because he's more relaxed, or maybe he's been working out, or maybe a new haircut? Or all of the above? Anyway, he's turned into quite the sexy leading man. Which brings me to the spanking; EXCELLENT. I love seeing Patrick in those shorts with his long, sexy legs, squirming around over Andy's lap. Not sure why but his outfit is particularly hot in this clip. And the tight blue briefs are great, as, of course, is the bare bottom, final round. Great clip; convincing story, hot boys, and a super hot OTK spanking.

Aimee1234
|
Voted Video 10/10
| 30th April 17:12
Fantastic movie. This has just tipped the scale for me I think I've fallen in love with Andy a bit. lol. Well done Art & Dave also. What a site this is :)

Dave - Straight Lads Spanked
|
Voted Video 10/10
| 1st May 15:46
Wow! I've only just realised I have not responded to any of the comments on here. I'm so glad you all enjoyed it. It is still definitely one of my favourite SLS movies so far. The acting between the brothers was incredible. The scene where Andy collapses by the front door always brings a tear to my eye. The grief on his face is simply amazing. There is so much real life personal detail I can't go into fully about the Lee brothers. However, what I can say is that there are some elements of this story that are 100% true to home and I really think this contributed to Andy and Patrick's raw emotion.

Oh and yes, I will also agree that Patrick looked really great in this movie too!

uchikimatsu
|
Voted Video 10/10
| 1st May 19:02
If a niche this specific can get any more specialized, I'll say that within the whole spanking/discipline world, Big Brother scenarios, especially those involving care and concern rather than just anger (yeah, its a girl thing) is my absolute favorite thing to see in the history of EVER. To see a story taken directly from my head repertoire and brought to the screen was thrilling. I've seen it tried before, of course, but to see it on film with REAL LIFE BROTHERS that can actually act and obviously have dedication to the work and desire to see a quality end product was almost surreal! And, no one could do it like SLS anyway, even if Andy and Patrick weren't brothers. Everyone outdid themselves with this one. Dave, Art, Andy, and Patrick… kudos to you all. This is a very special movie.

There was so much to like about this film so I'll try not to reiterate what was already said here.

Details I loved: the gorgeous shot where we see Andy on the stairs and Patrick in the sitting room through the mirror both alone in their misery, Patrick's flawless trip over Andy's knee, Patrick doesn't deny or protest about "what Dad would do," only laments that he isn't there, Patrick does a great job of looking sorry for what he's done, Andy does a great job of looking both exasperated and determined, the way Andy rolls his eyes and whacks Patrick a few times on his side and back when he says stupid things, Patrick looks believably close to tears

Details I loved not so much: Andy throwing Patrick on the floor


Dave - Straight Lads Spanked
|
Not voted video yet
| 2nd May 04:34
Funnily enough you are not the only person to talk about the ending with Andy throwing Patrick on the floor. People have suggested that it would have been nice for Andy to show more sympathy or care to Patrick after the spanking. This was something I really struggled with during the production. The simple truth is that in that situation I don't think Andy was ready for that. He was still really angry with Patrick. Both lads needed time alone to reflect on everything... However, if it helps I can tell you what I believe would have happened afterwards. Probably about an hour later Andy would have walked back into the room and simply asked Patrick if he was ok. Patrick would have said yes and apologised again and Andy would have said, "don't worry Patrick, it's sorted now, are you coming to the gym?" and things would just have gone back to normal!

uchikimatsu
|
Voted Video 10/10
| 2nd May 06:31
No worries, Dave! Not a make it or break it detail. Just figured you'd want as much info as possible about what the fans like or don't. The more viewers that participate and engage in sharing will just make everything better all around.
I know it's fiction so i'm not losing sleep, but in my head canon I justify that move by knowing that Andy is too young for the responsibility of disciplining his brother so doesn't have the calm, pragmatic approach that Dad might have used in meting out Patrick's punishment.

Dave u owe me a box of tissues first for when Andy left the room before he spanked Patrick and again with the sad music on the end credits. Patrick was a little shit and deserved what he got and more you could see that poor Andy was very emotional and concerned for his little brother , now i know i said Patrick deserved it but i didn't like the ending just dumping on the floor like that they should have talked a bit more and shook hands at least [i would prefer a hug but i don't think they're huggers].

red1967
|
Voted Video 10/10
| 24th October 17:16
Loved this movie Andy and Patrick are my favourit I have watched this a few times and could watch it 100 times more lol very sad story. well written Thank you Dave love the editing Art well done and Andy and Patrick grate job