RELEASED: 6th September 2019
Callum
A Noise Annoys Dad
Fans' favourite Callum makes a welcome return to the Straight Lads Spanked fold in the studio's latest male corporal punishment movie release.

Sadly, it seems that he has not learned to behave himself in the intervening couple of years. When the story begins, we learn that he has come home at 3.30am the previous night, when his curfew was midnight.

Worse still, he has disturbed his parents' sleep by crashing around without a thought for anyone else in the house, and talking loudly - not to mention inappropriately - on the phone to his girlfriend. It's safe to say that Dad is fizzing mad!

"What did I tell you would happen if you did this again?" Dad asks the visibly nervous lad. "I'd be in big trouble," replies Callum. And he's not wrong....

Dad hauls Callum over his knee and begins to administer a sound spanking to the seat of his black shorts. Callum says he is sorry and promises that it will never happen again, but Dad is grumpy after having had his sleep disturbed, and he is not about to go easy on the young man who was responsible for it!

Callum is ordered to remove his jumper and pull down his shorts, and in an instant he finds himself back over his father's knee in just a little pair of tight white pants that offer precious little in the way of protection from Dad's relentless right hand.

In case any clarification was still required, Dad - tugging the lad's ear as he does so - spells out how he likes his mornings to go: a relaxed breakfast; listen to the news.... "I don't want to be putting my 23-year-old son over my knee and spanking his bottom!"

Back on his feet, Callum is told in no uncertain terms that his ordeal is not over yet. "Get your pants down," Dad tells him. But Callum's bottom is already very sore, and he is reluctant. Dad tells him again, but still he hesitates.... so Dad takes matters into his own hands, reaches out and pulls down the lad's pants himself.

Not for the first time, Callum finds himself over his father's knee with his pants around his knees, while Dad gives him a spanking to remember, on his now bare bottom!

After a spell in the corner with his pants still down and his hands on his head, to reflect on his behaviour, Callum is a very sore and sorry young man with a hot red bottom and a curfew brought forward to 6pm for the next week.

But he is nothing if not practical. "Are you still going to cook my tea tonight, Dad?" he asks, when he can finally speak. Bless!
STREAM
VIDEO
Available streams for iPad, iPhone, Android, Chrome, Safari, IE or Firefox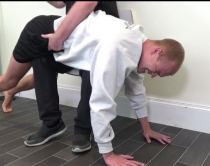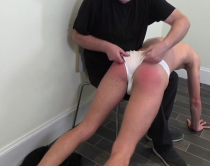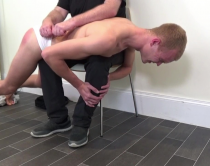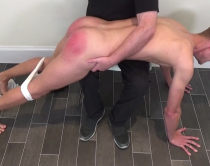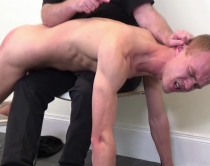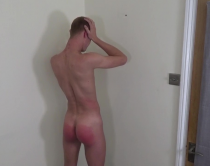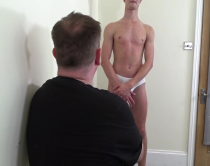 manlyspank | 29th April 2020 19:46
Why do you ALWAYS have to mention MOTHER in your spanking vids, Lose my arousal every time your vids mention MOTHER and its done alot!! There in general, is waaaaaaay to much talking in the vids and not enough BARE BOTTOM SPANKING!!

Dave - Straight Lads Spanked | 4th May 2020 16:52 (91 weeks ago)
Hey, thanks for the feedback. I'm really sorry to hear about your 'Mother' issues & I hope you find a studio which provides videos that manage to maintain your arousal.
Reply

Lee | 6th September 2019 23:39
Callum is marvellous. Beautiful body too!

| 26th October 2019 03:15 (118 weeks ago)
Reply

LucienG | 7th September 2019 13:02
Great to have Callum back! Callum is a beautiful young man with a lovely bum. Enjoyed seeing him get spanked. His acting was amazing! Dad, of course thoroughly roasted his bottom. I hate hearing anything about the never seen mum--one can't have everything, right? Thanks to Art for his editing to put this good spanking all together!

Art | 10th September 2019 18:39 (125 weeks ago)
Always great to get a mention. Thanks LucienG
Reply

Paddleboy | 8th September 2019 06:48
Great to have Calllum back wasn't he a naughty boy and deserved that hand spanking from his dad . Dave brilliant movie
Reply

newspank | 6th September 2019 19:25
Welcome back Callum. Must be a couple of years since we last saw you with the SLS family. Still looking fab.
Reply