RELEASED: 17th November 2016
Callum
Pays For His Debts - Part Four
Wait Till Your Father Gets Home
The saga of Callum and his unpaid debts continues. In this story we see Callum making no effort to get to work and earn the money that he owes his parents. In fact, has father actually catches him lying about going to work.
So this means there will be more punishment.
But Dad has to go to work. Which means Callum has a long, tense wait, knowing what is in store for him.
Dad is very angry and orders Callum to lay on the bed. The young lad gets into position knowing that his bottom is about to be thrashed with Dad's belt! Ouch!
Dad really lays into Callum for a long time with the belt lashing the young lads bare bottom over and over!
STREAM
VIDEO
Available streams for iPad, iPhone, Android, Chrome, Safari, IE or Firefox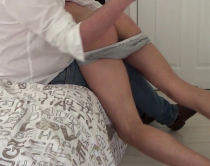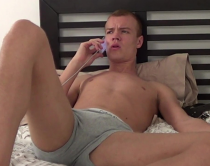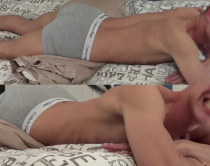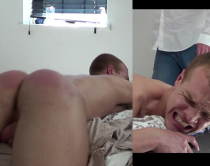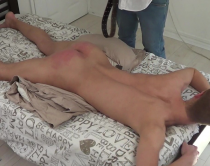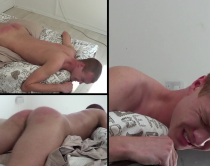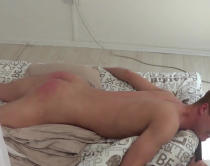 Uchikimatsu | 7th April 2017 02:15
Dave! You used my little idea for an ending in this film! I was so delighted and happy to see it brought to life on film! It was executed so perfectly and exactly how I imagined it would play out. Thank you so much for always keeping an ear to the ground and for making the members feel like part of the process and not just distant observers.

Dave - Straight Lads Spanked | 7th April 2017 20:44 (58 weeks ago)
Oh you are very welcome. I'm glad you liked it! :)
Reply

jacko | 23rd January 2017 08:51
A a dramatic depiction of a violent confrontation between a father, driven by exasperation and his son, driven by self-interest, this movie was extremely well-done. Callum's acting and pain tolerance were exceptional. As indicated by other comments, Callum's portrayal of a self-centred, disrespectful, lazy brat was convincing and true-to-life. The interaction between the two actors was highlighted with believable dialogue which was both fluent and appropriate. Callum's facial expressions were so realistic and emotionally charged that I would strongly suggest to Dad that he sleep with his bedroom door locked at night and remove all knives from the kitchen drawers.

The storyline depicted by this aggressive movie is unfortunately reminiscent of days gone by when parenting skills in many families were sadly lacking with the exception of the ability of many fathers to belt a son into submission. It is obvious in this episode and those depicted in earlier movies in the series that the lad needs psychological counselling and the father needs a course in anger management. It is not surprising that Callum's reaction to the negative, derisive, disrespectful comments of the father was equally negative and disrespectful. I cannot imagine that after Callum's beating he would be approaching the family meeting in a positive frame of mind.

Not a movie that I would watch for light entertainment but one that so clearly demonstrated why violent corporal punishment and abusive language are not as prevalent today.

Very well done! The empathy I felt for both the father and his son was the result of excellent acting, directing, editing and production. Although the storyline of this movie was similar to most of the other "wait til your father gets home" movies it definitely stood apart.

My comments here are made after watching the entire series although I found this particular movie to be the most thought-provoking.
Reply

Ooleary | 23rd November 2016 11:51
Watching it again this morning, i love Callum another lad who has really taken on the acting the conversation with Dad , the conversations on the phone,the bratty behaviour, the feeling sorry for himself saying nobody on his side etc.I loved the slap to the face and the extra spanks when he threw the belt at Dad .

Dad was excellent here too , i loved the line about Namby Pamby energy lol at that line .Callum and Dad really acted well together but I think Dad could have spanked him a little harder he seriously was Bratty esp at the end when Dad was saying about sitting down as a family and helping him what an ungrateful little tosser.

Any interviews with Callum ☺☺☺
Reply

wardcoleman | 20th November 2016 16:44
You are SO RIGHT Ooleary WHAT A BRAT he is, and what a well deserved spanking!
Reply

Ooleary | 18th November 2016 01:58
Omg what a BRAT....you didn't belt him half hard enough. ..BRAT BRAT BRAT.
Comment more later after I've watched it a few more times 😆
Reply