RELEASED: 21st September 2018
Christian
Lazy Lad
Yet another handsome new model makes his debut in the latest male spanking movie from Straight Lads Spanked.
When we first meet Christian, he is lounging on the couch, channel-hopping. Dad comes in and asks why he hasn't cleared up the breakfast things or tidied his room, but this lazy lad seems to think that having been at work for all of four hours gives him the right to sit around and be waited on hand and foot for the rest of the day! And anyway.... Mum does all that stuff, doesn't she?
Dad takes a slightly different view, pointing out that Mum's working day is twice as long, and she shouldn't have to come home after her long day and then have to do everything in the house as well. To Christian's horror, he goes on to suggest that since he doesn't contribute anything to the household, he should at least do his bit to help out by tidying the kitchen and making a start on dinner.
"Or what?" responds the cheeky brat. Well, he soon finds out exactly "what". He learns that, even at 18 years old, he's not too big to go over his dad's knee for a good smacked bottom! Dad spanks him hard on the seat of his tight blue jeans, lecturing him all the while on his attitude and how things are going to be changing around the house from now on.
Eventually he stands him up and pulls down his jeans, before hauling him back over his knee to continue the punishment on the lad's white Calvin Klein boxer shorts. Dad takes this opportunity to issue a stern warning that he will be monitoring his behaviour over the next week, and if it doesn't improve, he will be taking his belt to the lad's bare bottom!
Just when he thought he was getting through to his lazy son, Dad is astonished to hear Christian protest that he hasn't done anything wrong.... and then, to add insult to injury, the silly boy tells his father to f*** off! NOT the most sensible tack when you're bent over Dad's knee with your jeans around your ankles!
It's the last straw for this exasperated dad. Christian is stood up again and told in no uncertain terms to pull down his pants. The rest of this spanking is going to be on his bare bottom!
Again and again Dad's hand cracks down across Christian's fast reddening rear end, turning him into a very sore and sorry boy. It's pretty clear that things are going to be very different around here from now on. Apart from being banned from playing football for a week, Christian is going to be spending the evening apologising to Mum; cleaning up the kitchen; making a start on the evening meal, and tidying his room. But hey, at least all of that will keep him from having to sit on his sore smacked bottom!
STREAM
VIDEO
Available streams for iPad, iPhone, Android, Chrome, Safari, IE or Firefox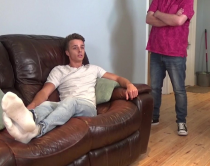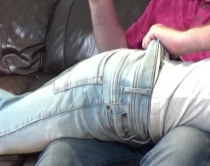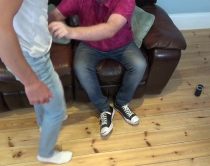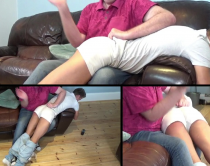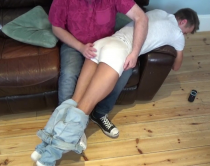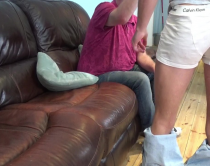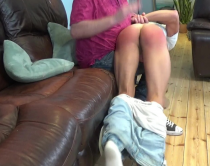 want see him more and more
Reply

wardcoleman | 29th September 2018 13:21
Christian is a great find, he is a great looking lad, with a very smackable bottom! He alsogives a convincing performance. He could eacily become a favourite. If you can get him back, May I request you put him in a Bubble bath Blues? I would love to see him walking bare bottomed into the bathroom, totally unaware that he's going to get spanked!
Reply

| 24th September 2018 11:34
Yes I've been waiting for Christian ever since I saw his pic on Twitter,another new boy and I'm in love again. Father/son scenarios are my fave storylines as you know and this one is another 10/10, For his first spanking Christian took it really well and hope he'll come back for more soon. Orlaxx
Reply

Kass44 | 22nd September 2018 21:14
I also agree that Christian is wonderful! And hope he gets a mouth washing with soap and the hairbrush. Hoping there will be a part 2 to this story - a suggestion - when his team mates find out he missed & cost them their next game they demand he take how ever many spankings his father wants in exchange for playing the next match OR ELSE (they'll do it themselves OR cut him from the team) and so it's Christian himself who has to take off his own belt, hand it to dad and beg him to spank him - and then while getting the belt Christian swears an unforgiveable foul word and not only get the belt he himself asked for but also the bathbrush while nursing on a bar of ivory soap. Wonderful actor! Finally another one as fantastic as Dom/Chris/John!
Reply

mstr_spkr | 22nd September 2018 21:04
A star is born! Thanks, Christian, for joining the troupe. He did a great job, took a good spanking and his performance was very believable. I enjoyed every minute of this video. I hope he does more in the very near future.
Reply

TimeForASpanking | 22nd September 2018 20:36
This is BY FAR one of my favorite Dad/Son spanking scenes ever. He is SO natural. It almost felt like being a voyeur. I would love to see him and Jason get spanked well past tears together. Brothers fighting or something or acting up at a family event.

Would love for them to get their mouth washed out and then given a hairbrush spanking till they are crying.

Great new model! Great new vid! Thanks for being one of the only reliable spanking companies out there.
Reply

Dave - Straight Lads Spanked | 22nd September 2018 14:17
Thanks for all the feedback so far. Would love to hear what you all think of Christian?

philimare | 22nd September 2018 15:35 (43 weeks ago)
To me, Christian is just perfection for this site. He is young, cute, slim, smooth but above all, he is not afraid of acting with dialogues and lots of interactions with Dad (for ex, dialogue between 13'30 and 14'10). He should not hesitate to do more in future movies, I guess he will become more and more confortable. He could play/act more, talk more im sure. All of this, such as bad attitude, dialogues, protesting, arguing, moaning in pain, trying to resist or to escape, being insolent, etc is as important as the spanking itself. What Christian has shown here is absolutely great, more than encouraging for more videos.
Plus, last but not least, he can take a hard spanking (and face slaps !!)
He really should become a regular (with Dad)
Reply

mattnyc | 22nd September 2018 15:00
Christian is another great discovery. I'm amazed by how good the latest models are in their first clips. Christian is really cute. I usually prefer guys who are little more muscular but Christian is really sexy. He has a great face, nice, smooth body, and a super cute butt. He's also really good with dialogue and acting. Again, for a first clip, he seems amazingly comfortable with the roleplaying, etc. Dave, great job with the dialogue. I love an OTK dad/son scene so this one's great for me. Great spanking action. Great scolding. And great work finding these new guys who are good looking and good actors.
Reply

Paddleboy | 22nd September 2018 08:04
Brilliant once again Dave Christian was good with his son role

Dave - Straight Lads Spanked | 22nd September 2018 14:18 (43 weeks ago)
So glad you enjoyed it :)
Reply

philimare | 22nd September 2018 10:12
Wow, this is what I was waiting for ! This update ticks all the boxes for me :
1. Dad & Son
2. Super cute/smooth/slim boy,
3. Real hard spanking
4. Credible roles and scenario
5. good / natural acting

One or two minor wishes for me, some corner-time would be nice and tighter underpants ;-)
I am not so sure Dad should shake hands (« friends ?) with Christian at the end, Dad is not supposed to be a friend to his son, is he ?

I am the second commenter only but already 9/10 for 7 users, it seems I am not the only one to be thrilled (and excited) by this update.

Of course, more of Christian (and dad) is a must for me.

Dave - Straight Lads Spanked | 22nd September 2018 14:18 (43 weeks ago)
Really glad you approve Phill. Thanks for the awesome feedback.
Reply

rondt123 | 22nd September 2018 12:14
Christian, thanks, excellent, you took a good spanking, a hard one at times too.

Was great to see you spanked over your tight faded blue means, so hot!!


Hope to see more of you here!😊

Dave - Straight Lads Spanked | 22nd September 2018 14:17 (43 weeks ago)
Ta for the feedback. Glad you enjoyed it.
Reply

rondt123 | 22nd September 2018 12:10
Reply