RELEASED: 18th May 2018
Conor Lee & Sam
Brother In Charge
Part 21
In the firmament of corporal punishment movies, surely a special lifetime achievement award must go to Mr and Mrs Lee. First they gave us the legend that is Andy Lee. Then they gave us his younger brother, Patrick. Then came Dan. And now, in what has to be a first for any studio producing male spanking videos, along comes the fourth brother in an apparently never-ending production line, Conor! And as luck would have it, Lee Mark IV is as naughty and deserving of a smacked bottom as all of his older brothers!
In this week's new release from Straight Lads Spanked, the aforementioned Andy has sent kid brother Conor to Mr X along with his mate Sam, after the pair of them botched a plumbing job and Andy was left to deal with a flooded house. They're lucky to be getting away with a spanking!
Both try to blame the other, and Conor tries to tell Mr X that he has only been sent along to watch Sam being disciplined.... but Mr X isn't having any of it. After all, he is well accustomed to the tricks that the Lee brothers get up to! He phones Andy for clarification, and is told in no uncertain terms that they are both to get their bottoms warmed. Will these lads never learn? You really don't want to be telling lies to Mr X, especially when he is about to be giving you a well-earned spanking!
Over Mr X's knee goes young Conor, but neither he nor Sam appear to be taking their punishments very seriously. As Mr X spanks the seat of Conor's jogging bottoms, Sam stands giggling, saying the spanking is "no big deal". "Looks all right to me," he says. And funny he should say that....
Soon enough it is Sam's turn to be put over the knee, and he too feels Mr X's firm hand across the seat of his tracksuit bottoms. Back on his feet again afterwards, he is still trying to laugh it off.... until Mr X draws his attention to the leather paddle that is hanging on the wall, and tells him that he will soon be feeling that across his bare bottom....
Understandable, of course, that two cheeky young lads were going to be full of bravado in front of each other, but Mr X was never going to stand for all that smirking and giggling, was he? One after the other, the lads are told to take off their shirts and pull down their trousers, and are put back over Mr X's knee to be spanked hard on the seat of their tight pants.
By the time this stage of the punishment is over, both young ne'erdowells have no option but to admit that, with very sore behinds, the message is starting to get through and they are beginning to learn their lesson.
But of course Mr X isn't satisfied yet. "I am going to wipe that smile off your face," he says to young Conor. "Get your pants down and get over here...."
Will these lads still be smirking after they've had another trip over Mr X's lap for a good hard spanking on their bare bottoms? Watch this space!
STREAM
VIDEO
Available streams for iPad, iPhone, Android, Chrome, Safari, IE or Firefox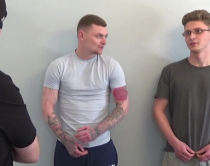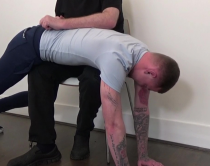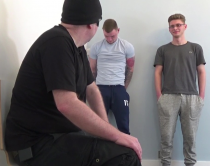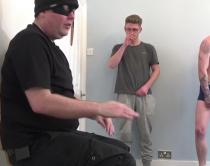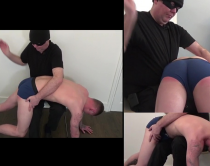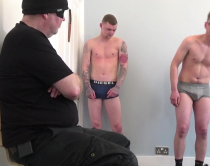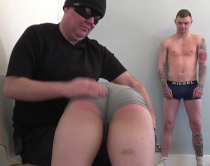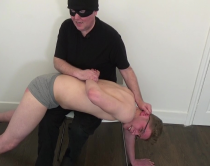 Rasputin | 16th June 2018 18:30
This was a fun video, Dave. Newcomer Conor Lee was especially good.

I am curious, Dave. So far we have seen Andy, Patrick, Dan and now Conor Lee in your videos. Exactly how many brothers are there in the Lee family?
Reply

Nat74 | 22nd May 2018 22:22
Really like these two new guys muc better than the last couple of new ones I think. Enjoyed the film and looking forward to part 2. Thanks.
Reply

Paddleboy | 21st May 2018 08:23
Welcome lads to SLP
Reply

mstr_spkr | 20th May 2018 02:03
Welcome Conor and Sam! This video was an excellent start to what I hope to be an upcoming epic spanking and paddling, which I hope comes soon. I'll be very happy to see them in part two and I hope in many more videos to come as well. These guys will make excellent models, both together and individually.

If they're up to it, it would also be great to see them each give the other a proper "Mr X-type" spanking. I can see it now. "You got me in trouble so I'm gonna spank you for that!" "Oh, yeah? Well you got me in trouble so I'm gonna spank you as well." If they spank each other properly, it would be a great video to add to the series.

Great job all around. Any chance of seeing interviews with these guys?
Reply

Orla | 19th May 2018 22:36
I need to see part 2 ASAP..love these 2 guys..Great banter ..Conor is gorgeous a perfect mix of Andy and Dan they sure do have good genes them Lee's.

Love that you called Andy when Conor said he wasn't there to be punished but just to watch Sam.Mr.X is a long time on the road and he knows all the lads tricks.

Sam was really cocky at the start saying there was nothing to it that he could take the spanking ..ooh but how quickly they change their minds and start begging for it to stop.

More Conor and Sam like tomorrow 😉😊🤞👀
Reply