RELEASED: 14th September 2019
Dexter
Paddled
Dexter is in trouble again in the latest male spanking movie release from Straight Lads Spanked.

Just a couple of months after members saw him getting his bottom warmed by his dad after returning home in disgrace from his rented accommodation, we find him sitting ruefully in the changing rooms at the sports club, contemplating Coach's fearsome-looking paddle.

When Coach himself arrives on the scene, we learn that he has caught Dexter literally with his pants down.... in a compromising position with the team captain's girlfriend, in the changing room showers!

Clearly it is a matter that requires disciplinary intervention, but Coach is not about to let the team fall apart if he can help it, so rather than inform the other player, Dexter's parents or his girlfriend's parents, he is prepared to deal with the situation in the old-fashioned way.... with a sound and very well-deserved spanking!

"I don't know why you're being such an old man about it," complains Dexter, revealing his ignorance not only of Coach's approach to conduct unbecoming, but his response to being referred to as an old man!

After a humiliating lecture on responsibility and moral rectitude, Coach orders Dexter over his knee and administers a stinging spanking to the seat of his black football shorts with his well-practised right hand.

By the time Coach orders the lad to pull down his shorts and bend over again for the spanking to continue on his very skimpy little white pants, Dexter is already complaining about his stinging bottom, but Coach is resolutely unmoved.

I'm actually doing you a massive favour," he says, after again outlining the alternatives. "Well, I suppose so, Coach, yeah," replies Dexter, but it's fair to say that he doesn't sound altogether convinced!

When this part of his ordeal is over, we can plainly see - thanks to the cut of his briefs - that Dexter's bottom is already very red and very sore. But Coach is far from finished dealing with him yet!

He orders the lad to pull down his pants, and in seconds he is back over Coach's knee, but now absolutely naked, for the spanking to continue on his bare bottom.

He begs Coach to go easy, but it is a forlorn hope. Again and again the older man's hand falls on the lad's bare behind, and again and again Dexter protests that his bottom is sore and he can't take much more... but his pleas fall on deaf ears.

Eventually he is allowed to get to his feet again, and after a spell in the corner, to rub his sore bottom.... but he knows that it is only a brief respite. Before long, he is going to be bending over for a whacking with Coach's wicked leather paddle!

Coach, ever a stickler for tradition, does at least allow the lad to put his pants and shorts back on for his whacking.... or at least for the start of it! Dexter is ordered to bend over the changing room bench while Coach dispenses five solid swats with the paddle across the seat of his football shorts, which he must count out.

And still the indignity continues. Dexter must then take off the shorts again for five hard whacks on the seat of his tighty whities, and finally 5 more on his bare bottom! Coach is determined to teach this wayward young reprobate a lesson he won't forget in a hurry!

This is one footballer who has certainly learned the penalty of foul play!
STREAM
VIDEO
Available streams for iPad, iPhone, Android, Chrome, Safari, IE or Firefox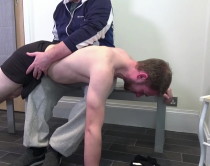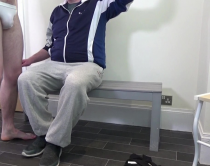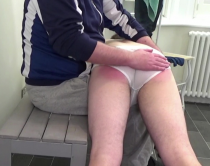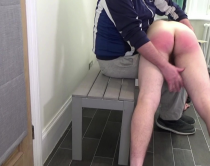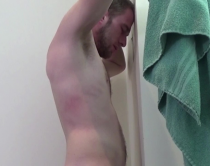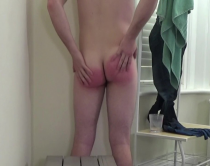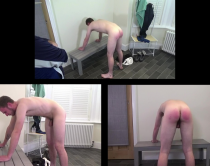 LucienG | 15th September 2019 17:56
Did Coach say "I may be an old man but I can still spank a butt"? That was priceless!
Reply

Teacherman123 | 15th September 2019 03:11
Dexter is fast becoming one of my favourites, too: one of the most convincing actors on the site, and yes, he certainly does also boast one of the most spankable bottoms....especially when it is clad in those skimpy little tighty-whities!

Full marks all round: to naughty Dexter; "old man" Dave, and Art for the excellent editing that it is all too easy sometimes for us to take for granted.

Art | 15th September 2019 13:19 (77 weeks ago)
That's a really nice thing to say, Teacherman123 - and I appreciate it.
Reply

vinniecp | 14th September 2019 12:49
Dexter still my favourite such a spankable bottom great personality as well well done Dave
Reply