RELEASED: 1st September 2017
Elliot
Caned
Tradititional Punishment
This spanking video featuring Elliot getting caned continues from Fraser's Traditional Punishment Movie.
Fraser and Elliott stole the Coach's keys and broke in to the clubhouse and drank the Coach's alcohol, Fraser owned up and named Elliott as his accomplice, Elliott however lied denying any involvement but now he's been caught out and must be punished and because of the lies Coach decides a harsher punishment is needed and tells Elliott he is gettjng the cane.
First Elliott is given a long hard hand spanking in 3 stages 1st on his shorts,2nd on his pants and 3rd on his bare bottom,Elliott is both embarrassed and sore and can't believe his father agreed to this punishment.Now it's time for the cane 18 strokes ..6 on shorts 6 on pants and 6 on bare bottom. Elliott struggles with the cane and his bottom is left with some very sore red stipes.
Hopefully Elliott has learned his lesson and will not retaliate when he finds out who grassed him up ....
(movie description written by Straight Lads Spanked member Orla)
STREAM
VIDEO
Available streams for iPad, iPhone, Android, Chrome, Safari, IE or Firefox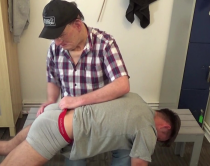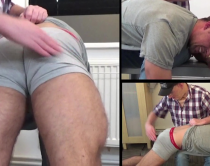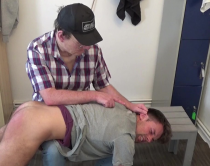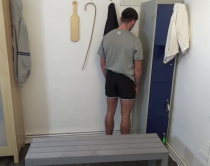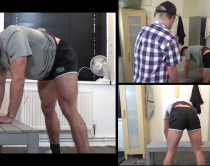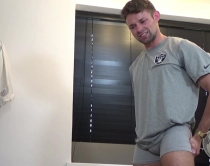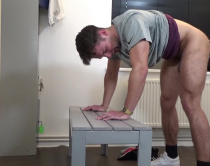 manlyspank | 30th November 2017 11:54
So many hot boys in these spanking videos and really like when the boys spank each other, however, no offense intended, the 2 main men who spank are not! Put the mask back on!!

Uchikimatsu | 30th November 2017 18:20 (68 weeks ago)
:::GIGGLE:::
coach's face *is* a mask, silly

Who is the other "main" spanker that you think should be wearing a mask? We can't really see his face in the films, so why would Dave have to mask it?

Anyway, the little that we do see I find to be rather pleasant. 💋
Reply

Dave - Straight Lads Spanked | 8th September 2017 17:14
So I love Orla's description for the movie and I have used that. Thanks Orla!

Orla | 8th September 2017 19:04 (80 weeks ago)
☺😊😀😁😂😃😄
Reply

tinhead | 4th September 2017 20:13
Great spanking, lovely Elliot - cannot stand that "Dad" mask.
Reply

secky | 4th September 2017 12:45
Excellent. Especially favour the cane and Elliot - who clearly struggles with it (don't they all) - has a great blokey body. Can we get an interview about his response to the cane.
Reply