RELEASED: 25th December 2012
Footballer Jay has been at it again! Fighting at an away football game causing the team to be fined precious league points.
He has been sent by his coach to see the local community spanker Mr X.
This is a repeat offence and Jay knows what to expect!
Mr X does not appreciate repeat offenders!!
Jay turns up weairng his football kit and his flimsy shorts offer little protection from Mr X's hard hand spanks. The shorts soon get yanked down and this strapping, straight lad gets his beefy bottom spanked. Jay really has a remarkable chunky butt and his tight white briefs are tightly stretched accross his already throbbing cheeks!
Jay gets spanked hard and his constant vocal cries show just how much it is hurting! Mr X has to use all his strength to hold this straight lad in place as Jay wriggles around, trying to avoid the heavy spanks!
After some serious over the knee bare bottom spanking Jay thinks it is finally over. He was wrong! Mr X told him n the first visit that if he returned it would be worse! Jay has to stand up and lean over the chair and accept some hard strokes from Mr X's leather strap.
Jay's round buttocks quiver in anticpation of each swipe from the strap! He can't hold his position and has to be order back into postion by Mr X.
Jay is left sore and feeling very sorry for himself indeed!
STREAM
VIDEO
Available streams for iPad, iPhone, Android, Chrome, Safari, IE or Firefox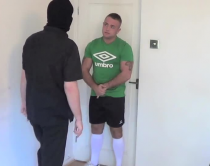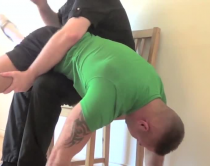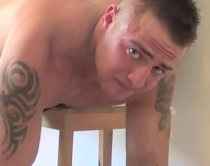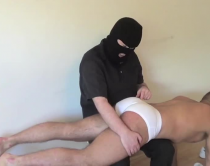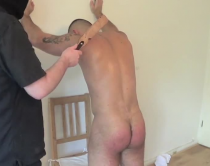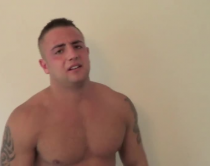 cheekychap
|
Voted Video 6/10
| 9th January 10:21
Jay has a great butt for spanking, it would be great if he would stay still for a while when over mr x's knee so we the viewers can reap the full benefit of watching his plump backside being spanked without interuption.

Rasputin
|
Voted Video 9/10
| 20th January 12:07
Part 2 of "Footballer Jay Spanked for Fighting" is even better than the excellent Part !. The spanking is more intense, Jay's briefs are tighter and skimpier than before, and he is spanked on the seat of his briefs for a long time. Keep up the good work, Mr. X!

rm7guy
|
Voted Video 10/10
| 4th September 16:26
Stunning again as Jay always is but I agree with Cheekychap - Jay is SUCH a wriggler :) I think we need Andy & Patrick to come in as Jay's angry teammates and grab an arm each so Mr X can get that bottom well and truly tanned :) But he still gets a big 10 from me here :)

Ooleary
|
Not voted video yet
| 30th August 03:05
Jay a nice lad but i'm afraid a bit too wriggly for me ,i don't mind a little wriggle but he's over the top sorry [oh and who spanks Mr X for swearing , i heard u there near the end ha ha ]