RELEASED: 11th April 2013
The out of control footballers saga continues! Andy Lee, Jat and Oliver are three footballers that have been sent by the coach to see the community spanker Mr X! The lads have already been soundly spanked in Part One by Mr X but they still have bad attitude.
So Mr X decides that they have to learn a different way. He tells that lads that they have to SPANK EACH OTHER!
Wow! This changes things! The lads are not so cocky now! It's one thing fighting with your mate, but another being forced to put him over your knee and spank his bare bottom!
You can see clearly how awkward the guys are as one by one they have to spank each other!
Three Fit Straight Lads!
Spanking Each Other!
Footballers Out Of Control!
Straight Male Spanking Movie
STREAM
VIDEO
Available streams for iPad, iPhone, Android, Chrome, Safari, IE or Firefox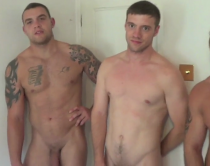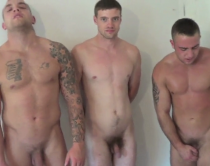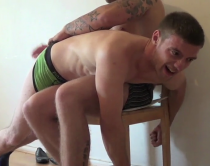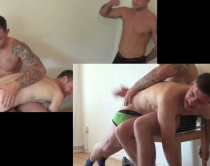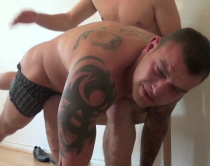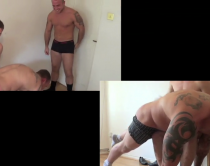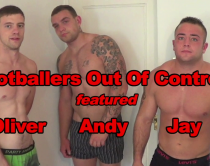 tinhead1
|
Voted Video 9/10
| 12th April 02:15
I meant to give this 10 out of 10, which is what it deserves. Horny guys in their underwear spanking the hell out of eachother. Heaven with a sting in its tail. Thanks!

Mr X
|
Not voted video yet
| 12th April 03:41
Hey Tinhead! Don't worry. 9 out of 10 is good enough! :) I'm really glad you enjoyed this one. Which of the lads do you reckon took the hardest spanking?

regina1985
|
Not voted video yet
| 12th April 06:23
I haven't even download it but i know i'll love it. It have some of the best lookin men in it.;)

cami
|
Voted Video 10/10
| 12th April 07:55
LMAO Andy is so funny loved it when he said to jay that is a big ass. well he has a nice ass too :P . this was a good one i loved it. & yayyy jay did not look into the camera love ya for that jay :) . but Q for ya about oliver is he oh k cuz i seen his arm it looks like it was hurting him cuz he was not using it. i hope he is oh k... yep but for Mr. X you will see them again for sure well andy for sure. lol . Andy is the bad one he will never learn :P. Jay was getting into the spanking he wanted his revenge on them for sure..

tinhead1
|
Voted Video 9/10
| 14th April 10:26
Hi Mr X - to answer the question I'd have to say whoever took off Jay took the hardest spanking - he's a classic spanker, fast and furious! Although Oliver is my favourite in this vid, simple as. He has the slimmest frame but a hard hand, and intrigues me whether giving or taking. Videos like this will keep me interested, especially when the guys spanking each other betray their delight or sadism in doing so. For this reason I'm really looking forward to the next Holiday Money clips...

Mr X
|
Not voted video yet
| 14th April 11:24
I agree with you! Jay really dished it out. Especially to Oliver. I also can't disagree with your comments about Oliver. I love Oliver in every movie he is in! If a single model could sum up Straight Lads Spanked for me it would be Oliver...

BriKuhn
|
Voted Video 9/10
| 16th April 00:05
I think Oliver had the most fun of the three spankers. And, IMO, Jay has the nicest butt of the 3 guys :)

rm7guy
|
Voted Video 10/10
| 5th September 07:44
This was so much fun; fun AND horny what a combination. Mind, I Normally enjoy anything with Jay & Andy. Jay certainly looked like he was enjoying dishing out and I also loved the bit with Andy commenting on Jays "big ass" :)) They always come over as really good mates. Another 10

Ooleary
|
Voted Video 10/10
| 30th August 04:40
This is a great FUN movie love the lads they work well together Andy and Oliver always love them Jay's other movies i'm not a fan of but he's good in this on esp when he's doing the spanking