RELEASED: 10th July 2016
Fraser
Caned For Cash
Young Fraser is moving away from London to relocate for work. We had been filming that day and Fraser was telling me all about his plans. He did mention that there was going to be a delay in getting paid from his new job and was looking to earn as much money as possible.
So I remembered a movie I filmed a while back with Liam where he got caned to raise some extra cash to surprise his girlfriend on Valentines day. You can watch this movie here Liam - Valentine Caning. I suggest that we do the same with Fraser and he readily agreed.
So this movie begins with an informal chat about his plans and experience of filming. Then we discussed the plan. He would receive a set amount of cash for every stroke of the cane that he received. Simple as that.
So Fraser stripped naked and bent over and grabbed his ankles.
Fraser had never been caned before in any of the corporal punishment spanking movies we had previously filmed and was not prepared for the experience that was to follow. I did not go easy on Fraser and you can see each whack from the cane leaving a deep, dark welt on his tender white bottom.
How far did Fraser go? Well you will need to watch to find out!
STREAM
VIDEO
Available streams for iPad, iPhone, Android, Chrome, Safari, IE or Firefox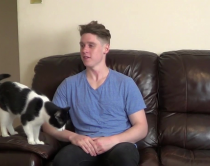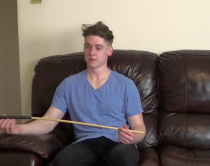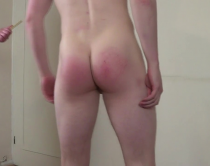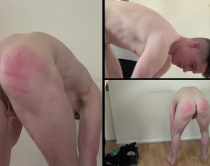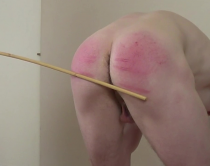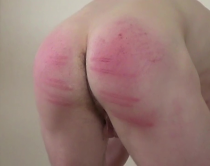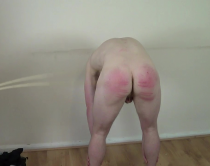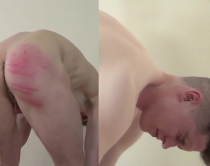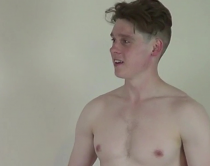 jacko | 26th February 2017 09:11
The interview was such a pleasure to watch however what followed was not as appealing.

On the subject of "appealing", how about that fantabulous shot of Fraser at the very start of the movie; looking almost angelic! When taken, he was contemplating the first stinging stroke but appeared so calm, composed and relaxed. Typical Fraser!

The warmth that Fraser exudes was noticeably evident in this interview. What a privilege to be in the company of such a poised, gifted, unpretentious lad, feasting the eyes on his handsome physique while captivated by his well-mannered, gently-spoken conversation.

Obviously, this interview was filmed at least ten months prior to its release date of July 10, 2016 because one of the movies to which Fraser refers, "Ladies of the Night" was released back in October, 2015.

I was pleased to learn from Fraser that he had accepted a great job up north but saddened to anticipate life without one of my favorites despite his legacy of fantastic movies. I was even more pleased to hear from Dave of his recent return, hopefully to continue his pursuit of gainful, enjoyable employment in London or thereabouts, close enough to resume occasional filming with SLS.

In the movie of two parts, "Spanked for Cheating" in which he co-starred with Kevin, Fraser sported a much more attractive version of his disheveled hair style which was not cropped short at the back. (I like it!) As that film was released on July 21, 2016, I presume that it was produced after Fraser returned to London. The only film released since has been "Spanking Game - Karl, Fraser & Jay - Round One" which was released on January 20, 2017. Hopefully, Fraser is finding the time to visit SLS to add to his impressive résumé of filming achievements.

Fraser's spectacular reactions when enduring severe spankings give the impression that he may have a lower pain threshold than some other models. Nevertheless, he has always bravely soldiered on, with his unsuppressed natural reactions to the pain and his more controlled acting skills combining to create memorably convincing spanking films. This willingness to face challenges has been appreciated by his fans. This movie is yet another example of his adventurous spirit; agreeing to submit to the cane sight unseen. With the exception of the newly-acquired mini carpet beater, the cane is probably the most avoided of all the implements on offer at SLS although the bath brush and butt blisterer are also in the mix.

It was therefore with trepidation that I prepared to watch Fraser's battle with the most feared of all SLS implements, the cane. In many ways, as pointed out in the promo, this scenario was similar to "Valentine Caning" in which Liam successfully attempted to endure 25 strokes with the cane (at ₤10 per stroke) to raise ₤250 for a deposit on a Valentine Night activity. However, there were some major differences between the two canings which made Fraser's arrangement less generous:
(1) In this film, Fraser was required to grasp his ankles, therefore creating a more painful target whereas Liam put his arms over a chair.
(2) Liam's caning did not follow two films in which two hard spankings were administered.
(3) Liam's 25 strokes involved 8 over his jeans, 8 over his boxers and 9 on his bare backside. All 10 of Fraser's were on his bare bottom.
(4) Liam was permitted to rub his backside after each stroke whereas Fraser had a brief break after five strokes.

The severity of the two spankings was therefore not comparable which is why Liam laughed all the way through his 25 strokes but Fraser was looking distressed after only 10.

Although I admired Fraser's courage and ability to maintain his unruffled composure despite severe pain, he was limited by his stance from producing reaction other than facial expressions. Therefore, visually, the caning part this video lacked the impact of Liam's experience with the cane.

However, there was sufficient humor, interest and emotion in this movie to keep me entertained. Thank you for being a brave lad, Fraser and thanks Dave for providing him with the opportunity.


Reply

Dave - Straight Lads Spanked | 10th July 2016 21:19
Hey Everyone!

Ok, so I have some good news..... This was actually filmed ages ago. For different reasons I held onto it before deciding to release it.

Since this movie was filmed. Fraser has actually returned back to London and is available for more filming!

:)

pridds | 10th July 2016 21:35 (97 weeks ago)
tease ;-)

Ooleary | 10th July 2016 22:07 (97 weeks ago)
☺☺☺☺☺☺☺

Ooleary | 28th December 2016 01:50 (73 weeks ago)
Watched this movie again today cos i can lol and it's so wonderful how your relationship with these boys is ...Fraser looked really emotional and close to tears when you were saying your goodbyes so it makes it even more special now knowing he came vack to film again.
Reply

lorilee | 6th September 2016 20:15
Fraser I miss you good luck with the new job, come back and check in sometimes.

Reply

Giuseppe | 8th August 2016 11:24
Dave, Fraser can take anything, then go ahead with strict discipline and heavy with him, please i bag for it....
Reply

NovaDad | 11th July 2016 14:16
Fraser appears to be a really great lad... and so very, very easy on the eyes!
In this video, he took a nice spanking that was very hard, yet he was able to maintain his composure rather stoically. Seeing a lad remain stoic during a hard spanking is not my personal preference, but I must commend Fraser for how well he took this caning.
I'm glad to read that he is back in London after his absence and even gladder to read that he will/might be starring in more videos. My favorite spanking films featuring Fraser so far are (in no particular order): "Take a Cold Shower," "Bubble Bath Blues," and "Spanked Footballers."
Fraser's at an age when lads go about checking out the world. However, I selfish hope that his explorations will not prevent him from making more videos with you and Art. Clearly, Dave, you know how to help young lads to expand their horizons. =;-))


Reply

sumai-Davefan | 11th July 2016 08:02
Life is a roller coaster, and you never know when it turns.I was feel grief and joy intermingled in yesterday. I really thought Fraser will moved on, and so sad. Dave , I totally trust you, How can you trick us. My English is so poor,Don't know how to express my sad. Just let me cry for a little while.
About this films, I like it, ----Caned For Cash. I like to saw that Fraser make decisions for himself. I enjoyed a man challenge his Own Limits. And so glad he came back. A lot of people like him. Hope to see more of him.
Although you teased us,But thank you all the same.Thanks Dave Art and Fraser.
Reply

lazycat999 | 11th July 2016 06:25
I quite literally don't know how to describe your acting,Dave...such a mean person,played tricks on your faithful members.When I was watching the teaser yesterday and heard Fraser will moved on,I was so sad that lost my ability to think clearly,I could have noticed that Fraser's appearance in this movie did not change since the "I messed up"movie so this is an old film.I have to say you let me down successfully yesterday.
Talking about the film itself,I don't like the grabbled ankles pisition,not at all.I always prefer the models bend over the chair because I'd like to watch their hand movements.Otherwise,Fraser is such a lovely model,how could you cruel to him by the cane like this.I am really distressed him
Reply

friedpopcorn | 11th July 2016 02:44
I'm fall in love with Fraser when i first time saw his movie.He is such a clean,quiet,gentle and soft man.I cried yesterday I heard he will leave London.
Actually,I hope he will have a good job,good life,but,if he left, I would be reluctant to part from him.
I really glad he came back.
Thank you Dave.:)
Reply

Ooleary | 10th July 2016 22:33
Fraser such a sweet sweet boy so quiet and shy and soft spoken - nasty Dave giving him the cane #traumatised .Loved it when he said about the cane bring used in school 'can't believe this was legal'.

So glad to hear you've filmed more Fraser and Karl too xx
Reply