RELEASED: 29th September 2017
Fraser & Elliot
Don't Tell Tales
This movie folows on from Elliot Caned and Fraser Paddled.
Elliot is really not happy about his buddy Fraser telling tales. He feels that it's Fraser's fault that he got spanked and caned!
So Elliot wants revenge! He decides that Fraser needs to get spanked!
This is really humiliating for Fraser as he is dragged over Elliot's knee and has his bottom spanked. It gets even worse when Elliot pulls down his trousers and pants and spanks Fraser's bare bottom! Ouch!
STREAM
VIDEO
Available streams for iPad, iPhone, Android, Chrome, Safari, IE or Firefox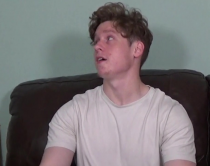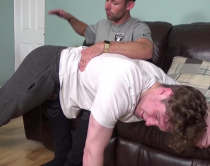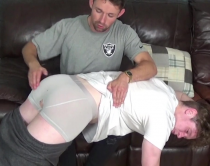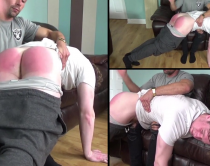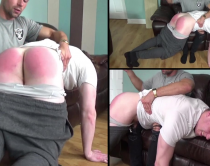 Serena89 | 18th February 2019 20:51
I'm dying at Fraser's underwear.
This was very sexy. And I know it's fictional like and I enjoyed the video but can't help being annoyed at Elliot. Fraser did the right thing owning up to spare the whole team from unjust punishment. And I know lads are usually for the whole you don't grass up your mates but like I feel certain circumstances it is excused- like in this case. It wouldn't have been plausible for Fraser to take the full blame as the coach knew there was more than one involved and if the team knew the whole story they would probably be on Fraser's side as Fraser owned up to spare them and Elliot was fine to let them all get in trouble. Grrrrrr bad Elliot -.- hahaha
Reply

FraserFan | 29th September 2017 17:24
Dave do you see when you say this video follows on from the other two, is that in terms of the story line / scenario, or is that the videos and spankings were all back to back on the same day, or? And Fraser, Fraser in a video. Whats not to like. Another great video.

Dave - Straight Lads Spanked | 29th September 2017 19:13 (144 weeks ago)
Hey FraserFan, it means that they all belong to the same story line. It's like a Straight Lads Spanked soap opera! I'm glad you like it! :) I have an interview of Fraser and Elliot I'll release over the next day or so. :)

Orla | 4th October 2017 15:05 (143 weeks ago)
Still waiting for the interview 👀👀👀

Dave - Straight Lads Spanked | 5th October 2017 12:23 (143 weeks ago)
Really sorry for the delay, I'll get that out ASAP!

Uchikimatsu | 5th October 2017 17:42 (143 weeks ago)
Orla you're such a brat

Orla | 5th October 2017 17:49 (143 weeks ago)
Well if you don't ask and you know how much I love the interviews 😁😁

Orla | 5th October 2017 17:51 (143 weeks ago)
Ps Chiki still waiting for your comment on Jason 🙈🙉🙊

Uchikimatsu | 5th October 2017 23:36 (143 weeks ago)
Soon, I still haven't been able to watch the interview after!!!

Today is my 15 year anniversary with The Butch! So it won't be today.....😉

Orla | 6th October 2017 12:44 (143 weeks ago)
Happy Anniversary and here's to many many more xxx
Reply

LucienG | 30th September 2017 19:58
Always great to see Fraser get spanked. He's so spankable! Loved the conversation between the two actors. Elliot's strokes were well delivered and steady. The threadbare, holey underwear was a nice touch too. Thanks Art for the editing.
Reply

JamieJones | 30th September 2017 16:11
Wow poor Fraser wasn't having a good day was he? First he gets getting punished by Coach and then by Elliot. One question though - how did Elliot know it was Fraser who grassed him up? Coach wouldn't tell so how did he find out?

Totally loved the dialogue between Elliot and Fraser, parts of it were so funny that I had to rewind the movie several times as I was laughing too much to hear what was said next. Fraser did so well to keep his side of the conversation going, answering Elliot's questions while being spanked continuously. Even Mr X isn't that mean as he usually pauses the spanking to ask questions.

Who knew Elliot would be so good as a spanker? He was amazing, I especially liked how he kept going without a break which must have been really tough on Fraser. Well done Elliot and Fraser!!!

Scenarios where one lad spanks another aren't my favourites, I prefer an authority figure to deliver the spanking even if it's just the team captain, but I really liked this one and how the story followed on from earlier movies, as Dave said it's like an SLS soap opera . At the end I was hoping the door would start to open, even if we didn't see who was there, as it would suggest there may be further episodes to come. Fingers crossed this isn't the end of this storyline.

Art - just want to say how much I loved the editing in this movie. I think keeping the split screens to minimum worked really well as it allowed me to concentrate on the dialogue so Thank you for that.

One last thing Fraser's underpants - REALLY! What was he thinking when he got dressed that morning, "I'm going to be filmed in my underwear today so I'll put on the oldest, tattiest pair I can find". How could he not have noticed the massive hole in them? Dave couldn't you have lent Fraser some decent pants? But then I don't suppose it really matters as they didn't stay on for long! :-)


Dave - Straight Lads Spanked | 30th September 2017 17:05 (144 weeks ago)
Thanks for the lovely review JamieJones!

I guess that since it was only Fraser and Elliot that did the crime Elliot had to work out that it was Fraser that told?

Possibly!
Reply

Dave - Straight Lads Spanked | 30th September 2017 16:59
So yes! Frasers pants! It really was unfortunate...

So the truth is that I never noticed the hole in the pants until he had been spanked on them for a while. By this time it just seemed too late to change them over. I'm sure I would have noticed straight away if I had been in the usual position of administering the spanking!

Yes, what was Fraser thinking!

LOL!

It's really difficult to describe the scenario but it is incredibly awkward for these lads to spank each other and in this case they were doing so well that I thought stopping the action to change the pants and start again would have been hugely disruptive! I suppose at one time I also thought, well these are the pants that he is wearing in real life, I'm trying to make it as real as possible, so I suppose it does reflect how these guys dress themselves!


Reply

Rasputin | 30th September 2017 03:33
Fraser's "pants" were decidedly threadbare. If Elliot had spanked Fraser any harder, Fraser's boxer briefs would have ripped open! Given the handsome fees that Dave is paying these guys, you would think that Fraser could afford to buy new underwear! :-)

flashgordon | 30th September 2017 12:28 (144 weeks ago)
It is odd. Apart from anything else, you would think that someone leaving their house in the morning knowing they were on their way to a spanking from Elliot, or Dave for that matter, would be wearing the thickest underwear they could find - for protection!
Reply