RELEASED: 22nd July 2015
Fraser - Leather Strap - 36 Lashes
Fraser is resigned to his fate!
Fraser assumes the position!
Fraser is facing 36 lashes from the Leather Flogger!
12 over his jeans
12 over his underwear
12 over his bare bottom
The different camera angles capture every moment of Fraser's discomfort as the Leather Strap hits its mark!
(this movie contains scenes of full frontal nudity)
STREAM
VIDEO
Available streams for iPad, iPhone, Android, Chrome, Safari, IE or Firefox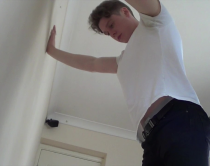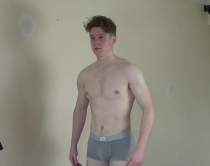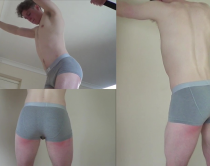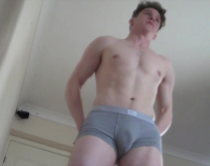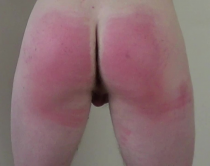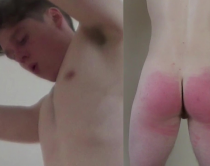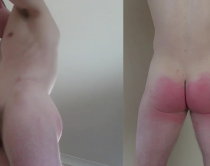 I have a similar ass to Fraser. After a strapping by my dad totally bare but for all 36 stokes..my ass burned and stung for at least two days and was redder than Fraser's so I can feel his discomfort, pain and reaction.
Reply

jacko | 31st January 2017 10:12
Bravo, Fraser!

Fraser's bold confidence, appealing individuality, well-spoken dialogue and cheerful good humour add a special dimension to the movies in which he is involved. This movie was more of a challenge because the scope for storyline development and innovation was limited and he was forced to rely on his spontaneity and natural reactions. This he did with stunning effect.

Despite the impending harsh punishment, the characteristic dishevelled hair and relaxed attitude stamped the movie with Fraser's individuality from the very start. In confronting this traumatic encounter with the strap without hesitation, his courage and pain tolerance were tested as never before.

The stance he took while enduring this against the wall spanking was unusual for a model in this situation. He offered his backside as an inviting target waiting to be thumped and of course Mr. X willingly took advantage. How could he resist?

Because there were no vocalised pleas or exaggerated reactions, the movie was believable; enveloping the audience with visual stimulation. As the reason for the spanking was unknown the viewers was torn between support for authority and empathy for the persecuted. The harder the relentless blows became and the more Fraser's animation revealed the extent of his suffering, the more ambivalent the viewers became. No doubt this was also influenced by whether viewers craved harsh punishment or were Fraser fans.

Have you noticed that when he was being spanked, Fraser's face changed to the same colour as his backside. This indicated extreme concentration and exertion as Fraser strove to maintain his dignity and retain his self-respect. In this, he succeeded, in fact, excelled.

Like Cherylkay I appreciated Fraser's composure as he decided just when the count number would be expressed, giving him a little time to cope with the pain of the recently-inflicted stroke.

In the interest of fair play, Dave, being spanked over the boxers doesn't include whacking the flesh below the boxers. That is taking an unfair advantage. Of course, it could be that you are just a poor shot and don't do it deliberately in which case you are forgiven.

A very brave characterisation Fraser. I'm not keen on watching my favourites suffer such harsh punishment but here I was doing it once again. Your talent is so admirable that I couldn't help myself.

Well done to all involved in this excellent production. I'm so glad that Fraser is still making films of quality with SLS.
Reply

rdthree | 29th September 2015 05:34
Dave please can you tell me if we can see the super star that is Fraser on any other sites? can't get enough of this guy. He's by far the hottest guy on here...lot's more of him pls

Dave - Straight Lads Spanked | 29th September 2015 16:31 (322 weeks ago)
Hi There, Fraser has not done any filming at all other than for Straight Lads Spanked. So you are in the right place for Fraser movies!
Reply

karlfan | 12th August 2015 10:55
Fraser is so hot and has such a great body. He plays the part really well too. I hope we get to see a lot more of him.
Reply

vicky | 23rd July 2015 16:12
Where is your strap from Dave? Thanks in advance :)

Dave - Straight Lads Spanked | 29th July 2015 22:44 (331 weeks ago)
Hey Vicky, apologies for the delay in getting back to you! The leather strap was bought online and I checked and I'm afraid it's no longer available. You can however find very similar items on eBay. Just search for leather tawse. :)

vicky | 30th July 2015 16:35 (331 weeks ago)
Thanks for the reply Dave :)
Reply

uchikimatsu | 27th July 2015 19:42
I am not a fan of 36 anything, but this one is my favorite by far.

In any film, I enjoy when a lad is trying to get away from his punishment, in this position it usually means angling his hips towards the wall, hence away from Mr. X and whichever evil implement he is wielding. It's a little act of defiance that only ever results in Mr. X putting his hand on the lads hip and pushing it back out, telling the naughty boy to keep his bottom well out, which is very exciting to me.

In this film we get none of that, but there is something, or rather quite a lot, to be said about an obedient lad who willingly and submissivly offers his bottom up for punishment.

And that's all I'll say about THAT.
Reply

Cherylkay | 24th July 2015 20:53
I've said it before and I'll say it again--Fraser is a star! Not only because he has the right look, speaks well and can take a heck of a thrashing, but he seems to know what people want to see. I know a lot of people like the " 36 Lashes" films because they like seeing what I call the "swinging dicks". And while that's enjoyable at times, I'm much more into the facial expressions that the lads make when they're being punished. Fraser's facial reactions are perfect! I also love the little intakes of breath before he says the numbers. It's in that moment when you know that he's processing the pain. I know some members think a stoic response means the lad didn't feel the stroke, but that's not true, at least not all the time.

I could spend a whole day just looking at this guy; not just because he's beautiful eye candy, but because he really seems to get into the character he's playing. Now granted, in the "36 Lashes" films there's not much character there to study. You just get down to brass tacks--Fraser grabbing the wall and Dave dishing it out. By the way, Dave I loved it when you just pointed to the wall. I think that lack of verbiage coupled with the mask just makes you seem a little more sinister (maybe that's not the right word...you definitely seemed more menacing in that situation).

Fraser took a very good thrashing here, so I tip my cap to that young man for having the courage to take that strap.
Reply

wardcoleman | 24th July 2015 16:00
Fraser is a tough little trooper
Reply

juanjose | 24th July 2015 04:44
Wow! I'm a cry baby when it comes to any kind of pain. How is it possible for Fraiser (and others) to be so stoic? The first lash would have me crying and begging for mercy. I'm a weakling. Another fine video and the editing is just getting better and better. I don't know how you all do it....getting better and better! Every model is handsome and unique, but now, I'm in love with Fraiser. (But Andy, I am always your fan).
Reply

Hunter | 23rd July 2015 22:01
Hi Dave what did poor Fraser do to get hiself those 36 lashes was anything to with his continually fighting with his football team
Reply

Hunter | 23rd July 2015 21:52
well done Fraser you took your lashes very well
Reply

vicky | 23rd July 2015 16:15
Fraser took his lashes very well I think. I wonder what he did to earn this punishment. LOL
Reply

red1967 | 23rd July 2015 14:15
Fraser bless you that was a hard punishments , well done for going through with it. Your poor red bum I hope it feels better soon and you can sit in conferrable . Dave that was a very hard punishment you gave well done both of you and art fro the split screen which I love seeing
Reply

kayjoe | 23rd July 2015 12:08
Awesome. THANK YOU FRASER!! You're a total star. Looking forward to seeing more when you've recovered. Thanks too to Dave. Good to see SLS back on track, doing what it says on the tin.
Reply

Ooleary | 22nd July 2015 23:24
Good boy Fraser.My god Dave that was harse , his poor little bottom .Can you give him a hug from me next time he's in ....he is coming back Right ...i love Fraser xx
Reply