RELEASED: 6th July 2018
Jason
Bad Report Card
We can only assume that fans' favourite Jason must have been behaving himself recently, since we haven't heard from him for a few weeks now. Not since he got his bottom smacked by big brother Charlie, in fact, for bunking off from college. That'll teach the cheeky youngster to think he can get away with murder just because his dad isn't home!
In this week's new male spanking video from Straight Lads Spanked, however, Jason finds himself in hot water again.... and not just the long shower that we see him taking when he gets home!
The lad is relaxing on his bed after his shower, in just his pants, when Dad comes in, brandishing Jason's college report card. More astute viewers will not take long to surmise that the report is less than glowing.
"C, C, D, E, F," reveals Dad. The report may not be glowing, but Jason's rear end is soon going to be! Fortunately, Dad knows exactly how to motivate a young man who isn't doing his best to make the most of the educational opportunities he has been enjoying. "Sometimes," he says, "what a young lad needs is a smacked bottom!" Well, I'm sure none of us would disagree with that!
Conveniently enough, Jason is already stripped to his underwear, so over Dad's knee he goes, to be smacked hard on the seat of his tight blue pants. Dad's hand gets to work warming the lazy lad's bottom, and it soon becomes clear that the message is getting through. It's not long before Jason is a very sorry boy with a very sore, red bottom, promising to work harder at college for the rest of the term, but that's too little, too late for Dad.
While Jason remains in position over his knee, Dad pulls down the lad's underwear and uses his firm right hand to give him the good hard spanking he deserves on the bare bottom. Jason's pants may be down, but hopefully a good hiding means that his grades will soon be up!
STREAM
VIDEO
Available streams for iPad, iPhone, Android, Chrome, Safari, IE or Firefox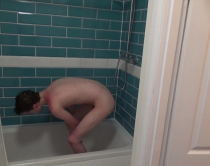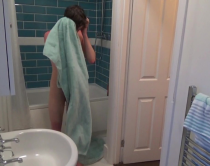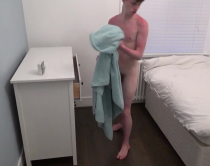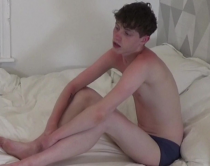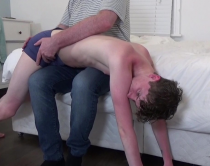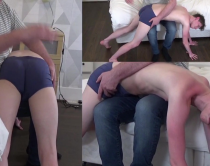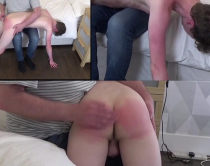 Lee | 5th September 2019 04:52
He is beautiful!
Reply

Nevermore | 4th January 2019 20:10
He is perfection.
Reply

mmlabbd | 21st July 2018 00:49
My dream Jason scenario would be that after telling Dad about Jason's bunking off college, big brother Charlie is asked to help Dad to teach Jason a lesson. In the scenario, Jason, wearing only his grey socks, is held by the ankles by Charlie in the diaper position on the edge of the bed/a table whilst Dad gives him a good walloping with the slipper. I think that would be a good rounding up of the story for all involved.
Reply

Jasonfan | 16th July 2018 09:01
Reply

philimare | 14th July 2018 18:10
Dad and Jason is a perfect combination to me. I loved this video. The sound seemed different in this video or is it just me ? Very high resonance in the room which made the spanking sounds different than usual.
Reply

natalie7456 | 14th July 2018 15:53
Good to see Dad and Jason again. I like the new bathroom, love the colour of the tiles.
Reply

Orla | 9th July 2018 09:50
Jason is perfect and adorable and a great actor he's just so natural could watch him everyday.

I'm torn here I want him to do well in college but I also want to see him get spanked again. It could be like what J.J suggested with Charlie telling dad what happened.

Jason telling dad he loves him sounded so natural and it wasn't awkward or hesitant it's like maybe this could be loosely based on a true story and he was thinking of his own dad.Like Chiki said there is just something about Jason and I'm 100% smitten and obsessed with him .

On a more serious note::
Well if anyone does happen to see his red bottom he can just say it's sunburn like the rest of his body 🤣🙄 but on a serious note he needs to wear sun cream the weather we're having at the moment is HOT🌡☀️.I myself have been to the doctors with severe sunburn I'm on antibiotics and burn ointment I got 2nd degree burn on my chest area and it's infected even though I put lots of cream on because my pale skim and red hair make the sun my no.1 enemy but i just missed a patch between my boobs and it's agony 4 to 6 weeks before fully healed.

Uchikimatsu | 10th July 2018 19:57 (103 weeks ago)
Poor Orla, my little red headed firecracker!
How long were you directly exposed to the sun to get such a severe burn??? Did you fall asleep on the beach?
It's 100 degrees in south florida every day and I've never been burned like that...

Orla | 12th July 2018 00:45 (103 weeks ago)
Weather here is like 34 degrees c which I guess is like 90 degrees f and that never happens so I was only out for about an hour just went down to the beach for a swim and home again it's only a 5 minute walk from my house but if I don't wear factor 50+sunblock I roast I've really pale skin and red hair but at least antibiotics are working and it's clearing up but still quite sore to the touch.
Reply

Ficwriterjet | 9th July 2018 15:36
That was very sweet. I liked that it wasn't overly harsh since it was the first time they'd talked about this issue, and I liked that Jason was saying he was sorry and promising to do better throughout the whole thing - even before it started. I absolutely loved the hug and the 'I love you' from both sides at the end. :) Thank you!
Reply

JamieJones | 8th July 2018 08:49
I totally agree with Chiki - there is just something about Jason that really works. I can't quite put my finger on it, it's just there.

I was a little surprised that Dad didn't mention Jason's attendance, or lack of it, at college, wouldn't that have formed part of the report? We all know Jason has been bunking off but it seems strange Dad hasn't found out yet? Hopefully at some point, Dad will sit down with Jason to explore the reasons why he is failing his courses and it will all come out then...cue more punishment for Jason and maybe also for Charlie for knowing but keeping quiet!!! I live in hope! :-)

Reply

Uchikimatsu | 7th July 2018 13:27
There is just something about Jason....

Maybe its the great dialog he provides
Maybe its the way he seems to understand how to play to the audience (use of certain trigger words and phrases)
Maybe its the subdued, contrite attitude he adopts after his spankings
Maybe its the unabashed way he says "I love you" to "Dad"
Maybe its Maybelline...

No, seriously...this kid is awesome!

Dave, I'm glad to see you fixed the panel on that bed. I have no idea why, but it really bothered me seeing it all broken and askew.
Reply