RELEASED: 23rd February 2018
Jason & Charlie
Brother In Charge
Part 18
You know how some lads just never seem to know when to keep their heads down and stay out of trouble? Well, Jason must be among the world's worst!
In this week's brand-new male corporal punishment movie from Straight Lads Spanked, the young rascal has found out that his big brother, Charlie (and did anyone ever have quite so big a brother?!) has given his friend John a good spanking for leading him astray with some illicit smokes.... and he is mortified. As Charlie relaxes on his bed in just his shorts, Jason bursts in and starts mouthing off about how Charlie isn't his dad and had no business taking it upon himself to punish John. He is both embarrassed and humiliated, and he says he is going to complain to their dad. Whether he has really thought that one through, though, is debatable!
From the way Jason is behaving, Charlie begins to suspect that he has been misbehaving again, and he decides there and then that his stroppy little brother needs to be taught a lesson in manners and respect. And who could blame him?
Charlie hauls the brat over his knee and starts spanking the seat of Jason's tight blue jeans with his veritable ham of a right arm. The sounds of painful retribution fill the room as his hand cracks down hard on Jason's pert bottom again and again. Jason wriggles and struggles to get away, but it's pretty clear that Charlie has got a very firm hold on the lad, and he's not going anywhere until his brother has finished dealing with him.
Showing commendable fraternal concern, Charlie tries his best to reason with Jason, and to convince him that he is only trying to help him and keep him out of trouble, but maybe that's a message that Jason was always going to find difficult to learn while he was bent over his big brother's knee getting his bottom smacked!
Charlie stands the lad up and tells him to take down his jeans, and a couple of seconds later he finds himself back over the knee, feeling the flat of a large and heavy hand warming the seat of his tight white pants. The lecture continues, punctuated by a damn good thrashing.... and from the language coming out of the ungrateful lad's mouth, it's easy to conclude that he deserves every single smack.
It's not long before the tables are turned when it comes to the thorny subject of Dad being informed. When Charlie says that he feels Dad should be told what has happened, Jason has a sudden change of heart, and begs him not to tell. You can't help but suspect that the naughty lad knows exactly what Dad will do if he finds out!
The first thing you should learn when you're in a hole is to stop digging.... but it seems that's another lesson that Jason has yet to learn. He continues mouthing off, which is pretty unwise when he's over Charlie's knee with his trousers down, getting a good spanking! Charlie proceeds to pull down his kid brother's pants and smack him hard on his bare bottom, which is soon looking very red and very sore. Jason begs him to stop and Charlie says he will.... but not before he has delivered some final rapid-fire smacks to drive the message home once and for all!
Jason is a lucky lad to have a big brother like Charlie looking out for him.... and when he can sit down comfortably again, maybe he will realise that!
STREAM
VIDEO
Available streams for iPad, iPhone, Android, Chrome, Safari, IE or Firefox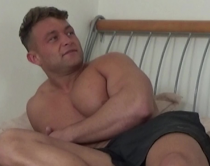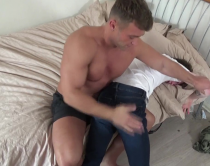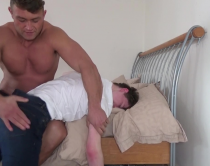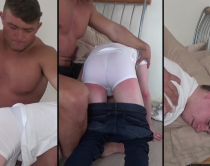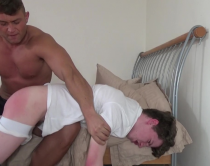 Rasputin | 2nd March 2018 02:34
Oh, one more thing. In the spanking video scenario I just submitted, Jason should spank Charlie with a hair brush as well as his bare hand.
Reply

Rasputin | 2nd March 2018 02:31
It's good to see Charlie again, but I would MUCH rather see him taking a spanking than giving one. Jason is too twinkish for my taste.

A more interesting scenario would be a sequel to this story. Jason is itching to take revenge on Charlie, and he gets his chance when he catches Charlie getting in trouble.

For example, Charlie could get arrested for getting drunk and fighting in a bar, and spends the night in a jail cell sleeping it off. A friend of Charlie's bails him out the next morning. Charlie tells his dad that he spent the night with his girlfriend, and Dad believes him. However, Jason finds out what really happened, and gives his big brother an ultimatum - either he takes a spanking from little brother Jason, or Jason grasses him out to Dad. Charlie realizes that he is over a barrel, and agrees to take a spanking from Jason. It is humiliating for a big man to be spanked OTK by his kid brother, but he realizes that Dad would be much harder on him than Jason.

Jason, sadistic little brat that he is, orders Charlie to strip down to his tight, skimpy briefs and then lie over Jason's lap. Charlie reluctantly obeys. Jason gives his big brother a long, hard spanking on his briefs, then pulls Charlie's briefs down in back for a long, hard, bare-assed spanking finale. Charlie grimaces, grunts, kicks, squirms, and yelps in pain and humiliation as he is spanked like a little boy.
Reply

sukemnsee | 1st March 2018 23:39
Amazing Video but however did Dave cope while filming with all the gratuitous foul language coming from Charlie?

Kass44 | 2nd March 2018 00:26 (196 weeks ago)
I agree. Charlie should not have used those foul words - he should have spanked his little bother harder for speaking that way. Maybe Charlie should have washed Jason's mouth out with soap or given him the hairbrush, but he should not have used the same offensive words.
Reply

Ficwriterjet | 24th February 2018 07:46
That was awesome. I loved it. All of Jason's struggling, yelling, and swearing seemed very realistic for the situation. And I thought Charlie did a fantastic job of staying calm and handling everything Jason threw at him, all the while reiterating that he was doing it because he cared about him. :) I thought it was prefect that it took quite a while for Jason to finally give in and agree with Charlie, and it was fantastic that there was a little bit of spanking after that, but not too much. I think my favorite part was when Charlie said he would tell 'Dad' about it himself.

I agree with 'Kass44' - I hope 'Dad' isn't going to find out and spank Charlie for overstepping his authority. Though I wouldn't mind seeing Jason spanked by 'Dad' for giving Charlie such a hard time (and for smoking pot in the first place).


Reply

Kass44 | 24th February 2018 04:50
Perfection! I hope you do NOT decide to do the cliché of Dad discovering Charlie spanked his little brother and gives Charlie a spanking for overstepping his authority. I think Dad should be proud that Charlie loves his little brother enough to discipline him and keep him from taking drugs. In fact a real cool twist, in my opinion, would be John & Marcus tracking down Jason so John, out for revenge, can spank Jason with Marcus watching it and laughing, mocking Jason the whole time – AND – [que the ominous music] Charlie walks in catching them and spanks both John & Marcus for having the nerve to spank his little brother (Marcus protesting the entire time that it was just John not him). Maybe Charlie will even let Jason give them a good spanking too – giving Jason pointers like "You're not doing it hard enough, do it like this" or something. John & Marcus' humiliation at being spanked by Jason would be hilarious. Or maybe Charlie & Dad both catch John & Marcus in the act, take turns spanking the both of them while Jason gets the chance to mock & laugh at them? (I don't remember you ever doing a film where there are two spankings going on at the same). That would be great!!!!!!!!!!!!! Well, I can dream can't I? Anyway, this film was PERFECTION. Thank you!
Reply

JamieJones | 24th February 2018 00:18
Too late boys...Dad already knows!!! Love it, love it love it!
Reply

Uchikimatsu | 24th February 2018 00:06
AH-MAZING!!!!
Reply

Orla | 23rd February 2018 23:13
OMG SO GOOD 😁😁
Reply

spank102 | 23rd February 2018 22:59
Fantastic video the dialogue was great non stop was this scripted or going off each other ad lib. I would definitely say this is as great as the 1st Brother in Charge with Andy and Patrick well done to all keep up the great work.

Looking forward to seeing Andy and Charlie in a Brother in Charge episode if its possible.

Great Camera work Art.

Keep up with the great work Dave this is a 10/10
Reply

| 23rd February 2018 22:03
Very very hot video definitely love Jason would love to see him in more videos with some of the other lads on the site
Reply

Davelondonlad | 23rd February 2018 20:05
I wish Charlie would teach me a lesson! He gives a hard spanking. Great video!!
Reply