RELEASED: 25th January 2019
Marco & Jason
Spanked By The Boss
When we last called in at the bank, we saw the boss arriving just as Jason was nearing the end of a spanking by his line manager, Marco, after he was caught smoking inside the building.
At the start of this week's exciting new male spanking movie from Straight Lads Spanked, the boss is interviewing Marco and Jason in a bid to, well, get to the bottom of the whole story.
Marco tries hard to justify pulling down the lad's pants and administering a spanking, but the boss is clearly unconvinced by his side of the story. And when Marco expresses the opinion that the only way young people learn is by getting their bottoms spanked, the die is cast! The boss announces that Marco has overstepped his authority; that he has clearly learned nothing from the incident with Felicity several months ago, and that he can either be spanked himself, or the police will be called in!
Marco tries hard to defend his decision to punish the junior employee, but succeeds only in stiffening the boss's resolve. As Jason grins broadly at the prospect of witnessing what is about to happen, Marco appeals to the boss to have Jason leave the room - but to no avail. Over the boss's knee he goes, for a spanking that starts on the seat of his tight-fitting suit trousers.
When the boss stands Marco up again, he thinks that his punishment is over.... but no. "Pull your trousers down," orders the boss. When Marco hesitates a moment too long, the boss takes matters into his own hands and pulls the manager's trousers down himself. He puts him back over his knee, and before he knows what is happening, Marco is feeling the boss's hand warming the seat of his tight white pants!
When Jason begins talking about telling his friends and writing a Facebook post about his manager's comeuppance, the boss has to set him straight and remind him that what is happening in the office has to stay in the office!
Marco is told to strip and bend back over the boss's knee. He tries to resist, and protests again that Jason should not be present, but he finds that resistance is futile. Naked, he bends over again and is spanked hard on his bare bottom.... exactly as he had done just a few minutes before to Jason. Marco pleads for the boss to stop, but he continues smacking the younger man's muscular bare buttocks.... and then asks Jason to pass him the ruler!
The boss orders Marco to bend over the table with his bare bottom out and his legs spread.... and begins to administer a hard smacking with the ruler, which Marco has to count out, just as he had had Jason do.
It's not been Marco's finest hour at the office, but if he thought things couldn't get any worse, he has another think coming! He is shocked when the boss hands the ruler to Jason and asks him to dispense the final five smacks! This is one disciplinary procedure that Marco won't be forgetting in a hurry!
STREAM
VIDEO
Available streams for iPad, iPhone, Android, Chrome, Safari, IE or Firefox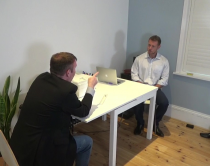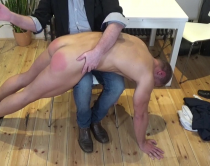 jake854 | 21st March 2019 14:57
That's amazing! Marco is pure perfection, I love the concept, please, more movies with Marco, and more of this series, Marco should keep being stripped and spanked in front of twinks like Jason. It would be great if the boss also forces Marco to work naked for now on and give orders to the young Jason and other twink to spank Marco while the boss watch.
Reply

Rasputin | 8th February 2019 20:05
OOps - I made a mistake in the first paragraph of my comment from last week. I meant to say that MARCO, not Jason, was for me the ideal bottom spanking model. Sorry about that.
Reply

Rasputin | 8th February 2019 20:01
Reply

Rasputin | 8th February 2019 20:01
Reply

Rasputin | 1st February 2019 04:09
For me the ideal "bottom" spanking model would be a good-looking guy with an athletic or muscular build and with a demonstrative acting style. Jason meets all of my aforementioned requirements.

I especially like scenes in which the hunky bottom model is being spanked OTK while wearing tight, skimpy briefs - just like this video. I also like scenes in which a cocky, bullying hunk gets his comeuppance - just like this video. This is the first video you have released in six months that I actually liked.

Charlie and Marco, two hunks with a demonstrative acting style, definitely meet my definition of an ideal bottom model. Please utilize those two guys in the future. While you are at it, try to get Tom back in front of the camera. (His "office Pest" and "Bedtime Spanking" videos are among my favorite SLS releases.) What the hell, try to get Bailey Morgan and Andy Lee as well.

Being spanked OTK is humilaiting fenough or a hunky grown man like Marco. Having Jason, Marco's subordinate, witness the punishment makes Marco's spanking that much more humiliating. I realize the Jason also got a chance to whack Marco a few times with a ruler, but that scene would have been even better if Jason had been allowed to yank Marco over his lap and give the bully a good, long, hard OTK spanking, both on the seat of Marco's briefs and on his bare ass.

By the way, when will we see Charlie, Marco, Tom, Scott, etc. get a bath brush OTK spanking?
Reply

Rasputin | 1st February 2019 03:38
Reply

Kass44 | 26th January 2019 01:10
Although I really enjoy seeing a "top" Actor like Marco being taken down to size - I did not like this film at all. I do not like the "authority" figure demeaned IN FRONT of the "subordinate". Marco is a magnificent top and to see him humiliated in front of Jason (a wonderful "bottom" Actor) feels so completely unrealistic to me that it ruins the escapism of the fantasy. I, personally, would have preferred if Jason had place a complaint with the HR Department – Marco found out and gave Jason a good spanking for it and was caught it the act by the visiting HR Rep. Jason is ordered from the room and the HR Rep would discipline Marco in private – that way the wonderful character that Marco has created would still hold the position of power over Jason. [I believe you filmed a similar scenario with Coach Bailey being punished in front of gym student Dom years ago]. If you wanted to go for something ironic or comical (which I love) perhaps Jason's character could have been called back into the office after Marco was through with his punishment – so that the HR Rep could have found out how disgraceful Jason was as a newly hired employee - then the HR Rep could have instructed Marco on how to give a Corporate Approved Spanking/Paddling to the disobedient/unproductive new hire by example. Also – just a petty & unimportant point - Marco is far too handsome to be so underdressed as a manger. A tie for him next time please – and why no belt for the boy? If Jason was wearing one it would be a handy prop to make use of. Please understand I love you films – just disappointed in this one.

wardcoleman | 26th January 2019 09:51 (42 weeks ago)
That is an interesting post Kass44, and I certainly get where you are coming from. I guess that some people will feel uncomfortable that Jason was present to witness Marco's punishment. However for others, such as myself, the added humiliation of having a subordinate observe the punishment was the cherry on the top of this cake. For me, it was a satisfying and suitable comeuppance for a bully.

Humiliating an arrogant Jock, can be exciting to watch. Some of my favourite SLS videos include this theme, such as when Dom observed Bailey's punismnet, or when Frazer got to watch Kevin get what he deserved in "Cheating 2".

flashgordon | 26th January 2019 12:29 (42 weeks ago)
It could also be said, if "realism" is being called for, that the whole story from beginning to end requires a good deal of "suspension of disbelief" (like most spanking videos!), and within that context, I don't have a problem with Jason watching Marco getting his comeuppance - in fact, Jason's presence there, and his grinning face, add a lot to the film's entertainment.

On one point I do agree with Kass44: none of the three of them is properly dressed for work at the bank. Marco and Jason should both have been wearing ties, but if they're taking their cue from the example being set by The Boss, in his jeans, well... !

That said, the fit of Marco's suit trousers over his buttocks, when bent over the Boss's knee, was a superb thing to behold. And Jason, well, yes, a belt would have been a potentially useful accessory, but I must say that I liked the use of the ruler - an effective tool for the job, and one we haven't seen so often, so a nice change.

Dave - Straight Lads Spanked | 27th January 2019 18:07 (42 weeks ago)
I take your point Kass44 and I appreciate all the feedback. Thanks.

Personally I see it a little differently. In my mind Marco was a good authority figure that deserved any respect at all. He was, instead a horrible bully how badly mistreated Jason.

So in this case I thought it was very apt that he got properly disciplined in front of Jason.

But hey, that is just my viewpoint and it's neither right nor wrong. :)

| 27th January 2019 18:35 (42 weeks ago)
Can Jason get a big wedgie before his next spanking
Reply

mstr_spkr | 25th January 2019 23:58
Another excellent video. So, does Jason obey the boss and not post anything on Facebook? What should happen if he does? Hmmm... I see a sequel in the making. Keep them coming!

Dave - Straight Lads Spanked | 27th January 2019 18:08 (42 weeks ago)
You clearly have a sick and twisted mind. I love it! :)
Reply

Teacherman123 | 26th January 2019 00:02
I do realise that many members will prefer the younger models in the SLS stable, but for me there's nothing quite so potent as seeing a muscular, slightly older 'lad', like Charlie or Marco, being taken down a peg or two by getting a well-deserved bare-bottom spanking over the knee.

Throw in a touch of comeuppance.... a furious authority figure.... a witness sniggering as he gets his own back.... and Marco protesting all the while, and as far as I'm concerned, you have the makings of a classic!

Oh and NOBODY rocks a pair of tighty whities like Marco!

Well done, Dave, on catering for all your members' many and varied tastes!
Reply