RELEASED: 15th September 2017
Jason
Old Fashioned Spanking
Jason has really messed up and Dad is furious. The time for arguing and lecturing has passed. Now is the time for punishment. Jason is just 18 years old and knows he is in deep trouble. You can see it on his face as he is waiting for Dad to come. His father has nothing left to say to him and orders him over his knee. What happens next is a non-stop, thorough spanking. It really is relentless and there is nothing that Jason can do other than try and endure it. His shorts and pants come down and Jason gets spanked hard on his bare bottom. Spanked to tears!
"""More from Producer Dave. Sometimes the hardest job for me when running this website is being aware of the movies that are coming up and not being able to tell you! I have been soo excited for you all to meet Jason. Jason only turned 18 a few months ago and even though he still has that baby face he has a maturity that exceeds his years. I wont say much more are you will get to hear from Jason himself in the interview that follows this movie. Please leave your comments below and let me know if you would like to see more from Jason?""
STREAM
VIDEO
Available streams for iPad, iPhone, Android, Chrome, Safari, IE or Firefox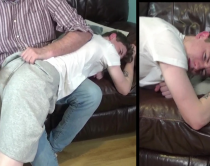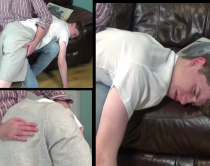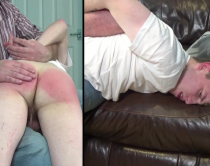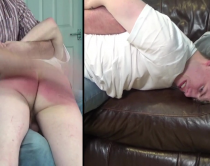 Nevermore | 4th January 2019 20:16
This might be one of my favourite spanking clips ever. Jason's interviews show him to be a lovely, thoughtful young man and his bottom is to die for!
Reply

Nevermore | 27th April 2018 10:00
Jason is my favourite model for a long time. Seriously cute and a lovely bottom. Nice to see someone so down to earth at his age too.
Reply

Paddleboy | 22nd April 2018 09:47
What a great addition to the family Dave Jason is a true to his northern ways I really think he will be as popular as Josh and Jensen are in the site. I wish him well as a northern person myself davve he has a great future.

I hear his Mum brought him up to see you was so funny and enjoyable to listen to and nice to see a honest and bright young man.
Reply

mattnyc | 21st September 2017 07:29
This is an instant classic. Jason is such a great new model. Charlie arrived to fill a bit of a void in the "big/manly" Andy/Bailey department and now Jason arrives to fill another void on the site. The guys are almost all super hot but there was a lack of younger "little brother" types. Not that the other models are too old at all. They're just all young and kind of "manly" which is sexy. But there wasn't a Lee, young Karl, or Domenic type to convincingly play the little brother, nephew, younger son. I love that Jason clearly looks over 18 but still feels like he's not too old for a spanking. And he's fantastic. He's adorable and super smart and present in his interview. And did I say adorable? I love his tight little super-spankable bottom. And I loved him kicking and squirming over your knee, Dave. What a natural actor. And great work with the spanking, Dave. The whole scene worked great. I particularly loved how super tight and revealing the white underpants were. Super sexy. I'll post some suggestions for Jason on the suggestion blog but let me say here that he'd be amazing in an uncle/nephew scene. Or older brother scene. With Charlie for instance? Details on the blog. But thanks, Dave, for continuing to surprise us with the amazing new models and great scenes.
Reply

staninwpa | 18th September 2017 05:42
I have been a member since the very beginning. I have enjoyed the web site and videos a lot, but I have never commented before. After watching this video, I just HAD to comment. This video is awesome! Getting to witness the first time Jason gets spanked in his life is special. Special thanks to him for allowing us to share. Jason is very cute (dare I say adorable). He really takes a fierce hand spanking, and reacts beautifully. And then at the end, the tears make this video incredible.

Dave, thanks for the great spanking, and the believable role play, and most of all, thanks for bringing Jason to us. I certainly hope Jason comes back soon. And thanks to Art as well. I did a little bit of editing for an American spanking company for a while, and I know how difficult it is to capture the scene to best effect. Great job.

Finally, here is my ultimate tribute. I have been collecting male spanking videos from various companies since the 1980's, so my collection is quite large (over 1000 videos). In my opinion, this video is among the top five of all of the videos I have seen, regardless of company. Bravo for a job well done.

Keep up the great work, and be sure to let Jason know how we feel about his work. I sure hope he comes back soon.
Reply

mooner | 16th September 2017 19:45
New favourite - can't wait to see more Jason!
Reply

Ficwriterjet | 16th September 2017 16:28
This movie was awesome! I loved everything about it, especially the interviews before and after.

I thought Jason did a fantastic job of looking contrite and resigned before he even started getting spanked. I saw someone mention that they thought Jason covered his face too much, but I found that quite adorable... well I suppose if I'm being honest, I found everything about him adorable. But I love seeing the guys natural reactions to what's happening, and hiding his face against the reality of what was happening to him seems like something someone in that situation would do. I loved that he couldn't keep his hand down, and kept trying to reach back. I loved that he not only asked for it to stop, but also said he was sorry more than once. I loved that the shirt stayed on - much more realistic for the scenario. I especially enjoyed the line when Jason called out for it to stop and Dave said Jason hadn't stopped when his mother told him to. I have some guilt about it, but my favorite part was right after it was done, because of the tears, and the sincere and emotional way Jason said he was going to apologize.

Dave, I want to say THANK YOU so much for initiating the hug. It was PERFECT. It made the movie so much better for me to see 'Dad' giving a little affection once the punishment was over, especially since Jason was looking so upset.

In the before interview, it was great to see Jason's friendly personality. I thought it was wonderful that he told his Mom what he was going to do, and that she's supporting his decision, while also making sure he's safe. In the after interview it was fantastic to hear that Jason wasn't frightened off by the experience, and plans to come back. I certainly want to see him in more movies. I also thought it was great that he said he hadn't gotten to his breaking point in this movie, because that means he'll be able to take more next time. :)

Thank you all so much for the wonderful movie. I truly enjoyed it.
Reply

Uchikimatsu | 16th September 2017 08:19
I had to evacuate my home because of hurricane Irma and because hurricanes are not that predictable anyway, I ended up sheltered with some friends in Georgia that were also affected by the storm. We were without power for a few days, but the worst is being without internet this whole week! I brought my computer so I could use the down time to catch up with SLS! NOPE! I'll be making the drive home soon but have no idea if internet has been restored there either as restoring power to the citizens is a priority (16 million people lost power in Florida where I live)

The last few films look really good but I'm especially anxious to see this one, I can't wait!!! ARGH!!!

Ficwriterjet | 16th September 2017 15:59 (141 weeks ago)
Hi Chiki,

I hope everything will be back to normal for you soon. The recent hurricanes have effected so many people it's overwhelming to think about. :( I completely understand - not having internet for a week while your entire life is being upturned would make my stress levels much worse.

I think you're going to love this one once you get the chance to see it.
Reply

JamieJones | 16th September 2017 08:53
Oh my goodness! That was AMAZING! I've watched it six times already and it just gets better every time! We need more Jason please, please, please.

Jason - you were incredible especially as that was your first time filming for SLS and your first ever spanking, 'Dad' really went for it and you coped so well. Well done and a huge THANK YOU for going through so much pain for our pleasure.

That was only the second movie I watched on this site that I've want to vote more than 10 out of 10 (Karl's 'Spanked by Dad for getting caned at school' is the other). This just has everything that works for me in it. Thank you to Jason and Dave for making the movie and Art, I love the editing, and the way you use the split screens so we have a close up of Jason's face while still being able to see the wider picture is just brilliant.

Things I really loved;
• Jason. PLEASE can we have more Jason?
• The look on Jason's face while waiting for 'Dad' to enter the room - it was the just the right amount of fear, worry and anticipation. Here was a lad who knew he had done wrong and was in serious trouble.
• The scolding / telling off from 'Dad' - there was just enough dialogue for me to be able to imagine the back story, what had happened, who was involved etc.
• The way 'Dad' pulled down Jason's shorts and then his underwear - it makes a change from the lad doing it himself.
• Jason not trying to hold onto his shorts or underwear while 'Dad' was pulling them down.
• 'Dad' holding Jason's wrist while Jason was standing up just before his underwear came down. Don't know why I like this bit so much, it just seemed to show a caring side to 'Dad'. Maybe because 'Dad' wasn't so angry that he wanted to push his son away but rather wanted to keep him close. (Don't think I've explained this right but I loved it anyway.)
• That Jason didn't say 'I'm too old for this.' That line would so not have worked in this movie.
• That Jason got to keep his top / t-shirt on during the spanking. 'Dad' was punishing his son with a spanking not trying to humiliate him.
• The whole ending, after the spanking when Jason and 'Dad' were sat on the sofa. Especially 'Dad' wiping Jason's tears away and most of all the hug! Can someone pass the tissues please - that was just lovely!

Sorry this review is a bit long but, in my opinion, this movie is outstanding and I love it!

Jamie x



Uchikimatsu | 16th September 2017 09:08 (141 weeks ago)
So jealous right now!!!

Karl's spanked for getting caned at school is also my very all time favorite film on this site, so I know I'll enjoy this one...when I can see it...😒

JamieJones | 16th September 2017 12:41 (141 weeks ago)
Hope everything gets sorted really soon, I'm so glad the UK doesn't suffer from the weather as much as other places - it must be awful having your lives so disrupted. But you've got a real treat to look forward with this movie when everything is ok.
Reply

Orla | 16th September 2017 01:41
I was dying to finish work and get home to watch this and it was worth the wait .

More Jason ASAP what a delightful and refreshing young guy.I'm in love ❤ again...i can't help it he's adorable.The spanking was top notch,his reactions,facial expressions ,squirming and grabbing your hand all what I look for and of course the real genuine tears.Jason is my new number 1 and I'm voting him 10/10.

The interview was excellent definitely one of the best..Jason was so honest and open and a great talker not a bit shy and his Mum travelling with him is the funniest thing I've heard,😃.

Dave,please say you've filmed more Jason ..he just about survived the hand spanking,dying to see him take the belt or spatula.

I can also see Jason playing the younger brother role but for now I think Dad needs to keep a close eye on his behaviour xx
Reply

Kass44 | 16th September 2017 00:00
very nice young man - perfect for big brother/little brother stories - loved the tighty whities briefs - but the actor hid his face from the camera Much TOO Much - also, forgive me, its time to dress the set a bit, looks like an empty set rather then anyone's living room - or any household room. (felt that way for countless videos but never felt right mentioning it). Would like to see this actor again. Maybe he could be as good as John or Elliot.
Reply

mstr_spkr | 15th September 2017 23:56
Fantastic!!! More Jason. For our sake I hope he has not learned his lesson. I can see him getting bad grades, sexting, being sent to Mr X and a whole lot more. Thanks. Great job.
Reply

FraserFan | 15th September 2017 18:14
All your models are awesome Dave, I definitely hope Jason makes a lot more movies.

Dave - Straight Lads Spanked | 15th September 2017 23:41 (141 weeks ago)
Awwwww, thanks FraserFan! I have a feeling though that you might like one model more than the others! :)
Reply

newspank | 15th September 2017 19:52
Fascinating and cool guy, enjoyed the interview just as much as the spanking. More Jason!

Dave - Straight Lads Spanked | 15th September 2017 23:41 (141 weeks ago)
Hey, thanks for the feedback and I'm glad to hear that you would like more Jason! :)

Reply