RELEASED: 5th April 2015
Jay & Scott - Failed Substance Test - Part Six
The Conclusion
This movie continues directly from Jay's shocking discovery in Part Five!
Jay is furious when he discovers that his friend Scott has been taking steroids. Jay has spent weeks harbouring guilt and all this time Scott was still using enhancements.
Jay decided that Scott needs to be taught a lesson so he drags the muscled bound twink and drags him over his knee and dishes out a hard spanking!
STREAM
VIDEO
Available streams for iPad, iPhone, Android, Chrome, Safari, IE or Firefox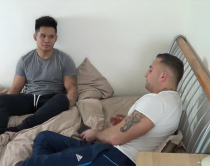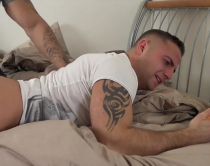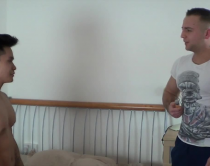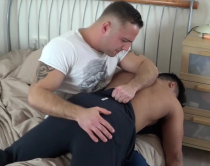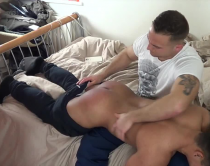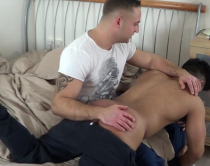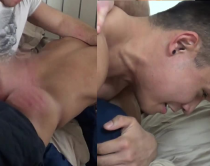 hellyeas | 29th July 2019 14:20
hot as hell
Reply

jmeavi | 14th April 2015 05:24
Reply

Rasputin | 9th April 2015 02:30
Good video, Dave. I enjoyed it. If Scott had been wearing bikini briefs under his sweat pants, Jay had spanked him on his briefs for a while before giving him a bare-assed spanking, and Jay had spanked Scott longer and harder, I would have given this video a "10 out of 10". However, in its current state I gave it an 8 out of 10. Good work.

One minor question though. You called Scott a muscle-bound twink, which to me is practically an oxymoron. To me a "twink" is a man who looks like a boy - boyish face, skinny with no muscle development. Scott is obviously a young man, but I wouldn't call him boyish, and he has a splendid physique. How could anyone call someone as muscular as Scott a "twink"? Or do you Brits define "twink" differently from we in the "colonies"? :-)
Reply

Ooleary | 6th April 2015 01:39
I agree Jay is a great spanker ,but poor Scotty looked so self conscious which is so cute but hey fair play him and Jay are real life friends and he has got a lovely spankable bum,who knows maybe Jay will tell Scott's Dad.Scott WTYFGH ???
Reply

Cherylkay | 5th April 2015 22:44
This is a fitting end to the whole series. Can I just say DAMN, that was a huge needle! LOL Like Jet, I loved it that Jay spanked Scott out of a sense of caring. Yes, he was mad at him. but he also expressed an interest in preserving their friendship. It was almost...brotherly. I do love it when one guy spanks another because he cares, not just because he's pissed off.

Scott is so adorable. I have waxed on about his awesome quads, but I haven't really said anything about his beautiful ass. It has to be one of the sweetest asses on this site. I sincerely hope we see more of Scott. He took that spanking from Jay well. His cute facial expressions added to the film for me; from his cheeky little grin when the spanking first starts to his grimacing as Jay ups the intensity. If Scott is of a mind to film again, maybe having him do one by himself will help him get over his apparent nerves? Being that Jay is a real life friend might make him too self-conscious.

Which brings me to Jay. I had only seen him spank one other time (in the "Footballers Out Of Control" film) and he impressed me then as a pretty good spanker. If I recall (and I may have to go back and watch it), Jay really lit into Oliver LOL. So, well done to Jay. His dialogue was awesome, as he voiced his disappointment with Scott's decision to keep using. I enjoyed the fact that Jay kept his cool despite how mad he was. Well done to both Jay and Scott!

Thank you, Dave for this lovely Easter gift :-)
Reply

Ficwriterjet | 5th April 2015 20:51
Thanks for the holiday movie Dave, that's awesome of you. :)

Wow, I think I have a little crush on Jay now. The way he spanked was perfectly in tune with the things that I love. Even though he was annoyed with his friend, he stayed calm while he spanked. The things he said and his tone of voice while he said them made me believe that he genuinely cared about his friend, and wanted what was best for him. The way he started out with a slower pace of firm swats, and then ramped it up at the end. He seemed confident and sure of what he was doing with no hesitation. All of those things were... really hot in my opinion. I vote for more videos with Jay as the spanker!

Scott seemed quite uncomfortable and nervous about the entire thing. Poor Scott. LOL But he does have a beautiful (and very spankable) ass.

Thank you for the entertainment. :)

Dave - Straight Lads Spanked | 5th April 2015 22:06 (274 weeks ago)
Well I am glad you enjoyed this holiday bonus! I thought Jay was great as the spanker! Here is an odd one, I actually think Jay went for it even harder as he wanted to show Scott how to spank properly! lol!
Reply