RELEASED: 30th October 2014
Jay & Scott - Failed Substance Test
Part Two
This movie follows on directly from Part One.
Having being caught taking 'enhancements' to boost their performance. Martial Arts fighters Jay & Scott have been sent to Mr X for punishment.
Having just received a hard OTK spanking in Part One, Mr X has decided that the lads still have not learned their lesson so further 'Attitude Adjustment" is required!
So the lads face 12 swats of the paddle each!
Mr X does not gl lightly and you can see the pain etched on each lads face as the paddle hits the mark on their already tender bottoms!
These sorry straight lads are left with very sore, bruised backsides after a tough spanking and paddling!
STREAM
VIDEO
Available streams for iPad, iPhone, Android, Chrome, Safari, IE or Firefox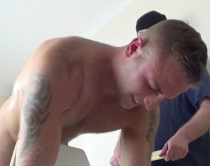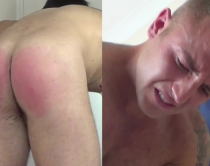 Aimee
|
Voted Video 8/10
| 30th October 05:22
I enjoyed this one. Jay really has gotten rather hot. Yum. Still not quite as hot as Andy but he's certainly jumped up the list of most gorgeous models. Fit!!

Dave, I laughed out loud when you called him a demented frog. Hilarious!

Well done all.

Ooleary
|
Voted Video 6/10
| 30th October 06:44
Scott definitely took the paddle better and harder his bum looked really bruised unlike Jay "the demented frog " ha ha jumping around

Ooleary
|
Voted Video 6/10
| 30th October 06:57
Ps Dave don't know what my phone is doing but my vote should read 6/10 xxOrla .
i usually vote and comment on my laptop but i loaned it to a friend for a few weeks cos he broke his and he needs it for college so really missing it cos a lot of my fave movies won't stream on my phone roll on 5 weeks when I get it back still makes me laugh though everytime i think of how it got damaged he was getting into his car when his phone rang so he put his bag on roof of the car and started chatting then sat into the car and drove off forgetting his bag was on the roof it slid off the roof and he reversed over it

MJM
|
Not voted video yet
| 30th October 07:15
Hi Dave, great film! Love Jay's screams, squeaks and general outcries of pain... Delightful! What did your neighbours think, when you started making these films? Did or do they ever hear the screams of pain from some of the guys? (Thinking, 'What was that?!') (((Chuckles at the thought)))

welshboy
|
Voted Video 8/10
| 30th October 08:05
Jay and Scott work so well together. I must say not as good as part one. But I have always loved Jay and his shouts and face pulling make it all part of the fun. As for Scott he is growing on me, I do hope he does more spanking films. I am so glad their is going to be a part three with Jay. It will be a joy to watch. Art well done on the over look of the film, you just keep coming up with the goods.

uchikimatsu
|
Not voted video yet
| 30th October 08:14
Haven't seen it yet but can't wait to find out about "demented frog!"
I'm hoping Jay is a little (well, a lot!) more humbled in this one...really liking forward to his peg-down-taking 😁

Cherylkay
|
Voted Video 7/10
| 30th October 12:27
Poor Jay...he really does struggle with implements. That hasn't changed. As an American, I can relate to getting the paddle, as most of my teachers were fond of using them (and yes, teachers paddled girls in my day). Both Jay and Scott have really nice bottoms that color nicely. Those "bull's eye" bruises are the mark of a hard paddling and Scott's were really noticeable. Both guys are muscular, but not what I would call muscle bound, although Scott's quads are huge. I do love seeing a strong, muscular guy being spanked and having a bit of a hard time with it (probably why I like Wayne so much lol). Something kind of cute about that.

@Dave, you should issue a "spew alert" before you say things like demented frog! lol I was watching the video at work and I nearly shorted out my computer spewing my drink on the screen. That was one of the funniest things I've ever heard you say.

I would love to see Scott in another film. He seems a bit quieter and a bit camera shy. Maybe another shoot would get rid of that shyness?

Great work, as always, Art.

Lynne
|
Voted Video 7/10
| 30th October 14:06
Downloading at the moment but Chiki, dear...I think you meant down peg taking :). As for the demented frog, I can imagine it. Jay has always been rather uhm, active, in his responses...vocally and physically :)

Rasputin
|
Voted Video 7/10
| 30th October 17:32
Not as enjoyable as Part 1, Dave, but still a fun video.

I'm looking forward to Part 3. I know Jay will react quite demonstratively to the bath brush. It'll be interesting to see how Scott reacts to it.

Domfan
|
Not voted video yet
| 31st October 17:48
A treat to see Jay's dangly bits between his thighs 😍. Oh and he has lovely eyes and teeth

Cherylkay
|
Voted Video 7/10
| 1st November 07:15
@Rasputin, if Jay is getting the bath brush, I'm getting my earplugs ready.

Cherylkay
|
Voted Video 7/10
| 1st November 15:48
Seeing as how Jay has a hard time with implements, I have to wonder why he agreed to the bath brush? That video should be interesting (and loud!) lol.

Lynne
|
Voted Video 7/10
| 1st November 16:46
The first time I watched the vid I didn't go to the very end but stopped when the credits came up. Rasputin's comment about Jay and the bath brush sent me back to watch it again this time all the way through. I never thought that Jay would ever agree to the bath brush and Cheryl, I think you are correct. While Jay did much better in this vid, and in part I, with the quieter voice, I can't see how he will be able to hold back with the bath brush.

Cherylkay
|
Voted Video 7/10
| 3rd November 20:04
@Lynne, if past performances from Jay are anything to go by, I don't see it happening either lol. I'm getting my custom made ear plugs ready for that one. I recall (maybe it was the interview with Andy after the mouth soaping video) Dave reminding Andy that both he and Jay had said during a shoot they neither would ever do the bath brush and now they've both done it. There are some other models I'd like to see do a bath brush video. Dom is one of them, but the way that guy marks, I doubt we'll ever see it. But I won't say never.

Alg
|
Voted Video 7/10
| 10th November 02:37
Jay is so funny, I love his reactions and honest yelps and wiggles ... big sad eyes brimming with tears ... I have the feeling he really wants to let himself go and breakdown; perhaps the bathbrush will help him on his way?

Cherylkay
|
Voted Video 7/10
| 12th November 11:33
@Alg, Jay always looks wretched afterwards, doesn't he? LOL I always feel slightly antagonized in any discussion involving bath brushes because well...quite frankly, I hate them. My hat is off to anyone who can tolerate those evil things lol.

Lynne
|
Voted Video 7/10
| 12th November 15:48
Addendum...Scott would be a possibility physical stature wise..whether he is crazy enough to do it, well.....

Cherylkay
|
Voted Video 7/10
| 12th November 20:57
Oh and did I mention I'm in love with Scott's quads :)