RELEASED: 14th February 2013
Jay has been a naughty lad! Using the house phone to call adult chat lines! Jay's father gets an expensive phone bill though and realises what his horny son has been doing!
Jay has been made to wait for his father to return home. He knows that he is going to face the belt from his father. So this young, built muscle guy strips off his clothes and lays on his bed waitiing for Dad to come home.
Angry Dad comes home and lectures young Jay about using the house phone in such a disrespctful manner. Jay has got no means of repaying the money so Dad makes him pay with his belt!
Dad begins to lash the belt down on his young sons beefy butt. Jay really feels the swats from the beginning and squirms around trying to avoid his Dad's hits.
Eventually Jay has to remove his underwear exposing his already bruised bottom!
The belt continues to strike until Dad decides that Jay has learnt his lesson!
Dad leaves the room and Jay is left nursing his sore bottom...
STREAM
VIDEO
Available streams for iPad, iPhone, Android, Chrome, Safari, IE or Firefox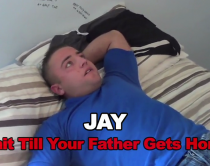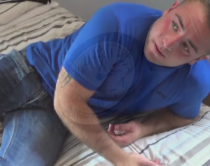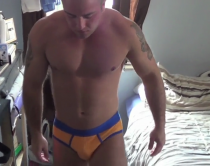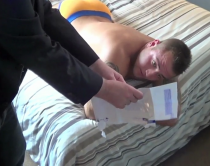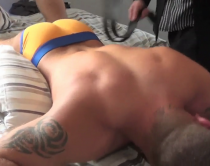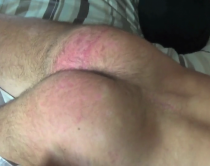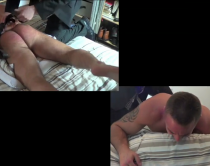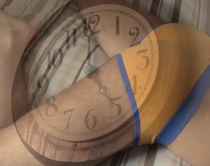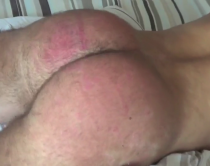 Rasputin
|
Voted Video 9/10
| 16th February 09:50
Very good video indeed, Mr. X. You, Jay and Art should be proud of this one.

Jay is a very good actor, and he has a magnificent body. The tight, skimpy orange briefs he was wearing accentuated his firm, round bum - excellent choice of underwear. I enjoyed watching him cry out and squirm in pain on the bed as his "father" punished him.

One minor request, though. Could Jay's buttocks be shaved for his next video? His buttocks could either be already shaved before the camera starts rolling, or he could be shaved as part of his punishment.

Mr X
|
Not voted video yet
| 16th February 13:12
Hey Rasputin, I'm really glad you enjoyed this one. I seem to recall that there was at least one moment when Jay said something along the lines of "ah, that really hurts now". That was actually Jay talking to me the producer but we decided to leave it in as it makes it even more realistic. If I do film with Jay again I'll be sure to ask him about shaving! :)

hanluke
|
Not voted video yet
| 16th February 19:21
No shaving!

cami
|
Voted Video 10/10
| 29th April 13:30
Aww jay can't take the belt like andy,bailey,karl & liam. Jay got off easy. Now dad if it was 300 pounds that you had to pay why would you not spank your son more then that. But jay for what it's worth you did a good job with the belt. :)

cami
|
Voted Video 10/10
| 29th April 13:34
oh crap Mr.X can you place reset that score again cuz i wanted to give jay & this movie a 9 not a 4 :(. So sorry

Dave - Straight Lads Spanked
|
Not voted video yet
| 4th May 04:10
I've removed it Cami!

cami
|
Voted Video 10/10
| 6th May 08:02
Thank you so much :) i was going to give jay a 9 but me missed up so i gave 10 :)


rm7guy
|
Voted Video 10/10
| 30th August 03:33
Great video. Jay is the main reason I became a member! But please, please don't ever shave his backside, it's perfect as it is.
Not sure how to rate films yet, only been a member a day, but he's getting a 10 from me - 11 if he becomes one of the bath brush victims :)

Dave - Straight Lads Spanked
|
Not voted video yet
| 31st August 03:48
Hi! Dono't worry, I don't intend to shave any of the lads! I'm guessing there is probably a whole website dedicated just to that! I can see you have already worked out to vote! So far, Jay has been too scared of the bath brush! Poor Baby!