RELEASED: 25th May 2017
Josh
Birthday Spanking Video
This movie follows on directly from Josh's spanking video
So now it is Jenson's time to get his bottom spanked! After sitting watching his friend Josh receive his birthday spanking then Jenson knows exactly what he will be facing in this spanking video.
We have an interview with Jenson and then it's his time to strip off and get over Dave's knee to have his bottom thoroughly spanked. Josh really seems to enjoy watching his friend Jenson get spanked!
Then we move onto Jenson having to stand up, bend over and receive the implements. It's over 20 swats that Jenson has to endure and even though it's his birthday, Dave does not hold back in this birthday spanking video. Of course Josh is present to stand by and watch his friend get properly thrashed! The spanking tools are the leather paddle, cane, flogger, wooden paddle and carpet beater. None of these are pleasant and they all leave their distinctive marks on Jenson purple bottom!
STREAM
VIDEO
Available streams for iPad, iPhone, Android, Chrome, Safari, IE or Firefox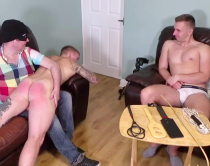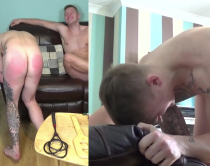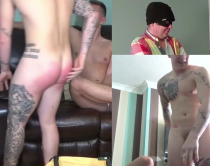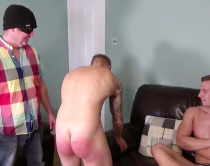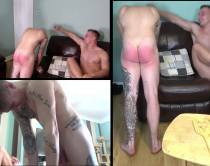 Rasputin | 2nd June 2017 00:30
I don't want to sound cruel, but there is no way around it, I guess. Jenson gave a good performance, but his excessive tattoos seriously detracted from the effectiveness of his performance. WAY WAY TOO MANY tattoos.

Dave - Straight Lads Spanked | 3rd June 2017 22:01 (80 weeks ago)
Hi Rasputin, I don't want to sound cruel but the issue with the tattoo's detracting from the effectiveness of Jenson's performance is purely an individual issue. In other words it's down to the way you perceive the tattoos. It's a shame they you have this particular issue and I hope you find a way through it, :)

Rasputin | 17th June 2017 01:06 (78 weeks ago)
You will recall, Dave, that I was very fond of Andy, who was also heavily tattooed (but not as excessively as Jenson). In spite of his tattoos, I was won over by Andy's demonstrative acting style, impressive physique, and winning personality. I enjoyed his videos very much; he's one of your very best SLS models.

As I said, Jenson did a good acting job, but he's not yet in Andy's league. Hopefully his performances will improve in the future to the point that I will overlook his tattoos. Until then, I fear that his videos will continue to get mixed reviews from me.
Reply

Orla | 25th May 2017 19:45
Excellent movie love these boys so much funny funny guys loved all the banter and laughing and knowing glances between the two. So surprised that Jenson told his Mum about his filming that's hilarious.

Loved Jensons reaction to getting the cane for the first time ....Great job all around ☺☺

Dave - Straight Lads Spanked | 3rd June 2017 22:03 (80 weeks ago)
Oh yeah, the relationship Jenson has with his Mum is really surprising, refreshing and amusing!
Reply

jacko | 26th May 2017 09:07
As this video was shot shortly after the conclusion of Josh's Birthday Spanking video, many of the criticisms I levelled at that video apply equally.

However, with Jenson featuring more prominently this time around my viewing pleasure was considerably increased. Jenson's great sense of humor, cheerful attitude, mastery of gesture and facial expression and visual vulnerability to a forceful spanking, in my opinion injected vital energy into this scenario.

Congratulations Jenson on a job very well done. May you continue to feature regularly in SLS spanking videos where your subtle acting skills can be further nurtured and developed particularly in co-starring roles.


Dave - Straight Lads Spanked | 3rd June 2017 22:02 (80 weeks ago)
I'm glad you enjoyed this movie Jacko
Reply

Slipper Boy | 26th May 2017 21:25
Brilliant movie again Dave Jensen like Josh are star's

Dave - Straight Lads Spanked | 3rd June 2017 22:02 (80 weeks ago)
They really are stars! Glad you enjoyed it,
Reply

NovaDad | 31st May 2017 20:57
Yet another great video!
However, it seems to me that Josh was enjoying Jenson's spanking way too much. I think Josh was just itching to have Dave lay a few more hard licks with the carpet beater on his own very handsome, still-very-red bare arse.
(=!=)... (#!#)


Dave - Straight Lads Spanked | 3rd June 2017 22:02 (80 weeks ago)
LOL! I have no doubt that Josh really enjoyed watching Jenson getting spanked, However I'm not so sure he wanted more swats himself!
Reply