RELEASED: 22nd December 2017
John & Marcus
Brother In Charge
Part 14
This movie continues on from Brother In Charge Part 13
Marcus and John have both had their bottoms soundly reddened over Andy's knee lately after involving his younger brother in drugs... and now they're out to get their own back on each other!
In this week's brand-new male corporal punishment movie from Straight Lads Spanked, both lads are intent on exacting painful revenge on the other for grassing them up to Andy, although whether they actually did or it was Andy just claiming that they had, they can't be entirely sure!
When Marcus says he is going to give John exactly what Andy gave him, John's response is that he will do the same... and a challenge is set in motion: who will spank harder? John sets the stopwatch on his phone, and bends over Marcus's knee for three minutes of solid hand-spanking on the seat of his trousers.
When the three minutes are up, it's time to swap places, and Marcus's turn to go over John's knee... but with lots of goading and posturing along the lines of, 'Is that all you got?', neither seems to be presenting any serious competition to Andy in the disciplinarian stakes... or so these two miscreants would have each other believe!
Marcus, ever a stickler for the letter of the law, reminds John that he has to get exactly the same as Andy had dished out, and that means that Round 2 is going to be with trousers down!
With their trousers around their ankles, both lads are spanked for three more minutes on the seats of their tight pants, by which time their brave claims that their bottoms aren't hurting are beginning to sound considerably less convincing. Certainly the pained expressions revealed on their faces by the multiple camera angles tell a very different story. They have both got the sore bottoms they richly deserve... but they're certainly not about to admit that!
If John thought that that was the end of it, though, he has another think coming. Just like when they were punished by Andy, there is still another round to come... and this one will be a bare-bottomed spanking over the knee, with their pants down! To be continued!
STREAM
VIDEO
Available streams for iPad, iPhone, Android, Chrome, Safari, IE or Firefox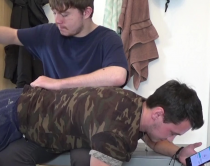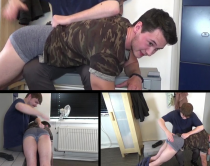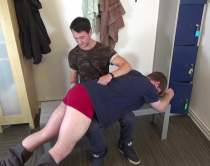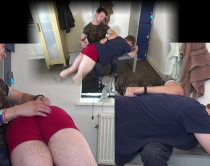 Slipper Boy | 25th December 2017 08:47
Marcus is my New favourite model on here he great actor and a spanker too
Reply

Kass44 | 22nd December 2017 18:36
Just finished watching this film - oh man, you teaser! What's with the "Wait Till Next Week" ending???!!! I believe in England you call that "Cheeky" I have several favorite actors of yours, but John is High Up on my List. Loved film - here's hoping Marcus is in the right and gets to take a hairbrush/paddle to John's bottom. In fact any chance that all your boys get a chance to give John's bottom a healthy swatting?! That would be a great Christmas present! (for the audience at least). Any chance you'd consider doing a film where 3 of your heartier lads give a mighty spanking to 3 of your naughtier ones in tandem? Would make for a great film. God Bless you all this Christmas, and thank you to you and all your actors for your wonderful films.

jamester | 24th December 2017 19:28 (74 weeks ago)
That would be a hot video. I wish they would do a video where Andy takes a brush and/or paddle to these guys bare butts. I'd love to be on the receiving end of a hard spanking from Andy:)
Reply

jamester | 24th December 2017 18:46
A hot video would be if Andy made them punish each other and to make sure they didn't go easy on other tell them that whoever spanked the softest was going to go over his knee for a hard spanking with the brush.
Reply

mooner | 24th December 2017 09:54
Marcus is the hottest guy on the site for me - his reactions seem so real, a proper boy next door type, with a nice big, boyish boy. More please!
Reply

Rasputin | 23rd December 2017 19:40
So far neither of these guys can spank as hard as Andy. Let's see how they fare in the finale.

John is the more physically attractive of the two guys, but Marcus definitely has sexier underwear.
Reply

Orla | 23rd December 2017 10:43
Really enjoyed this movie .. I'm not a big Marcus fan but after this movie he is growing on me ,the banter between the boys was great both trying to out do the other but I'm afraid John seems to be winning poor old Marcus was definitely feeling it more .can't wait be next instalment... and did i spy a belt rolled up on the bench beside the lads ?? Good job boys xx
Reply