RELEASED: 29th December 2017
John & Marcus
Brother In Charge
Part 15
This movie continues on exactly from Part 14
As we rejoin Marcus and John in this week's new release from Straight Lads Spanked, the punishment they are dispensing to each other in the wake of being soundly disciplined by Andy is being taken to the next level. They have each been spanked over the other's knee on the seat of their trousers and on their underpants.
But in this male corporal punishment video, just as Andy had done to them, it's time to lose the undies and for the lads to spank each other on their bare bottoms!
John is the first to pull down his pants and bend over Marcus's knee for a good hard spanking, again timed on his phone. Then it's Marcus's turn to bare and bend. By the time they have both felt the other's hand across their bare behinds, however much they might try to make light of it, the truth is revealed by a matching pair of sore red bottoms!
Marcus is still not satisfied, though, and begins to look around the changing room for an implement to use on John's bottom... and as luck would have it, there happens to be a conveniently discarded plimsoll right there on the bench in front of them! What were the chances?!
It's John's turn first to bend over the bench for a dozen hard smacks with the plimsoll across his bare bottom, before they trade places again and John does the same to Marcus. If their rear ends were red and sore before, it's nothing compared to how red and sore they are now!
Giving John a whacking with the plimsoll seems finally to satisfy Marcus's desire for revenge, and the two lads shake hands and call it a day. That must be the end of the story, no.....? Well, maybe we shouldn't bet on that...!
STREAM
VIDEO
Available streams for iPad, iPhone, Android, Chrome, Safari, IE or Firefox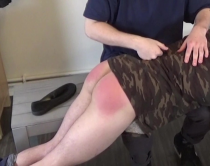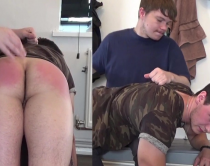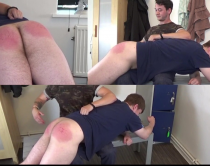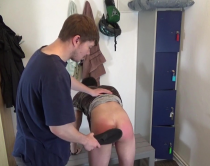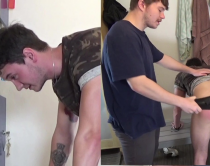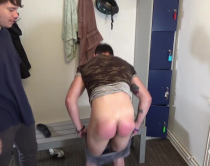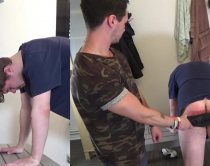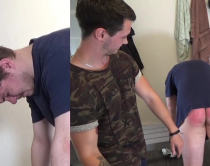 jamester | 3rd January 2018 01:13
These are two nice looking guys but the spanking was pretty light weight. You need to do a sequal and have andy bust them for the spanking and show them how to really spank ass with the plimsole
Reply

flashgordon | 30th December 2017 09:20
It's true that John and Marcus don't spank as hard as Andy, and maybe it's because we've just seen from both of them what a spanking from Andy is like, that people now feel this is a bit of an anticlimax. That and the fact that they're maybe not as imaginative at acting and improvising lines as some of the lads.

On the plus side, here are two Straight Lads who are evidently not afraid to go over each other's knee bare-bottomed for a spanking from another young man - something that Dave has said he sometimes has difficulty persuading them to do.

What I would love to see now is this pair brought together "as themselves" with Charlie, for one of those spanking card games. We haven't had one of those for a while, and it would be interesting to see how that dynamic would play out. What's the chance, Dave?
Reply

Rasputin | 30th December 2017 01:55
Parts 14 and 15 suffer from two problems - John and Marcus didn't spank each other hard enough, and neither lad responded in a demonstrative manner to their spankings. I find myself agreeing with Kass44 that this video would be much more interesting if Andy had shown up and spanked both lads hard for trying to get revenge.
Reply

bill | 30th December 2017 00:13
I thought the final part was excellent- I am also v interested in underwear and would love to know where John gets his boxers/trunks from? They look really good and fit him really well. He looks really good/cute in them. Bill
Reply

Kass44 | 29th December 2017 21:48
Thank you very much for this film, all your films. I realize I have no right to criticize your work, considering how grateful I am for it, but as much as I enjoy John - and have come to enjoy Marcus (he could be a very good younger spanker - maybe as a Sidekick to SuperHero Spanker Charlie) this one was quite the disappointment. The chemistry of the actors was okay, but the spanking never got sever enough. If the spanking isn't going to become harsher then the jocularity of the situation needs to be increased so the film is fun or perhaps even humorous (I love a good laugh in a spanking scene). But both boys were downers. Neither took any relish in the "revenge" spanking, and the entire scene was in desperate need of both boys being worried/ashamed that at any moment someone else might walk in and catch them at it. (I was waiting for Andy to show up and paddle them both). I always enjoy your films and I 100% want to see more of both John (now one of my favs) and Marcus (soon to be a fav) but I was anticipating a bigger finish and was disappointed. Here's hoping for better in the future. Again, please understand - I think the world of you, your actors, and your wonderful films! Happy New Year! (a hairbrush instead of a slipper/shoe would have worked wonders - and have you ever considered having those boys' mouths washed out with soap?)
Reply