RELEASED: 7th July 2016
Josh & Jenson
Lazy Lads
Part One
Josh and Jenson are best mates that are just starting out in life. They have been given a fantastic opportunity to work for a very prestigious company. This was arranged by Jenson's Dad.
These two naughty lads decided to celebrate the job interview the night before and ended up sleeping in and missing the interview!
Jenson's Dad walks into his son's bedroom to see both lads sound asleep from the night before! Jenson's Dad is furious and can't believe his son would screw up such an amazing opportunity.
Lesson's has to be learnt and Jenson is due to get spanked. Josh does not want his own father to get involved and begs Jenson's Dad to punish him also.
Jenson's Dad gives a real, hard spanking. He puts both lads over his knee and proceeds to spank them hard. Not just with his hand, but also with the wooden spatula from the kitchen.
You can see how much it really hurts as the lads squirm around throughout the painful spanking!
STREAM
VIDEO
Available streams for iPad, iPhone, Android, Chrome, Safari, IE or Firefox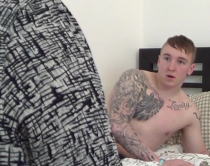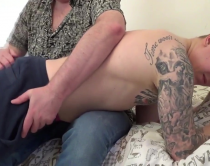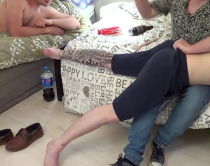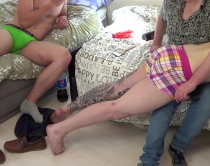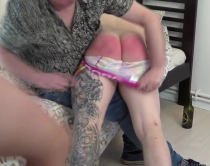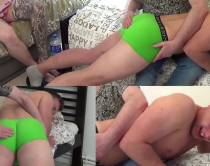 Rasputin | 4th March 2017 01:30
A very good film, guys. One detail that I very much appreciated was the way Josh's tight green briefs hugged his buttock cheeks very tightly. His green pants were so tight that they were practically wedged into his crack, but not quite. A very nice touch indeed.
Reply

jacko | 14th February 2017 03:34
A fantastic movie!
There have been many SLS movies that follow the "spanked in the bedroom" theme. In fact "Bedroom Spanking", "Wait Till Your Father Gets Home" and "Bubble Bath Blues" all eventually lead to this outcome. No matter how innovative the story line is, there is the potential for such films to be lacklustre for all except viewers who crave the visual appeal of naked men or the reaction to the continuous inflicting of pain.
I say potential because in SLS spanking movies Dave and Art usually work in combination to skilfully weave a scenario which is anything but mundane despite the format. The two parts of this movie are an example of just how well this can be done.
What are the features that make this video so special?
What better place to start than the two attractive, young lads who fall victim to Dad's desire for retribution. Despite what Dad might say in his scolding counsel about teaching the two lads a lesson, their behaviour has threatened his reputation at the Bowling Club. He wants his pound of flesh! To make it easier for him, both Josh and Jenson present such spankable backsides, both visually and aurally. He is also rewarded for his efforts by the sight of two painfully crimson bottoms. These two handsome models produce a creditable acting performance as they not only fight to maintain their composure while suffering a very hard onslaught of whacks but remain in character through convincing dialogue and interaction.
The second feature that adds interest and impact to the film is the choice of the implement; the spatula. The sound it makes and the reaction it provokes when used with force upon each backside is startling and very effective. Fortunately for the two lads it is used sparingly but the hand-spanking that follows each spatula session has more impact as a result. The availability of the spatula in a domestic environment makes its use credible. I find its use makes a greater impression aurally than the slipper.
Thirdly, the scenario of two mates or brothers sleeping in the same room and copping the same punishment appeals to me; not because of the embarrassment angle but because each is watching his own fate being administered to the other. It also provides greater scope for meaningful dialogue particularly if one of the pair makes the situation worse by revealing too much information. Usually a visiting lad displays shock when the prospect of a spanking is discussed but I particularly liked the way in this movie that the spanking experience of each lad was revealed.
Another unique feature of this film is the fact that after both of the lads submit to harsh punishment, the nagging counsel and aggression cease and the Dad takes positive action rearrange the appointment for BOTH boys. That is a very just and a fitting conclusion to a punishment film that include lighter moments. Too often, when a joint punishment has been given, one of the boys is still sent home or grounded; no longer do both boys receive then same punishment.
The camera angles and split screens in this movie were used to great advantage. Well done Dave and Art. Watching Jenson in the background rubbing his bum and looking miserable while Josh is being spanked in the foreground is a winner. Unfortunately, in the first part of the film Jenson's face could not be seen which decreased the impact. Apparently, although suffering pain earlier in the film when lying on his bed, Jenson started to laugh or smile. Nervous laughter, surely! It would have been more realistic if Dad had not commented on this although he was not to know that this was not seen by the viewer. The positioning of the boys on the bed at the end of the film meant that it was not possible to view reactions. In hindsight it might have been better bent over the bed rather than on it.
This was a thoroughly enjoyable film which I can recommend to all. Excellent work from Josh, Jenson, Dave and Art.

Reply

Giuseppe | 8th August 2016 11:02
Dave, how I envy you
Reply

mstr_spkr | 11th July 2016 16:46
Excellent job all around! I can't wait for Part 2.

One thing I love about SLS and some if its more believable stories like this one is that they can get your imagination going in all sorts of directions. Shades of "Brother in Charge"! I can just imagine sequels to this, too. Josh and Jenson try to lie about the interview to Josh's dad who had already gotten a call from Mr. White when they didn't show. Since Jenson's dad had spanked Josh, Josh's dad obviously must spank Jenson as well for his part in the lies. Then Mr White can send them both to Mr X for a serious session with the birch or leather paddle if they want another chance at an interview. Then, holy cow! What if Bailey is their supervisor?!?!?

Regardless of what happens next, thanks to all for a job well done. I can't wait to see more. It would be a shame to drop the story line with just these two parts of the one video. J&J work so well together.
Reply

mattnyc | 9th July 2016 21:23
These two guys are super sexy in those tight briefs. Especially Josh, who has an amazing butt. Both are really cute and do a great job with the scenario, dialogue, etc. I love an OTK spanking on tight underwear but, of course, I can't wait to see them come down. Great job, Dave and Art. Looking forward to part 2!
Reply

NovaDad | 9th July 2016 20:23
Josh and Jensen are indeed great together. I already really liked each of their initial solo videos... so I'm definitely looking forward to the second part of this video after seeing this first part!!
Reply

Ooleary | 9th July 2016 13:06
This is a good pairing there was some good banter between the lads and they are both good actors esp when they're both newbies I thought they would be kinda awkward with each other so i was pleasantly surprised eg when Jenson was begging his Dad not to grass on Josh and asking him not to spank Josh as hard as he was .I have watched it a few times and can't wait for part 2 xx.



I loved the way you could see the other lad on the bed rubbing his sore bum while his friend was being spanked and Dad as always is great at giving a well deserved hard hand spanking and i also like the spatula cos you can give it to them otk ..

Thanks to Dave,Josh,Jen and Art(Btw love reading your new blog xx esp the bit about continuity etc never thought of that i bet this movie was a nightmare what with 3 actors in a small space xx)

Reply

LucienG | 9th July 2016 12:38
Damn, just when it was getting good--well better. Can't wait for the next installment! Bare butt spanking is always best!
Reply

welshboy | 8th July 2016 11:02
Wow I love this first part so much. Josh and Jenson do work so well together. it flows very well. I like the story too. The spanking was top draw. The underwear of both boys was pure eye candy. I am sad as I have to wait a few weeks for part 2 . Great job from Josh, Jenson, Dave and Art.
Reply

sumai-Davefan | 7th July 2016 22:30
I like this film very much. Josh and Jenson are very good. I like they protect each other,  manages to be manly. Josh is very cute when he said 'come on' . I was looking forward to seeing part two.Thanks Dave, Thanks Art!
Reply