RELEASED: 23rd February 2017
Karl
Old Fashioned Spanking
Sometimes a lad just needs an old-fashioned spanking! Sometimes there isn't really anything left to say. Sometimes Dad has to step up and do what is required to discipline his son.
Karl has messed up. Big time! He is due a proper spanking. It's been long over due. Karl is completely resigned to his fate. Dad has a job to do.
This spanking video starts from Dad entering the room and does not finish until he has dished out a thorough spanking! There is minimal dialogue or story. Instead we get to see a proper spanking given to a very deserving young lad,
This spanking movie was filmed in one take from beginning to end. There were no gaps in the spanking. The spanking was very real and hard. What you are seeing is a real old-fashioned spanking!
This spanking video also contains an interview with Karl.
STREAM
VIDEO
Available streams for iPad, iPhone, Android, Chrome, Safari, IE or Firefox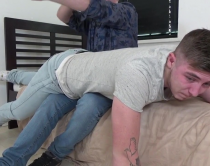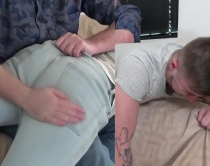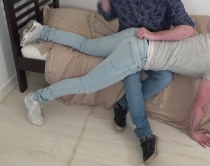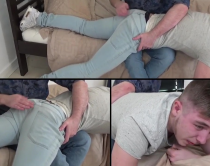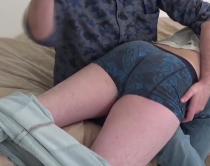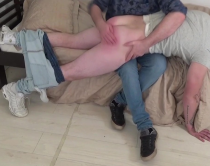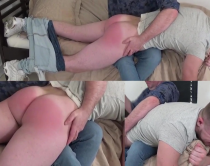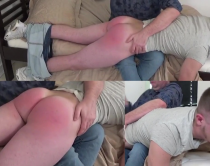 jacko | 23rd February 2017 22:52
I regret that I have to admit it, but like the other two limited dialogue movies" Bradley - Old Fashioned Spanking" and "Jamie - Wait Till Your Father Gets Home", in my opinion this movie falls flat. That is despite the fact that it stars spanking supremo, Karl.

It may be the format or the fact that I have been recently overdosing on Fraser's movies, but for the very first time, Karl is unable to carry a film on his own despite the inadequacy or lack of storyline and dialogue.
It is definitely not because Karl has lost his extraordinary ability to tolerate pain. His battered bum following this harsh hand-spanking is testimony to that. Nor has Dave's ability to impose powerful, stinging blows decreased. Now that he is attacking the thighs, if anything it has become more potent. Karl has even managed to avoid regular eye contact with the camera; finally.

Perhaps Karl has lost his boyish charm as he has accepted the responsibilities of fatherhood. Certainly, the demise of his curly hair has made him less attractive, but then I am enjoying Karl's contribution to the latest "Spanking Game" series where the curly hair is also no longer to be seen.

Karl is not new to videos that either completely lack dialogue or in which the dialogue is limited to a few words; films such as "Prison Punishment - The Rod'" and "The Birch - 36 Lashes", in which his performance were outstanding. What is so different here?

In my opinion it is the somewhat stoic reaction to the spanking that limits the effectiveness of this movie. Looking at Fraser's hand-spanking movies, the suffering is emphasized by major body and leg movement, vocalization, extreme facial expressions and of course his characteristic blushing. From Karl I noticed none of this until almost the end of the bare bottom stage when the pain obviously became relatively severe. Prior to that, apart from limited rudimentary dialogue, Karl's reaction was limited to some facial expressions, head jerking and clutching of the bedding; nothing that would suggest a bum on fire. With the benefit of the split screen the opportunity to observe animation was possible, but this was slow to eventuate.

Eventually, in the final stages, there were some promising signs; a limited amount of full body and leg movement and the grimacing became more convincing. However, none of the vocalization that I would expect to see and would find exciting in a true-to-life spanking. For example, none of the squirming that was so visually stimulating in Karl's "Locker Room Spanking."

Where to from here, Karl? Your interaction with other models is great and your current participation in the "Spanking Game" series is injecting valued fun and life. Your interpretation of storylines is first class and your characterization is still superb. I would suggest that you work on your reactions and maybe watch some of Fraser's movies for inspiration. Keep clear of sole performances and follow your strength which has always been co-starring and interaction with other models. You are not over the hill yet but a few tweaks are needed to keep you at the top of your game. I am pleased to read flashgordon's comment (below) which suggests that mine might be a lone voice. Perhaps I have come to expect too much of 23-year-old Karl. I still think of him as a mate and hope to see him around for a long time yet.

The interview was much appreciated and would be a fantastic addition to any harsh spanking film to assure us that the model is okay and has not been scared away. It's always a special treat to see the real Karl catching up. This latest interview poses more questions than it answers.

Thanks for the effort lads. Still an entertaining film but while Karl submitted to a bruising encounter, it failed to push my buttons in the same way as many other Karl movies.


jacko | 1st April 2017 10:32 (59 weeks ago)
I am appreciating this video more every time I view it. If I imagine a storyline it becomes more convincing and enjoyable. Unfortunately, the lack of storyline and dialogue didn't provide Karl with the opportunity for characterisation. It is probably for that reason that my first evaluation was that Karl failed to excel in this film. I may have been expecting more of him in a situation where there was little material for him to work with. I have since compared this movie with John's traditional punishment so can ascertain the importance of a storyline of sorts to a film's entertainment value. Sorry if I was too hard on you Karl although your reactions still require a tweak or two.
Reply

Billenkoek1984 | 6th March 2017 15:36
Those real punishment videos you make lately are really the best in the mm spanking community! I hope you will continue to make more videos like this one, and with the other models
Reply

Slipper Boy | 26th February 2017 20:40
Well done karl for your way you handled your spanking
Reply

mstr_spkr | 25th February 2017 22:12
Let me start by giving kudos to Karl for enduring a one-take spanking. I appreciated his honest reactions, as muted as they were. All too often it's obvious when a model is forcing a reaction. Some seem to be on the brink of death whether it's the first stage of a "Mr. X" spanking or a bath brush beating. I appreciate the real reactions. No matter how hard "dad" spanks, I doubt his hand compares with the bath brush so if Karl had reacted the same way as in his "Trust" video, he would have lost credibility in my book. Given his experience with the bath brush and birch, among other things, his level of reaction was about as I expected. Please always give honest reactions.

Karl is still very handsome. We don't need him as "18-year-old Karl" since he is now a very fine young man. His bum is still very spankable and I'm not hung up on the lack of curls in his hair. It has been interesting to see the difference in his films as he has matured. Perhaps if we had not had such a long hiatus the gradual change would have eased us into the model he is today. Nevertheless, the past is history.

Taking the film for what it is today, I think the video lacks several elements usually present in the SLS genre. As stated in numerous places, the dialog was very minimal. That would fine as long as there had been enough dialog for the viewer understand the context of the spanking. As a viewer I would like to ascertain if in my opinion the punishment fits the crime. I often find myself evaluating if dad, Mr. X, or whoever went far enough or too far considering what was done to deserve the spanking. "You know what you did" type of dialog with no context leaves the rationale lacking. Did he really deserve a spanking? Did Karl simply forget to put a dirty dish in the dishwasher or did he run the fuel tank down to empty so dad had to walk to the station to get petrol? Should dad have used his belt? We don't know.

In the end (no pun intended) Karl was not all that contrite. Was the spanking actually effective to change whatever behavior had brought on the spanking or was he simply sorry he got caught? The uber minimal dialog did not help. Often less is more because sometimes the other films get a bit too chatty. However, in this case, concerning the dialog, I believe that less was less.

Lastly, I believe we as SLS subscribers are used to some degree of humiliation with the spankings. In the "Wait 'till your Father gets home" series, for example, although there was often no full frontal nudity, the lad was stripped naked for the belt. Even in the game or other peer spanking videos there is some degree of humiliation in that the guy is spanked by one of his peers (even if he does not pull the pants down all the way like he should.) Granted Karl's bum was fully exposed but that only met the minimal requirements for humiliation and we have become accustomed to much more with him.

In a nutshell, I think that from his earlier videos Karl had set the bar so very high for himself that this was a disappointment, sort of on the order of how a sequel to a good movie often flops. Taken on its own, it was a good video and a fine job done by all. However in the context of his earlier works, I for one had expected more.
Reply

Orla | 24th February 2017 08:45
I'm on the fence with this one , now i did enjoy it but not thrilled by it even the interview at the end wasn't particularly exciting,I think and i hate saying this but I'm over Karl,plus I love Dad's lecturing and all that goes with it xx
Reply

flashgordon | 23rd February 2017 15:43
I agree with LucienG: this is a great video - one of the best ever; and the minimal dialogue is just what's required: we're told all we need to know. Karl has misbehaved; his Dad cares about him and wants him to learn the error of his ways, and has decided he needs the spanking of his life. What more do we need? Sometimes there can be too much talking. Karl's "Dad, I'm too old for this now" implies that there were spankings in the past, when he was younger. And his reactions show clearly that though he may think he's too old to be spanked, he's not too old to find it painful. And despite his protests he accepts it: he must know it's deserved. All of this is there without being spelled out in a long conversation. I love that.

Can I also say that I love the tight jeans that Karl is wearing. If those are his own, he must have an acute sense of what Straight Lads Spanked viewers want to see!. Just look at the way they fit his thighs and buttocks - it's almost a shame when they have to come down!

Great to have the interviews too. Karl is a hero, to put up with all that!
Reply

LucienG | 23rd February 2017 11:41
Can't wait!

LucienG | 23rd February 2017 12:06 (65 weeks ago)

LucienG | 23rd February 2017 12:10 (65 weeks ago)
Oops...This is the actual video! Very well done. Lack of dialogue only makes it better. Karl has only improved with age. Thanks to Karl, Dave, and Art for another excellent movie!
Reply