RELEASED: 30th September 2016
Kevin
Birthday Spanking
This video follows on directly from the bonus movie containing Kevin's revealing interview which can be found as a FREE download here!
This movie features some rather hard spanking using a variety of different implements.
It starts off with a no-nonsense OTK spanking with Kevin full nude. He then receives swats from different spanking implements that he has to choose from.
This entire movie was shot in one-take with close-up camera action. Every raw moment you see in this movie is exactly as it was filmed on the day!
Enjoy!
STREAM
VIDEO
Available streams for iPad, iPhone, Android, Chrome, Safari, IE or Firefox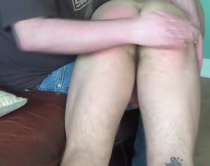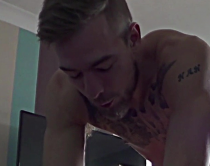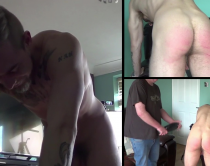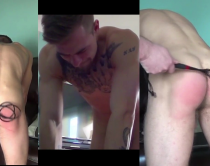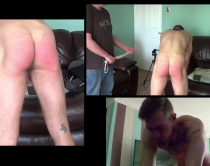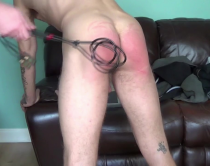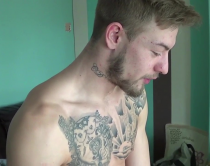 Anthony | 5th October 2016 12:00
Kevin Kevin Kevin

I think my favourite on her now, the last line was funny I hope you enjoy it as I certainly didn't.

I wonder if he as changed his mind from before the movie about which instrument is worst from his reactions I think the carpet beater has replaced it.

How Kevin has come along from the beginning were he was so edgy to now so open and looks like he will do anything now.

Great movie Dave and defiantly one of the better birthday ones.

Happy birthday Kevin i hope you enjoyed it

Dave - Straight Lads Spanked | 22nd October 2016 20:40 (87 weeks ago)
Lovely comments Anthony! I thought the last line was hilarious too! :)
Reply

Kevinfan | 1st October 2016 00:48
Beautiful guy, beautiful ass, beautiful balls

Dave - Straight Lads Spanked | 22nd October 2016 20:38 (87 weeks ago)
Not much more you can add to that!
Reply

lorilee | 1st October 2016 00:36
Happy Birthday, you did a good job on taking you spanking, you are so modest still you do need to cover up on are account we seen it all. I think I no what you next spanking will be and that is all the cussing you were doing, you are a true pleasure to watch, keep up the good work and a Dave work well to gather . Hope you get all you wont for you birthday.


Dave - Straight Lads Spanked | 22nd October 2016 20:38 (87 weeks ago)
Hey Lori, lovely to hear from you and I am delighted you enjoyed this movie!
Reply

Ooleary | 1st October 2016 00:28
I really enjoyed this movie,Kevin comes across as a real fun and down to earth guy,I loved the talking through all his options and why he chose each implement .He really does have the best bottom 😍.We need to see more birthday 🎂 spanking movies like this (e.g. When is Josh's birthday).

So glad to hear that more Kevin is in the pipeline.

I loved that he done it in one take it was really interesting watching how you worked the cameras and directed Kevin,truly Awesome Dave .

Tell Kevin he's my number 1 ,and I totally get his polygamy deal,I have 2 fella's 1(my age)for staying at home cuddling on the couch with takeaway and movie and the other fella(in his 20's) is for going out clubbing/drinking/partying etc.

Another 10/10 movie 🎬 xx

Dave - Straight Lads Spanked | 22nd October 2016 20:37 (87 weeks ago)
You made me laugh Orla at your own situation. It sounds like you have all angles covered.

Glad you also enjoyed the one take movie with all the camera adjustments and so on. It's certainly not something I would do all the time, but I think on some occasions I just want to keep the action flowing.

I am going to find out when Josh has a birthday next!
Reply

NovaDad | 30th September 2016 18:08
Kevin is great... he never fails to please. Too bad his birthday comes but once a year. =;-((
-- Don

Dave - Straight Lads Spanked | 22nd October 2016 20:35 (87 weeks ago)
Hey Don, it's true! I hope Kevin is still around for his next birthday!
Reply

mstr_spkr | 30th September 2016 17:03
This was one of the best ones yet. Kevin is a perfect model for spanking and gives ample reasons to be spanked. I also couldn't agree with Welshboy's comments more.

The discussion about which is the better order to be spanked was interesting. I'd love to see another video where Kevin takes the same implements in the alternative order you both discussed (I don't want to put in any spoilers here). I'd love to hear his assessment as to which order is really better. Although I love "Bad Boy Kevin", it would be a departure from the other scripted scenarios, so don't stop them from coming, either. Just a thought.

It's a shame birthdays come only once a year. Nevertheless I'd love to see other models in single-take real spanking scenes like this. Could the other models take it? (I suppose this is a challenge to them.)

Thanks again for an excellent video.

Dave - Straight Lads Spanked | 22nd October 2016 20:34 (87 weeks ago)
Hey, I think all the models could take the single shot movies and I'm so pleased you liked this one. It just really depends on how much they can take and that is the constant challenge for me. To try and push them as far as I can without getting them to the point where they say enough is enough! Kevin really took a hard spanking in this one!
Reply

welshboy | 30th September 2016 11:39
I just love the birthday spankings and WOW Kevin was a joy to watch, he comes over so well in this video and the interview video. What a star Kevin is., and as I have said before a bottom that needs to be spanked every day, Art you are the man. I love what you did with this film. It was great to watch, More birthday spankings please.

Dave - Straight Lads Spanked | 22nd October 2016 20:32 (87 weeks ago)
So pleased you enjoyed this movie and the editing too of course! Kevin is such a joy to work with and I think that comes across in the movies. :)
Reply

Ficwriterjet | 16th October 2016 00:26
I do love the new format of birthday spanking movies. They're great. And I love getting to see you, Dave, and the guys just talking as yourselves while the spanking is going on. Seeing Kevin in a birthday spanking movie was awesome. :)

I find it a little bit endearing that Kevin still wants to cover himself up, even though he knows we've all seen it. I have to agree with Kevin - as long as his two girlfriends know that he's not being exclusive, I don't think he's doing anything wrong. Sleeping with his friend's mom - well that's not very nice to his friend, but I get why it would be very difficult to resist the temptation since she was seducing him.

I loved Kevin's mental anguish as he tried to decide which implement to go with. It was very fun for me to watch him trying to talk his way through it, and in this situation I didn't mind the swearing at all. I loved that he decided to use the word 'sir' as he counted - I wonder if that's Kevin just being smart and knowing what most of us want to hear, or if he wants to disassociate the person giving him pain from the 'friendly Dave'. I smiled each time he tossed an implement back on the table, happy to be rid of it. His choice of implement at the very end was great, especially after Dave asked what he thought his friend would want to hit him with.

Really fantastic movie. Thank you very much for the entertainment. :)



Dave - Straight Lads Spanked | 22nd October 2016 20:31 (87 weeks ago)
Hey Jet, I totally get what you mean about Kevin wanting cover himself when we have all seem everything! It's kinda cute! Really pleased you enjoyed this one! It was a lot of fun to make too. Kevin is a joy to work with :)
Reply