RELEASED: 23rd May 2013
Karl and Johnny are only 18 and star football players. It does not stop them from misbehaving though! They have been kicking a ball around private land and windows got broken.
Coach Andy is furious! He drags the lads into the locker room and demands to know who was responsible. Neither Karl or Johnny own up and this makes the coach even more angry. He tells them that unless one of them confesses they will both be getting a good spanking. The threat of being spanked does not seem to work...
Coach Andy Lee deals with Karl first as he drags him by his ear and puts him over his knee.... Karl gets spanked hard whilst Johnny looks on! Soon though it's time to swap as Johnny feels the full force of the coaches hand.. It's humiliating getting spanked bare ass in front of your team mate.
Spanking over and coach Andy sends the sorry straight lads for a shower.....
The lads get themselves nice and clean and think the punishment is all over... They are wrong! Coach Andy has received further information about the broken window. He has found out that both lads are to blame!
It's time for the paddle! Johnny is up first and has to bend over, fully naked and receive 6 hard swats from the hard wooden paddle! There is no doubt at all just how much they hurt. Karl can only watch in despair knowing that he is next!
Two 18 year old lads get spanked and paddled hard!
STREAM
VIDEO
Available streams for iPad, iPhone, Android, Chrome, Safari, IE or Firefox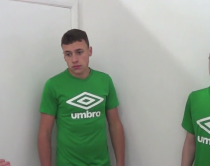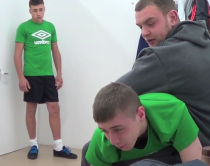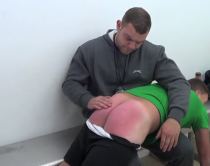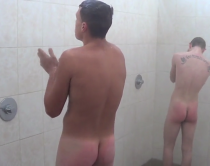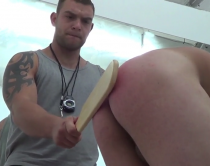 SoupGoblin
|
Not voted video yet
| 24th May 03:25
UNF. Coach Andy, take me now!

wardcoleman
|
Voted Video 10/10
| 24th May 11:29
What a cute pair! And Coach Andy is excellent!


cami
|
Voted Video 10/10
| 24th May 12:02
OMG, Andy does very one have a issue with Karl?, The coaches just leave marks or karl butt. Coach Bailey & now coach Andy. now why in the world would you even try anything bad like that? You know that andy & bailey are very strong. But 1 thing i gotta say to karl you can take a hard spank that is for sure. But now here is the Q how hits harder Andy or Bailey? . Now for Johnny you did a good job :). Anther great video once again :) Awesome job ev1 :) :)

badladldn
|
Not voted video yet
| 24th May 14:08
great job. Andy is a great spanker! Could sure be taught a lesson by him one day! As for who spanks harder Andy or Bailey... id love to be able to answer that!

SoupGoblin
|
Not voted video yet
| 24th May 16:03
Congrats on the new locale as well, btw. Is this a new set?

matt
|
Voted Video 7/10
| 24th May 22:14
This is a FANTASTIC new video. I love the scenario; anything with two boys getting spanked over Andy's knee is good for me! Karl is adorable and excellent as always. I love the new model; very cute, very believable, and a good actor already. I hope to see more of him in the future. And Andy is just the best; handsome, a great actor, and a great spanker. So all in all, this gets five stars from me.

rugbydiscipline
|
Not voted video yet
| 10th June 00:47
Excellent - very authentic paddling and script 'assume the position. Great vid

Dave - Straight Lads Spanked
|
Not voted video yet
| 10th June 01:36
Thanks! The paddling was 100% real! The lads bottoms were on fire afterwards!

TopJeff34LR
|
Voted Video 9/10
| 1st July 19:53
Excellent video. Andy did a great job. You have to be spanked to know how to spank correctly. Would love to see more "real paddling" with a real paddle. Assume the position is perfect. Love the new boy, he took it well. Would love to see Mr. X utilize the wooden paddle more often in the video's.

Dave - Straight Lads Spanked
|
Not voted video yet
| 3rd July 14:31
Thanks TopJejj! Yes, I must admit I should use the paddle a buit more! Let's see what I can do! :)

thespanker
|
Not voted video yet
| 7th July 18:00
Love the paddle reminds me of high school days great video

So funny when Coach Andy Mr Wiggler himself tells Karl to keep still.Seriously though my poor little Karl stop picking on him ,Johnny looked every bit as guilty .Great job Andy love your new role as the spanker more Coach Andy xx Karl as always I love you here's a big cuddle for you Orla

sorry forgot to vote with my last comment here it is now xx