RELEASED: 18th August 2017
Marcus
Punished Thief
Marcus needs some money fast. Does he go and get a job? Does he ask his parents? No, he decides to rob his neighbour's house! Marcus is not so smart though and gets caught in the act.
Mr X is the local community spanker. It's his job to dish out punishment to grown-up loads who should know better. Marcus is visiting Mr X for the first time and he has got a bad attitude.
Of course Mr X has seen it all before and soon has Marcus over his knee and gets on with the job of spanking his bottom. We see Marcus get less defiant as he has to remove more of his clothing. Eventually he is fully exposed as Mr X spanks his bare bottom.
""More for Producer Dave, it was a real pleasure working with Marcus, he has a natural talent for acting and it was actually a joy to work with someone who can really grasp the part and act it out so well. I never really had to give him any dialogue. He had plenty of his own. He also took a really hard, long spanking!"
STREAM
VIDEO
Available streams for iPad, iPhone, Android, Chrome, Safari, IE or Firefox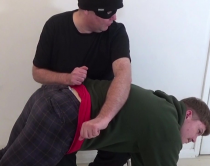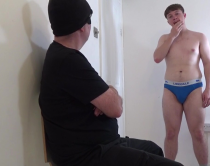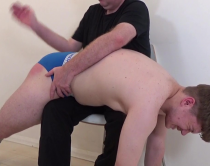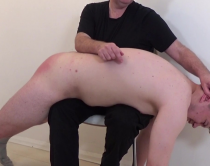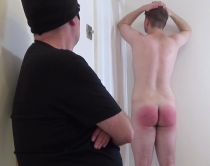 Rasputin | 25th August 2017 01:03
Marcus is a good actor, and his buttocks reddeneed up nicely during his spanking. I also liked the blue briefs. If Marcus loses a bit of weight, he will be a very good spanking model.
Reply

Orla | 19th August 2017 23:19
You've gone and done it again Dave, you've found another new model, I'm loving Marcus, what a great actor and he took his first spanking well and you didn't go easy on him either,beautiful red bottom to show Mr.Daniels.
"May i have my arm back please" lol

Great acting and dialogue and reactions for me anyway I'd like to see more Marcus..
Reply

Slipper Boy | 19th August 2017 06:35
Wow another device model
Reply

CassieAnne17 | 19th August 2017 02:13
Please more of Marcus! Great job to all, I liked the video a lot!
Reply