RELEASED: 28th October 2012
Andy has been sent to see Mr X yet again! This time it is to be punished for his constant swearing around the building site.
Mr X wastes no time in getting the beefy lad over his knee!
Foul Mouthed Andy!
When Mr X tells Andy to remove his jeans he refuses and continues to swear!
Big Mistake!
Mr X drags Andy by his ear into the kitchen and gets him over the sink.
....and proceeds to wash out his filthy mouth with soap!
Andy is then forced to hold the soap in his mouth as he gets his bare bottom spanked with a wooden spatula!
STREAM
VIDEO
Available streams for iPad, iPhone, Android, Chrome, Safari, IE or Firefox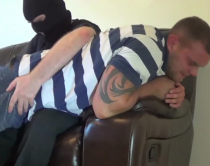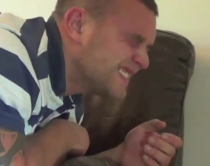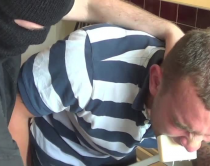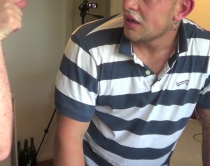 Rasputin
|
Voted Video 10/10
| 20th January 13:18
This is Andy's best video. Mr. X, this is the second best video you have ever released, Mr. X. (Only "Bailey's Bath Brush Beating" is better.)

My only regret about this video is that Andy got sick. Mr. X, I hope you gave him a large bonus payment for this performance. He deserved it!

As you might have gathered from earlier correspondence, I am quite fond of Andy. If he could lose some of those tattoos, he'd be even higher in my estimation.

beltedlad
|
Not voted video yet
| 22nd March 03:27
Mr X, please, please, pleeeease can we have another soaping video sometime!?!?
Especially perhaps if you were to soak the bar and soften it, and maybe introduce a well soaped flannle to really spread the lather!? :)

Mr X
|
Not voted video yet
| 22nd March 04:27
Hi! Ok, I have not filmed any more of these but I intend to. I reckon it is Oliver's turn next! :)

Yasmin
|
Voted Video 10/10
| 1st December 02:01
I loved the interview part.
Thank you for the extra spank with the brush, Andy.


red1967
|
Voted Video 10/10
| 28th October 04:11
PoorvAndy Mr x you made him sick lol I hope the bike was worth it I had to laugh at the beginning of the movie when Andy was swearing Thank you Dave, Andy and of course Art