RELEASED: 2nd March 2014
Oliver & Dale - Interview
Here is an interview I recorded directly afer filming with Oliver & Dale.
I love it because you can see the true friendship between these guys.
Oliver's reaction when Dale lowers his trousers to reveal his spanked bottom is priceless! A typical straight guy reaction!
The movie filmed during this shoot were..
&
STREAM
VIDEO
Available streams for iPad, iPhone, Android, Chrome, Safari, IE or Firefox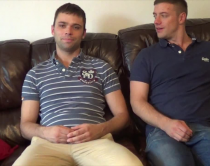 wardcoleman
|
Voted Video 10/10
| 9th March 10:46
I'm surprised there have been no comments on this, as it was an good interview


bruno
|
Voted Video 10/10
| 13th March 12:11
i enjoyed this interview with oliver and dale, oliver looks good in every movie, he responds well to each situation he has been in, his face was a picture when dale was showing hi s bottom off, more oliver please mr x

buhuikaiche
|
Not voted video yet
| 12th July 07:57
how to download this movie