RELEASED: 27th May 2013
This movie is available as a free download to everyone by clicking here!
Andy Lee and Jay have been caught misbehaving! They decided to break into Coach Bailey's office and cause some mischief! So the lads find themselves sent for punishment. Mr X though decides to go easy on the lads as he was aware that they never really caused any damage and were just in high spirits. So the lads get off with a short, sharp OTK spanking!
Later that day the naughty lads actually break into Mr X's apartment. They both like the same girl and decide to have a competition to see who gets to ask her out. The competition is all about which lad can take the most strokes from Mr X's leather paddle!
The battle commences with both lads stripped down to their speedos. What follows is some seriously hard paddling as neither lad wants to back down first!
"""""More from Mr X......."So this movie is really down to my awesome editor Art. Let me explain. I had two different bits of footage shot with Andy & Jay. The sequence with the Mr X spanking and also the stuff with the paddle. I had intended to use the footage in a different way but for various reasons my plan was never going to work....... I knew there was some nice footage there though and I felt it was a shame for it not to be viewed. So I sent it to my editor Art and he worked his magic and made this movie from it. I am so pleased as it just works and now you all get to see Andy and Jay in their speedos having a lot of fun! I hope you enjoy it!""""""""
STREAM
VIDEO
Available streams for iPad, iPhone, Android, Chrome, Safari, IE or Firefox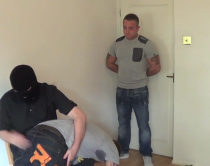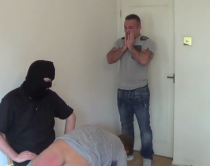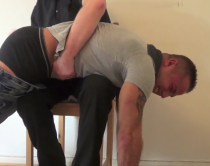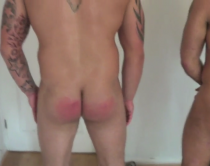 Rasputin
|
Voted Video 9/10
| 27th May 08:34
This was a short but fun video, Mr. X! Congratulations to Art.

It was lots of fun watching Andy & Jay get spanked in those tight, skimpy Speedos. Briefs that are cut and shaped like a Speedo are my favorite kind of underwear. Andy & Jay seemed to enjoy themselves, too.

lorilee
|
Voted Video 10/10
| 27th May 08:51
Hat's off to Art he did a fantastic job on putting this one together , Looked like Andy and Jay were having a great time making this video.

cami
|
Voted Video 10/10
| 27th May 09:39
This was a good video :) loved that part when Andy said to Jay " Enjoy" lol . These two were cracking me up. paddling over a girl. I did not even know who would of won if i did not watch it. Cuz they both are mussel men & they both hit hard. But i do have to say they both did a great job in this movie :) ... That will be kool if Mr.X had a hidden camera in his office & saw Andy & Jay... Well done Art on this movie

Dave - Straight Lads Spanked
|
Not voted video yet
| 27th May 10:27
Hey Rasputin, well at 15 mins its not that short! Glad you liked the speedos! :)


Dave - Straight Lads Spanked
|
Not voted video yet
| 27th May 10:28
Hi Lori! Yeah Art did a great job! Andy and Jay had a lot of fun and pain! lol!


Dave - Straight Lads Spanked
|
Not voted video yet
| 27th May 10:30
Cami, none of us had any idea who was going to win! I liked that part too when Andy said 'Enjoy'! hmmmmmmmmmmmmm as for a hidden camera.... you are giving me ideas for a Part 2! :)

NovaDad
|
Voted Video 8/10
| 27th May 11:08
Pure Dead Brilliant!!! Given free reign, straight lads don't hold back! hee-Hee-HEE!!

SoupGoblin
|
Voted Video 10/10
| 30th May 03:35
Oh man, a vid with Andy AND Jay, my two favorite guys? Christmas came early! How did I not see this until now?! (forgot to check the site over the weekend like I usually do--shame on me!)

This one was magnificent. Their reactions to being paddled by each other were hysterical and sexy. Both really wanted to get the girl, but in the end only one pair of butt cheeks can remain! Loved the sight at the very end too, of the two butt naked, red assed beefy guys hastily fleeing the scene before discovery. x3

Dave - Straight Lads Spanked
|
Not voted video yet
| 1st June 10:24
NovaDad, are you Scottish by any chance????

:)

Dave - Straight Lads Spanked
|
Not voted video yet
| 1st June 10:34
Hi SoupGoblin, it would have been easy to miss this one as it was a bonus, extra movie! Really glad you enjoyed this! All credit really goes to Art for putting this together so well. As for them fleeing the scene without discovery???? Well maybe they did get discovered! :P

rugbydiscipline
|
Not voted video yet
| 14th June 02:38
My favorite! Love the speedos, great backsides, high jinks and the fact that they really laid into each other

Dave - Straight Lads Spanked
|
Not voted video yet
| 14th June 03:28
Glad you liked this one Rugby! It really was fun! I've also filmed a Part 2 now! :)


SoupGoblin
|
Voted Video 10/10
| 20th August 19:43
Dear Mister X, WHEN are we going to receive the sequel for this one?! It is a criminal act that this has not been provided to your loyal viewers yet! ;P

rm7guy
|
Voted Video 10/10
| 5th September 11:01
Brilliant. My two favourites at it again. Thought tough ol' Andy would win but well done Jay ;-) And, yes, we can't have those mischievous lads running off at the end without being caught and marched back to Mr. X! We need Part 2 :)
Well done Art, a really great video

Ooleary
|
Voted Video 9/10
| 30th August 03:24
Great pairing Andy and Jay this was so much fun couldn't stop throughout the whole movie but can't believe Jay beat Andy and i heard Dave laughing too hilarious