RELEASED: 11th September 2014
Parker - Office Bully Spanked
Parker has been caught fiddling the office expenses!
The co-worker that caught him gave him an ultimatum, go to Mr X to get punished or the boss gets informed.
Mr X soon discovers that Parker has been a mean bully and has been terrorising the colleague that caught him stealing.
Parker, is an cocky, arrogant young man. Most offices have them! Well in this case you get to see the mean bully brought down to size and given a hard, humiliating, bare bottom over the knee spanking!
Straight Lads Spanked - Not Just Spanking - It's the Whole Punishment!
(If you are looking for gay spanking movies then you will be disapointed as Parker is straight and this mm spanking movie is non sexual)
STREAM
VIDEO
Available streams for iPad, iPhone, Android, Chrome, Safari, IE or Firefox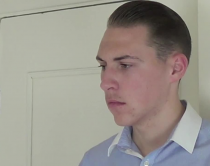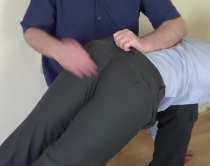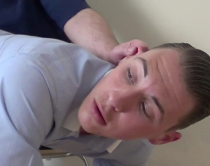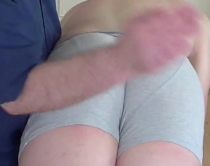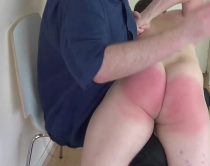 millie
|
Voted Video 10/10
| 11th September 10:41
another early release you spoil us so much Dave thank you

millie
|
Voted Video 10/10
| 11th September 12:10
ugh mate you really did have a bad attitude to begin with, then you try and dictate your punishment, loved the whole thing, i think you were well spanked and a changed lad, even struggled with the severity of it, i dont think you were expecting it to be so harsh, Mr X did a number on you right enough, loved the story line and you both did really well, another great movie well done Parker and Mr X

Domfan
|
Not voted video yet
| 11th September 16:11
"Early release"....lol.
Gotta love Parker. Nice eyes, nice lips, nice ass, nice thighs, nice balls. He has such a swagger.
I'm in love....again!

uchikimatsu
|
Voted Video 8/10
| 11th September 18:14
Before I make my "official" review I just want to say that Parker showing up with a real Inter-Office Memo envelope and an actual typed, signed letter was not lost on me.

I love you, Dave. That is all. (for now 😜)


Ooleary
|
Voted Video 9/10
| 12th September 05:04
Ouch that's one very sore, red bottom good job Mr.X. loved the story and love Parker watched this movie 5 times already love watching how quickly Parker loses his cockiness when the spanking hurts

Lynne
|
Voted Video 9/10
| 12th September 10:11
I have to say I liked this one better than Parker's Bubble Bath Blues, but in truth, I am not actually sure as to why :). I think the change in attitude was much more dramatic in this one, which I like to see.

I also see another model with no sense of self-preservation. Honestly, saying "it's boring now" while over someone's knee is like waving the proverbial red flag at a bull :). You just know the challenge is going to be happily, and most efficiently, accepted :).

@Chiki...that was a padded envelope unless inter-office envelopes have changed form recently :).

I also can't help but see similarities between Parker and George in this one. The accents are very similar as were the reactions when Dave took down the briefs :)

Well done to all...as usual :)



flashgordon
|
Voted Video 10/10
| 12th September 15:19
This is great! I knew this would be an excellent scenario and I was right.

What an unpleasant young man Parker shows us! I'm sure he's charming in real life, and I mean this entirely as a compliment to his acting skills. Which are considerable. His dialogue was most convincing. (Does he have previous acting experience?) And so the gradual progress from his "It's getting boring now" (!) to his eventual desperate yelling and kicking was a treat to watch.

And as for his trousers...! A perfect fit, on a perfect bottom. What is "asking for a spanking" if not that?!

I do hope he will have to be brought back for further treatment...

matt
|
Voted Video 9/10
| 13th September 10:58
This is an instant classic. It's one my favorites on the site. Parker is fantastic. He's super handsome with a perfect, round, boyish, spankable bottom. He's also an excellent actor. As others of said, the change from arrogant bully to leg-kicking, sorry young man is amazing. I love the tight, dress pants, and, of course, I love seeing them come down. And I love the leg-kicking. Great work all around. Thanks Dave and Art. More OTK with Parker, please.

wardcoleman
|
Voted Video 10/10
| 13th September 12:48
Excellent movie, and a great performance from Parker. After the first few minutes of dialogue I really wanted to see him get his bare bottom spanked, and it was really satisfying when he did.

Loved watching his attitude change from arrogant, nonsulant

wardcoleman
|
Voted Video 10/10
| 13th September 12:52
as I was saying .... from arrogant nonchalant defiance, into a wriggling and protesting little boy with an increasingly sore bottom.

I hope we will see more of Parker

stevex54
|
Voted Video 9/10
| 14th September 00:46
Huge success this movie. I both laughed at Parker's arrogant insolence and then cheered as he was obliged to drop his trousers and pants even, against his wishes. The office aspect was a real turn-on for me, the smart trousers Parker wore and the tightness gripping round his buttocks was incredibly exciting. Superb acting and loads of great dialogue. Dave you are a true artist as regards the spanking movie and Parker did a wonderful job playing his part. This is an instant classic. The change of bad attitude to (relatively) good boy during the spanking makes spanking appear to be the perfect remedy for office bullies like Parker. I'd have put Parker in white underpants but maybe that would have softened the hard man image he was conveying. I'd have also insisted on this financial city type man wearing a tie as a mark of respect but then he wouldn't seem such a rebel. What a fantastic production !

Dave - Straight Lads Spanked
|
Not voted video yet
| 14th September 03:24
Thanks for all the great feedback guys and gals! :)

Ooleary
|
Voted Video 9/10
| 14th September 08:07
I keep coming back to this movie it is now on my top 3 list of movies .It's probably because he reminds me so much of Dom with his great acting and his little scrunchy face is there going to be more Parker xxx

Domfan
|
Not voted video yet
| 14th September 15:36
I love Parker

uchikimatsu
|
Voted Video 8/10
| 21st September 19:25
I didn't expect to enjoy this one as much as I enjoyed Parker's BBBlues, but I actually did! Parker really is a natural with dialog and I love that he can think beyond the simple yes, no, nod, or grunt from models that are not as comfortable with the acting aspect. Not only can he add to the banter and dialog, but whether cocky or chagrined, his facial expressions can tell the whole story.

Parker seems to have the least sense of self preservation amongst the SLS family of models, managing eye-rolls, out-right defiance, and of course the famous line "its boring now."

I very much enjoyed how Parker's attitude transformed in direct relation to how much clothing he had on, as if he wore his up-town office suit as an emotional shield. Fully clothed he was arrogant and cocky, rolling his eyes and calling Mr. X "mate." As Parker is unbuttoning his shirt, we can very clearly see the beginning of his transformation as, unlike at the office where he might be at the top of the food chain, he is reminded that he doesn't get to make any decisions here. He is starting to feel vulnerable and starting to really feel the spanking. Finally, because he wouldn't allow Mr. X to take down his shorts, he is forced to stand and remove them himself. Naked and shamed, he is up-ended over Mr. X's knee, yelping and pleading for mercy. I really love the line after Parker asks him to stop and Mr. X questions him if he stopped when his co-worker asked him to stop bullying. There is nothing quite as cute as his little socked feet kicking as his bottom is being properly smacked!!

I think this one must have been filmed first, and BBBlues afterward. I know that Dave tries very hard to maintain the integrity of the characters, so I assume that Parker talking about his mortgage, wife, and kids was improvisational.

Even though the envelop was a *padded* one and not an Inter-office Memo Envelop like I originally believed (thanks, @Lynne!) it still looks pretty office-y; and with the typed up letter rather than a white sheet with wavy lines, it all looked very genuine which always adds to the enjoyment of the film!

Comments from The Butch;
ugh! what an attitude, he needs a dose of the hairbrush (she meant bath-brush)

I can't agree more! I am eagerly awaiting Parker's return! Hopefully he'll get what he really deserves next time....

@Domfan - me too.

uchikimatsu
|
Voted Video 8/10
| 22nd September 08:00
I always forget at least one thing! This is a general comment, but since it's relevant here as well I wanted to mention it.

I love when a model has trouble saying "Sir," but when they finally remember or get it right, Dave will look up and give them an encouraging "good!" to let them know that's what he wants and reinforce the behavior.

Yep, box ticked.

wardcoleman
|
Voted Video 10/10
| 22nd September 11:28
Excellent commentary Uchikimatsu, I agree with every word. I really enjoyed this one.

Domfan
|
Not voted video yet
| 22nd September 12:03
I love Parker

Cherylkay
|
Voted Video 9/10
| 1st October 13:14
Well, I wasn't prepared to like Parker, but I do. He has beautiful eyes and a very spankable bottom. He walked in there like he owned the place and left a changed man (but not too changed because I'd love to see him again). I love his understated reactions at the beginning of the spanking, going so far as to tell Mr. X he was boring him, and then his kicks and groans as the pace picked up. I don't think it takes hysterical wriggling and screaming to convince an audience that a change in attitude has occurred. Parker was just a smart ass who ended up with a smarting ass. Nothing more, nothing less.

Dave, I loved your banter with Parker. He's another one that's fabulous with dialogue. He had something flip to say at every turn. But it was the threat of the belt, I believe, that turned things around for young Parker. I think you showed Parker that you hate a bully almost as much as you hate a thief.

Art, I'm a new member but I see why everyone sings your praises. You really do spoil us with the split screens. Facial reactions tick quite a few of my boxes so I'm so happy that you do that for us.

bobbyspank
|
Not voted video yet
| 18th October 19:46
as much as i love and loved seeingParker get his beautiful arse spanked and well punished i dont really this he is much of a spankee id love to see him as someone doing the spanking punishments he looks so right for it id love to have a session across his knee mmmmmmmmmmmmmm wish list for xmax me thinks lol