RELEASED: 4th August 2017
Sebastian & Charlie
Real Punishment
Spanked For Being Late
Part Two
This spanking video continues on directly from Part One.
After receiving a spanking over trousers and underwear it's time to progress to bare bottom. The lads have to pull down their pants and get over Dave's knee. These lads are genuine best friends. having to get naked and spanked in front of each other is not a good situation. Dave does not go easy on them!
Sebastian goes first and Dave really gets going on making sure he has a very sore bottom. Dave spanks him very hard indeed. All the time, Sebastian's muscular friend Charlie watches on. Knowing that he is next!
The spanking video continues and Charlie does not have to wait too much longer. Reluctantly he pulls down his pants and drapes his muscular body over Dave's lap. His smooth, beefy butt is a joy to behold! It gets redder and redder though as Dave really gets to work.
Once the OTK spanking is complete, Dave tells the lads to bend over the sofa, with their bottoms sticking out ready for the belt!!
Dave really does not hold back as he lays into them with his belt. Making them count each one! The cameras are set to capture every delicious angle!
I really hope you all enjoy this spanking video.
STREAM
VIDEO
Available streams for iPad, iPhone, Android, Chrome, Safari, IE or Firefox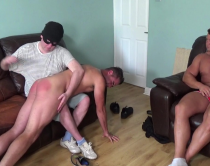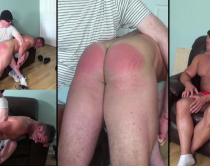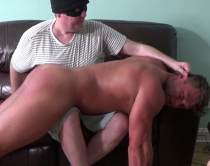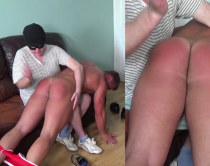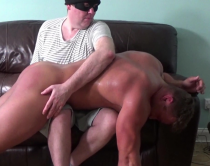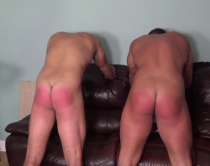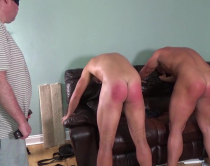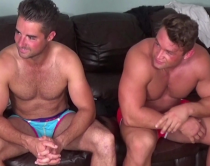 CassieAnne17 | 19th August 2017 02:17
A great video, both part 1&2! Love Sebastian soo much!! And Charlie will be a great addition to the site too, they are both so handsome! More please!
Reply

Orla | 7th August 2017 10:12
Fav movie , so glad Charlie is coming back for more what a great first timer and a sexy hunky one at that.Art great job with all the split screens and different angles ❤❤.Loved the little sit down chat at the end and can't believe how quiet Sebastian was he was a little worried about his friendship with Charlie so im glad he was OK with it all and wants to do more filming. I've watched this movie about 10 times now it's that good , thanks Dave xx
Reply

flashgordon | 5th August 2017 13:16
An outstanding video. Well done, all concerned!

I'm so glad you included the conversation at the end. After Part One I was worried about Charlie, afraid that after the treatment he was getting on his first visit he would never come back. So it was good to hear that he was keen for more work. He is a fantastic new model: he has a great body, he's not covered in tattoos (always a great relief!) - and he can take it! I am sure there is a great deal that he deserves to be spanked for. And if he can gain the confidence to do it, I'm sure he could dish it out very effectively too. Charlie standing there with a cane in his hand and meaning business is a sight I would love to see! (The poor guy who was about to get it from him might not be thinking the same way!)

Rasputin | 7th August 2017 02:13 (71 weeks ago)
I agree with your comment about Charlie's lack of tattoos. A refreshing change. Lots of tattoos, with the notable exception of Andy Lee, always detract from a model's performance for me. (Andy's personality, performing style, face and physique were so appealing. that I overlooked his excessive tattoos. But I digress) Charlie's good looks and muscular, smooth, untattooed body help make him the best new model since Josh and Tom.
Reply

Rasputin | 5th August 2017 04:03
Both of these lads did well in this video. If one can divide this video into two parts - the "OTK" part and the "bent over the sofa" part - I would have to say that Charlie gave a better performance in the "OTK" part, while Sebastian gave the better performance in the "bent over the sofa" part.

I would say that Sebastian and Charlie are equally handsome, but Charlie's smooth, muscular body is even more impressive than Sebastian's fine physique. That gave Charlie the edge when one was viewing Charlie's beautiful body lying naked over Dave's lap, and watching Charlie squirm and resist against the severe OTK spanking that Dave was administering.

When they were bent over the sofa, however, Sebastian's more demonstrative reaction to the belting gave him the edge over Charlie.

Kudos to Sebastian, Charlie, Dave, and Art for both Part 1 and Part 2 of this story.
Reply