RELEASED: 28th July 2017
Sebastian & Charlie
Real Punishment
Spanked For Being Late
Sebastian called me out of the blue and told me that his friend Charlie was keen to film. Once I saw I photo of Charlie I was very keen indeed! He sounded very enthusiastic about the work, though naturally a little apprehensive.
I went to meet the lads at the train station, got there a little early and waited. Then I waited some more. Then some more!
Some hours and many phone calls later they finally turned up.
I was not happy. It was the hottest day of the year so far, it was uncomfortable filming conditions and I was pretty pissed!
So I decided to scrap the story line plans that we had and just put the lads over my knee and spank them!
This is Part One of the lads predicament, I'll be releasing Part Two next week that shows their ordeal getting worse!
STREAM
VIDEO
Available streams for iPad, iPhone, Android, Chrome, Safari, IE or Firefox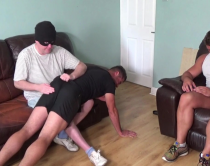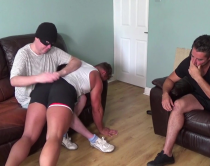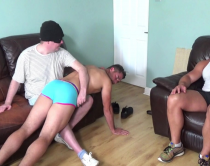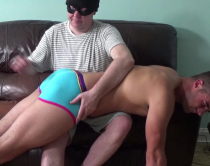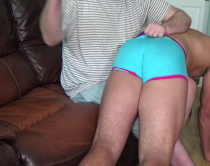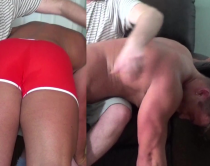 Rasputin | 4th August 2017 01:42
Charlie is quite a find. Good-looking, a muscular body, and a smooth body - the minimal body hair accentuates the musculature. Dave, I hope in future videos that you dress Charlie in bikini briefs.
Reply

Rasputin | 31st July 2017 16:52
Excellent video, Dave and Art. It was nice to have Sebastian back, and thank you for having him spanked on his tight briefs as well as the bare-butt spanking that will be in Part 2. Sebastian always puts on a good show.

Charlie was a feast for the eyes. This good-looking, muscular guy looked very fetching draped over Mr. X's lap in his tight, skimpy briefs while getting an OTK spanking.. He's a good actor as well. He's the most exciting new SLS model since Josh and Tom.
Reply

Orla | 30th July 2017 19:06
Excellent movie Dave and Thank you Sebastian for bringing your friend Charlie .Can't wait for part 2 xx 😊

Loved all the banter between the lads and the nervous laughing it's so natural as is the swearing which like everyone else has mentioned i don't mind cos it's real.

You need to film more Charlie xx
Reply

mstr_spkr | 29th July 2017 16:48
This certainly is (and I assume with Part 2 will be) Charlie's "Trial by Fire" (certainly "Trial by Fiery Butt") into SLS and welcome aboard! I hope the experience does not scare him away. I cannot say that I am unhappy that these guys are often late and get a real punishment spanking for causing the inconvenience. Real spankings with real reactions for real reasons have an overtone of reality (who would have thought?) that make this class of movies all the better.

I have great expectations for Charlie and hope he comes back again and again. (Of course I hope it is not always out of financial need but more out of love of the craft and for his fans, of which I am sure there are even now many.) He did a great job and I am looking forward to Part 2 and a lot more from this fine young man. After all, you do have a script that you had worked out with him that is still unacted. I also can see him take on so many roles from both ends of the paddle.

Let's not forget Sebastian, too. Welcome back! I've missed you. As you indicated in your dialog with Dave, you definitely have grown over the years. You are a testimony that a young man is never too old to benefit from a good spanking from time to time, if nothing else from your comment that you have not made the same mistake twice.

Let me finish by saying that once again it was a great job done by all. Great editing, Art. Dave, thanks for punishing with a cool head, as punishments should be delivered. Guys, thanks for accepting your fate like responsible individuals and including volunteering to take your mate's place even while knowing it meant their gain was your pain.
Reply

newspank | 28th July 2017 20:03
Just brilliant. I have no idea why but this felt the most genuine, real movie yet (and I'm an early subscriber who still dreams of Bailey). So coming from another perspective the "real" punishment movies should be real. My tiny criticism here is stopping the two strapping guys from their banter and conversation as they swore. Well fiddlesticks (to avoid swearing for the snowflakes) to those who find swearing abhorrent in these movies. In this movie and similar real movies it needs to happen to maintain the realism. 90% of the movies here are swear-free zones lest we upset those who find it a punishable offence. I prefer the real reactions in real situations - Dave, you rightly used the glorious F word as it should be used. Keep the real movies real - keep the swear-free, bowdlerised versions that are not called "real". Let the models react to each other, the shame and embarrassment of friends naked and spanked for the first time together is wonderful. Here endeth the lesson. Fuck. Poo. Willy. Toilet. Jeremy Hunt. Other swear words etc.

mattnyc | 29th July 2017 00:22 (72 weeks ago)
F-ing hilarious!

Reply

mattnyc | 28th July 2017 21:11
A superstar is born. Charlie is incredible. What a stroke of luck to have found him, Dave. Great work getting him to work with you. It's like the return of Bailey. There are a ton of amazingly hot models on the sight but there hasn't really been a guy with this kind of perfect, muscular, smooth, masculine body since Bailey moved on. Charlie, like Bailey, is also extremely handsome. What a sexy guy. He seemed to take to shooting spanking movies really naturally. Not super nervous or awkward. He was kind of in the moment and obedient in a way that was a huge turn on. I love Sebastian, too. He's always a great model because in addition to being good looking, he just seems intelligent and like a natural actor. So those two guys together made for a 10 out of 10 for me. I loved Charlie in those tight, smooth gym shorts and the super tight underpants were perfect. As is his 10 out of 10 stars butt. Great job, Dave, with the "real" spanking scenario. It could have seemed forced but it wasn't at all. Obviously I can't wait for the bare bottom round and for WAY more of Charlie. I'm going to go out on a limb and say he would make a perfect spanker in the right scenario. Again, in the Bailey mode, although his onscreen personality is more likable than Bailey's so that makes him more like Andy as a potential spanker. He'd be a great strict uncle, young stepdad, coach, or boss. He'd be great in anything. Hope to see him get spanked again soon. Dave, you've outdone yourself. And Art, great work with the split screen sequences; loved seeing two views of Sebastian and Charlie's reaction at the same time. And nice work blowing up shots to create different sizes. It all works great. I hadn't thought about it much before but I agree with Newspank about the swearing. What's the big deal? Let the guys be themselves. If a "no swearing" element works in a scene with dad or a strict uncle or teacher, that's fine. But in the real spanking scenes I'm all for the real thing if it happens naturally. Great work, Dave! Thanks for a great clip.
Reply