RELEASED: 3rd May 2018
Simon
Lazy Musician
Turning up 20 minutes late for a disciplinary appointment with Mr X is never a sensible move. But as we soon find out in this week's brand-new male corporal punishment video from Straight Lads Spanked, that's pretty much routine behaviour for young musician Simon, the latest newcomer to the SLS stable.
Simon doesn't turn up for rehearsals, shows up late for gigs.... and his bandmates from Blonde Fuzz have had enough. They have come up with the fee and sent him along to Mr X in a last-ditch attempt to give their vocalist some sense of responsibility.... or he will be out of the band.
Mr X admits that his idea of modern music is Abba. He does, however, know all there is to know about discipline and corporal punishment!
Young Simon doesn't have much of a clue about what to expect. He has a vague idea that Mr X is some sort of masked lifestyle coach. So it is a bit of a shock to discover that he's not going to be getting a Powerpoint presentation but a good spanking!
"A spanking?" he asks, incredulously. "Are you, like, trained in this or something?" Bless. Good job he didn't ask to see Mr X's CV, or he might have been sending out an SOS to his bandmates!
The lad goes over Mr X's knee and is spanked hard over his jeans. But it's not long before he is told to strip down to his white Calvin Klein boxers and get back in position over the knee.
By the time he has dispensed a firm hand spanking to the seat of the young man's pants, Mr X realises that his latest customer is finally getting the message that he is going to have to change his ways and shape up. But Blonde Fuzz have paid the fee for the full bare-bottom spanking, and when all is said and done, Mr X is professional to the last. "I've got my job to do," he says. "Get your pants down."
Stripped naked, Simon goes back over Mr X's knee for a final humiliating and painful spanking on his bare bottom which soon has him crying out and wriggling around on the older man's lap.... but then, that's the name of the game, isn't it? By the time his ordeal is over, Simon is a very sorry young man with a very sore red bottom. Could well be that he has finally met his Waterloo!
STREAM
VIDEO
Available streams for iPad, iPhone, Android, Chrome, Safari, IE or Firefox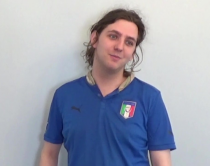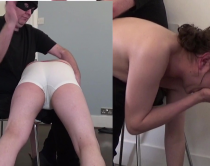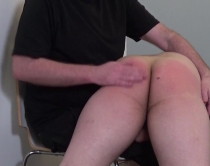 Uchikimatsu | 5th May 2018 00:52
I haven't watched the video yet but I wanted to know if anyone else thinks that Simon looks like the love child of Elijah Wood and Daniel Radcliff?

Nat74 | 5th May 2018 02:38 (63 weeks ago)
NO

JamieJones | 7th May 2018 01:19 (63 weeks ago)
I wouldn't say Simon looks like the lovechild of Elijah Wood and Daniel Radcliff but he definitely reminds me of someone. I can't think who, but I'm sure I've seen him somewhere before and hopefully we'll see him again soon.

Simon did a great job of acting like someone who really didn't care about anyone other than himself at the start of this movie but by the time Mr X had finished with him he was beginning to realise the impact his behaviour was having on his fellow band members. Hopefully Simon will slip back into his old ways and his band mates will come up with some more cash to send him back to Mr X.

I liked the way Simon didn't question Mr X when he was told to take his clothes off. It made a nice change to see someone just do what they were told when they were told, unlike some the other lads who question Mr X at every stage.


Uchikimatsu | 10th May 2018 19:45 (62 weeks ago)
Elijah Wood.
He reminds you of Elijah Wood. 🤣

JamieJones | 13th May 2018 20:35 (62 weeks ago)
He so doesn't! I don't care what you say, you'll never convince me that Simon looks like Elijah Wood :-P
Reply

Orla | 6th May 2018 21:41
Mr.X needs to display his instruments and framed pictures of some nice red spanked bottoms on his walls so no more cheeky lads can question his qualifications 😂😂🤣🤣.

Simon yet another new lad and yes I'd like to see him again he did alright but that little squel though made me laugh so hard.

I didn't think the spanking was particularly hard but Simon was really sore from it so would like to see how he'd react to the belt or spatula.
Reply

Nat74 | 4th May 2018 16:27
Not too keen on this new guy. His hair makes him look a bit scruffy or something.

Would like to see Kevin back again one day.
Reply

mstr_spkr | 4th May 2018 03:07
Welcome, Simon! Great job. Now that you know what you are in for, I hope you come back soon. Maybe bring some of your band members who need a good spanking, too. Perhaps your manager can take matters into his own hands, so to speak, in the future once he sees the progress this spanking did for you. Just a thought.
Reply