RELEASED: 13th September 2012
Karl is not having a good day. He was bunking class and was caught kissing a girl behind the bike sheds! The headmaster took a very dim view on this behaviour and Karl was summoned to the headmasters office where he received 12 from the cane!
This action in this scene starts later in the day when Karl gets home from school. Feeling very sorry for himself, he gets undressed and into bed
His bottom still has some really nasty stripes from when he got caned earlier and he spends some time trying to soothe and rub his sore cheeks better!
Karl switches the light off and is ready to get some sleep when his very angry father bursts into the bedroom! Dad has just taken a phone call from the headmaster and has heard all about Karl's shameful behaviour!
Dad insists on inspecting the damage inflicted on Karl's bottom from the headmasters cane! even though it is clear that Karl has already been severely punished, Dad is still not satisfied. As far as he is concerned it his job to punish his son! No matter how much Karl protests, he finds himself over his Dad's knees and getting his already painful bottom soundly spanked and slippered!
There is no hiding by Karl's facial reactions how much this is truly hurting!
Karl learns a very painful lesson indeed!
STREAM
VIDEO
Available streams for iPad, iPhone, Android, Chrome, Safari, IE or Firefox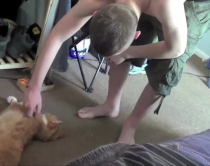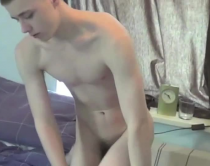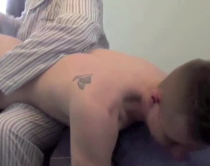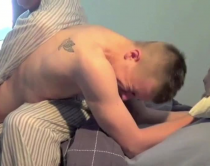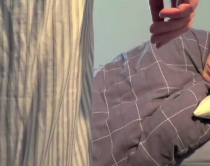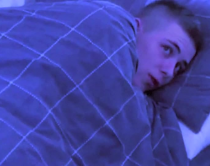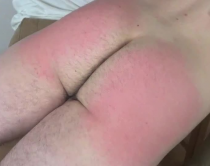 jacko | 29th January 2017 10:14
I continue my reviews of Karl's films in chronological order.

This movie appears to have been made shortly after "Prison Punishment - Karl - The Rod" because the welts and marks inflicted during that harsh caning are still evident on Karl's bare backside. I didn't think that Karl would be fit to return to filming for a month or more after that brutal punishment, but here he is back again as if nothing had happened. Cleverly, these marks have been utilised in the storyline to support the contention that he has been caned at school and as used to happen in the good old days his father is intent on giving him a clobbering as well.

I have commented previously that Karl's excellent depiction of a mischievous teenager obsessed with girls and lacking the maturity to act discretely can sometimes fall short of reality because of limited animation during the spanking scenes. In this film, Karl's animation is convincing and suggests either that he has received specific mentoring in this aspect of his acting or his backside is still quite tender following the caning. When "Dad" touches the welts while examining Karl's caning marks it is obvious that they are still painful. It was so encouraging to see Karl kicking, squirming, calling out in pain and not lying there stoically submitting to the punishment. I noticed that his characteristic smile was missing too. Poor Karl! Sorry to rejoice in your misery but I'd like to think that this marks a major step forward in your acting ability.


Uchikimatsu's excellent comments surpass anything I could have written. I agree with them entirely especially the comment about Karl's plea, "I'm too old for this."

Hunter's comment on the measured dialogue between Karl and his Dad highlights an important feature of this movie as a whole. It is believable! Karl's quietly spoken, respectful dialogue is indicative of a lad who is resigned to the fact that he is firmly in the grasp of a miserable day that is totally out of his control. His caning can't have left him feeling on top of the world. The interaction between Dad and son is emotionally stimulating. The ending is delightful; an appropriately positive conclusion to a great movie.

Thank you Karl, Dave and Art for your efforts.
Reply

uchikimatsu | 18th October 2015 18:06
Still my favorite.

There's a magic in this one that I just cannot define....
Reply

Hunter | 17th April 2015 18:34
What great dialogue between a spanked son and very angry Dad& well done to Karl

Cherylkay | 17th April 2015 20:43 (335 weeks ago)
@Hunter, I also like this one because of the dialogue between Karl and Dave. Welcome to Straight Lads Spanked and I look forward to seeing more of your reviews :)
Reply

uchikimatsu
|
Voted Video 8/10
| 30th April 2014 03:34 (386 weeks ago)
What a gem! I am surprised there haven't been comments here before. I decided to remark on each movie I rated and am starting with this one, so here goes (apologies if it gets long)

I love the lengthy dialog in the beginning. It's a beautiful, easy, frank conversation between a stern, but not too angry Dad, and a son who is not afraid to own his mistakes and speak honestly about them. I really enjoyed the departure from all the attitude and power-play we often see in the WTYFGH vids. Karl's apparent age is much younger than his actual age, so it's easy to imagine that he hasn't quite reached that stage yet and still looks up to his old Dad. I also liked Dad in PJ's, a softer image to differentiate from Dad in a business suit, of the WTYFGH vids. The dialog was quite natural and Karl kept eye contact even when discussing his punishment at school, suggesting a candor and trust towards his Dad that was really refreshing to watch.

Details I loved: Karl's lack of hesitation or embarrassment when displaying his cane marks: Dad's long sigh when seeing the cane marks: Karl's refusal to pass up the slipper as he buries his head in his pillow and says "I don't want it!" (so adorable I can't stand it!): the entire epilogue (tucking in, Dad asking if Karl was ok, Karl's final remorse, etc.)

Details I loved not so much: Karl saying "I'm too old for this." Given the tone of the scene I would have liked to not have heard this here. Had that line been left out, it would not have been difficult to imagine that spankings were a regular and accepted consequence for misbehavior at home. Karl had been so candid and submissive that the line just seemed at odds in the scene, but that's the only thing!

Wow wow love this movie so much, Karl is amazing such a great little actor and I love Dad the interaction between the two of them is great, love Karl's big puppy dog eyes and cute little butt my favourite part was when spanking over and Dad tucked him in so sweet just wanted to give him a big cuddle xx

Domfan
|
Not voted video yet
| 7th September 2014 16:59 (367 weeks ago)
Almost best movie of all. But just missed one thing....a side view of Karl's dick rubbing on Dad's pyjama-clad laps in fact Karl was wriggling up so high that his dick must have been rubbing up even higher than that ).
Karl has the Best Arse Ever, no contest.

Cherylkay
|
Voted Video 10/10
| 30th September 2014 05:20 (364 weeks ago)
I admit I wasn't much of a fan of Karl until he looked up with those big, sad eyes and said "I'm really sorry." Awwww, I melted. I just love these domestic scenes. For those of us who grew up in an era when corporal punishment was the norm, getting spanked in our bedrooms (sometimes in pajamas) was something we can relate to. Also, getting in trouble at home for getting paddled at school was the rule in our house when I was a kid. Even though Dad was tough on Karl (that slipper over those cane marks must have really hurt) he still tucked him in and asked him if he was alright. It was the perfect ending to this sweet little film.