RELEASED: 27th September 2012
18 year old Lee has been sent to see the local spanker Mr X by his distraught Mother. Young Lee has developed a nasty smoking habit and his Mum is desperate for him to stop. It's a tough time right now as Lee's Grandmother is seriously ill with a smoking related disease and his Mother does not want the same thing happening to her son.
So Lee turns up to see Mr X. You can tell he is already upset by the time he arrives. He does not know exactly what is going to happen but he realises it is not going to be pleasant
Mr X has a very effective method to deter young lads from the evil weed!
It starts off with a sound over the knee spanking. Young Lee has never had his bottom spanked before and you can tell it hurts from the first slap!
By the time Lee has had his trousers and underwear removed he is really struggling to deal with the relentless spanks..
Mr X though has not even started with his smoking deterrent yet.
He takes Lee's packet of cigarettes and makes the lad hold them deep in his mouth. Then the spanking continues. Mr X forces them into the distraught young mans mouth and makes him chew on them as his red bottom is still getting spanked.
Lee can hardly bear it and is at the point of breaking down. The tears are brimming and the he is feeling sick with the cigarettes.
You can tell by his sorrowful face at the end of the punishment that Lee will NOT be smoking ever again!
..... more from Mr X! "I'm so excited to introduce you to Lee. A young lad with cute looks and a round, pert bottom! This was his first time ever getting spanked and for a young straight lad it was quite an experience. He properly struggled to take the spanking but rather moan and complain he just did his best to endure! So what you are seeing here is some proper genuine reactions from a very real spanking. We only stopped filming for a few moments to reposition camera's so it was shot nearly in one take. I'm not sure I can make it any more real than this! Enjoy! :)
STREAM
VIDEO
Available streams for iPad, iPhone, Android, Chrome, Safari, IE or Firefox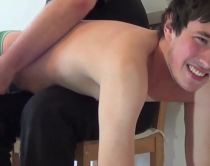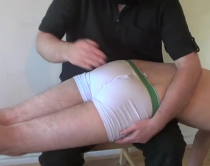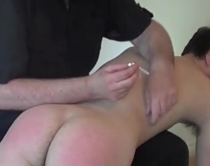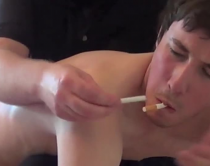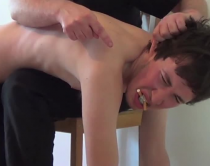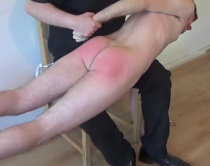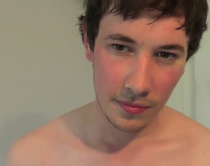 taltos28
|
Voted Video 10/10
| 10th January 11:06
This spanking was so realistic of a schoolboy/student being disciplined. Lee really fitted the role. I liked the clothing - school trousers change from jeans. Loved the lecturing and his reaction to it. He obviously felt the spanking, judging by his reactions. Love seeing tearful eyes and a humbled lad who knows he's been punished. More similar please.

wow amazing Mr X , wish that were me over your knee !!

Mr X
|
Not voted video yet
| 28th February 04:24
Are you sure? You might cry! :)

Nahh , nothing can make ne cry ,


what ever you dish out ----- i can take it !!


Mr X
|
Not voted video yet
| 28th February 08:12
even having the fags shoved into your gob?

yes MR X. , i can take that and whatever you dish out 11



cami
|
Voted Video 10/10
| 13th March 01:00
Shoot you should do that to me so i can stop smoking.. LOL.. Been trying for years

cami
|
Voted Video 10/10
| 13th March 01:34
awesome movie saw what you did to lee. He did a good job in this movie. :)

Mr X
|
Not voted video yet
| 13th March 02:48
Yeah, this was Lee's first ever shoot! Poor Lad!

Mr X
|
Not voted video yet
| 13th March 02:48
If you really wanna stop Cami I recommend this http://www.amazon.com/Easy-Women-Stop-Smoking-Revolutionary/dp/1402765509/ref=sr_1_2?ie=UTF8&qid=1363168172&sr=8-2&keywords=alan+carr+easy+way+to+quit+smoking

cami
|
Voted Video 10/10
| 14th March 17:27
Thank You so much Mr.X im going to check it out. cuz i really do want to stop smoking...... :). Been smoking for over 20 years. Really need to stop.

Mr X
|
Not voted video yet
| 15th March 02:53
I never tried the 'Womens' version of course, not sure what the difference in the bools are. However, before I read it was smoking 40 a day! My last cig was on the 7th May 1999!

cami
|
Voted Video 10/10
| 15th March 13:32
WOW!!!!!! CONGRATULATIONS.... I so need to stop i really do been smoking for over 20 years. I know its all in my head saying to myself i need a cig. But im going to do it cuz i want to do it.
Thanks again Mr.X.. You are so awesome for getting that for me.. :)


wulfram
|
Voted Video 9/10
| 23rd June 22:32
Lee is about the first one on this site that doesn't look as if he spends more time in the gym than anywhere else.
more 'normal' lads please.

Dave - Straight Lads Spanked
|
Not voted video yet
| 23rd June 23:35
Hi Wulfram, I'm really glad you like Lee. As for more 'normal' lads, well that is a difficult one as we all have different ideas as to what 'normal' is! However, since you mentioned the gym, I'm guessing you are looking for guys that don't have a loads of muscle?
If that is the case then I would you suggest you might like, Karl, Dominic, Oliver, Jack, Billy, Harley, James, Jonathan, Lewis, Patrick and Tony.

Cheers!



Ooleary
|
Voted Video 9/10
| 5th September 15:28
OMG what a cutie great story Lee looked so scared and loved his big sad eyes and his reactions right from the first spank he was feeling it