RELEASED: 18th September 2014
Spanking Competition
Part Two
Fred & Wayne
This continues from Part One where Wayne was the winner.
Part Two brings back Fred (Oliver's real life brother) to challenge Wayne.
So how does the Spanking Competition work?
Easy!
Each lad has 30 seconds to spank their friend as hard as they can.
10 Seconds to swap positions
Then the other lad has 30 seconds to get his revenge.
This continues until one lad gives up!
Why would the lads do this? Well simply to earn some cash. The winner walks away with double the money.
The winner also gets to play in the next round with another lad and will continue until he is beaten!
There is also a humiliating twist for the loser at the end!
""More from producer Dave! First of all don't panic! This series is not going to be the new direction of Straight Lads Spanked. There will still be a good mix of Mr X, Dad, Uncle Andrew and whatever else I think up! However, I for one love seeing the lads in these natural settings where you get to see their true characters come true and lets face it, what can be hotter than seeing two, straight best friends spanking each other bare ass.

STREAM
VIDEO
Available streams for iPad, iPhone, Android, Chrome, Safari, IE or Firefox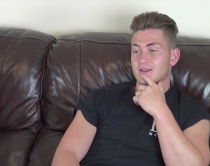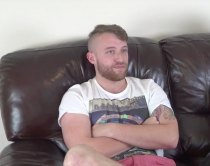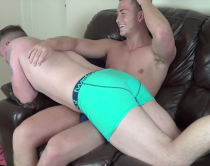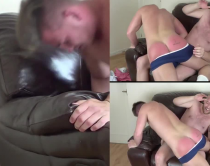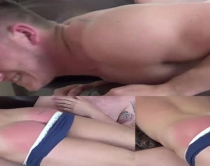 millie
|
Voted Video 10/10
| 18th September 10:16
cant wait to see this movie, thursday is my weekend now thanks Dave

Rasputin
|
Voted Video 9/10
| 18th September 16:57
I enjoyed this video about as well as I did the first one starring Wayne & Adam. Kudos to all concerned - Wayne, Fred, Dave & Art.

Allow me to make three minor suggestions for this series:

1) at the end of each 30-second round both lads pull their briefs back up, they switch positions, and the spanker pulls the spankee's briefs down at the beginning of the next 30-second round, and so forth;
2) the guys should wear briefs that are tighter-fitting and have less coverage (i.e., skimpy, low-rise, etc.) than the ones worn by Wayne; and
3) the lads spanked each other a little bit harder.

Aimee
|
Voted Video 6/10
| 18th September 17:17
Well done Fred & Wayne. I do hope Wayne's girlfriend isn't too mad at him. Don't like to think of the lovely models getting in hot water over entertaining us.

Well done Fred for winning.

So much as I enjoyed watching I had to give this one a 6 purely based on the fact that it isn't my sort of spanking movie. I completely get that there are plenty out there that enjoy watching this sort of movie though and hope they very much enjoy watching. All the same, fun to watch and well done to both lads and our lovely referee Dave.

Ooleary
|
Voted Video 8/10
| 18th September 17:49
Great to see Fred back .Well done lads. I absolutely love all the BBB, WTYFCH, Mr.X etc but I also love these fun movies jenga, twister, spanking comp.

tinhead
|
Voted Video 9/10
| 18th September 23:12
Whether with a storyline or 'natural' like this, I too love to see the lads spanking each other like this Dave. Good to see Fred back with a lad draped over his knee - good work ;o)

millie
|
Voted Video 10/10
| 19th September 00:32
i loved this movie a lighter fun movie for us yet probably harder for the models that all want to win, so pleased to see Fred back,mmmm Fred and Harry part three i cant wait not sure who will be the victor, well done Wayne, you did look gutted though, enjoyed the movie and the boys did really well

Domfan
|
Not voted video yet
| 19th September 14:47
Hate to say but this one was a bit boring when compared to other recent top notch movies. Nothing memorable about it,sorry...

NovaDad
|
Voted Video 7/10
| 20th September 08:00
Definitely a change of pace for SLS. Obviously the shoot was fun/enjoyable for Fred and Wayne... as a viewer, maybe not so much. Probably one of those times when one had to be there.

Nevertheless, I appreciate the great work of you and your models (they give so much for their art -- lol). IMHO, this video is an example of the old expression: different strokes for differ folks.

Thanks, as always!


Lynne
|
Voted Video 8/10
| 22nd September 14:39
I was right in my prediction; Fred won. Wayne was struggling nearly from the start even though Fred didn't look like he as using full strength. Wayne may have been at a disadvantage as he had been doing a lot of filming; still a little sensitive maybe?

Despite these competitions not following the usual SLS theme, I like the more lighthearted and playful atmosphere on occasion. For one it shows the models in their non-acting personalities and as I believe has been mentioned previously, the models here are much different than what is seen on other sites; more personable or maybe just more approachable and open.

So now we know the next round is with Fred and Harry; interesting. I am going to predict it now and say Fred will prevail once again :).