RELEASED: 16th December 2016
Spanking Game - Round Three
Josh, Jenson & Chris
This movie follows on directly from the second installment of the spanking game which you can watch here.
So in this final round the 3 already hot and sweaty lads have to get spanked on their bare bottoms! What makes this even worse is that all of their bottoms are already very sore and tender!
Of course these lads also have to deal with having another macho, naked, slippery, sweaty dude draped over their knee! In this final round expect lots of nudity, screams, laughter and hunky hot guys in fantastic mm spanking action!
STREAM
VIDEO
Available streams for iPad, iPhone, Android, Chrome, Safari, IE or Firefox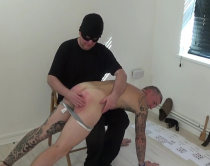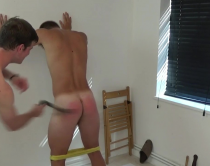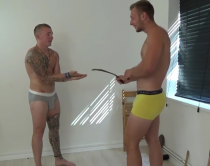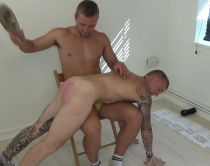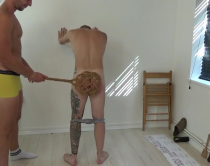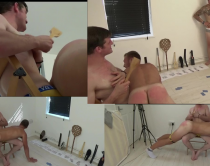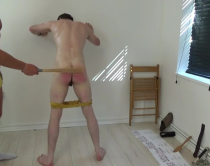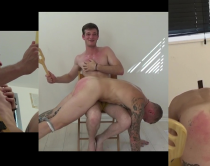 jacko | 16th January 2017 01:10
Entertaining. A very pleasant change to hear the models in a jovial mood as they were spanked. And they'd do it all again! Amazing!

I suggest that next time you have the back brush or cane on hand to counter the swearing.

I would prefer to see the tawse across the backside. On the hand reminds me too much of my school days.

I noticed in one of the Jenga movies that involved macho, naked, slippery, sweaty dudes draped over the knee that the boys themselves came up with the idea of placing a cushion between the spanker and the spankee. I thought that was tasteful and help them to be more accepting of the naked OTK stuff.

I agree with Dave that all punishments should be limited to six squats as it was obvious by the end that Josh at least was finding it hard going.

How about a joker or two in the pack which has the effect of reversing the direction with the swats being given by the holder of the joker or Dave?

I second flashgordon's comments. By all means let's have more of these with all participants about the same size and strength and of course able to cope with the pain while still smiling.
Reply

memyselfandi | 20th December 2016 01:46
Fantastic! Josh is my current favourite but the others were great too :)

Dave - Straight Lads Spanked | 1st January 2017 17:29 (68 weeks ago)
Really pleased you enjoyed it and thanks for the feedback!
Reply

pridds | 18th December 2016 05:25
Jenson saying...I'm a horny kid who just loves it :-)

Dave - Straight Lads Spanked | 1st January 2017 17:29 (68 weeks ago)
So Funny!
Reply

mattnyc | 17th December 2016 22:26
This series is great. I'm going to go out on a limb and say Josh may be the sexiest model on the site. He has SUCH a perfect, round, smooth, spankable butt. And beautiful, muscular legs. His body is fit but naturally muscular; not overly pumped up. And his face is adorable. All three guys are super cute. I love Jenson's smooth body, too. And they're all three charming and charismatic. I love when the guys spank each other OTK. My only minor criticism, which is more a request; in the older clips like this (Jenga and Twister) the OTK spankings went on longer than just 6 swats which I loved. These spankings are all super hot but a bit brief. Dave, please do more like this but consider doing the timed OTK hand spankings like in the Jenga and Twister series. That said, I loved these clips. Josh and Jenson look SO cute in those super tight briefs. Thanks Dave, Art, and all three models.

Dave - Straight Lads Spanked | 1st January 2017 17:28 (68 weeks ago)
Yeah! It's true! Josh is pretty special!

Yeah it's a shame the OTK stuff is not longer. It;s a tricky one as the truth is, by the time we get to round three their bottoms really are rather sore! Also, just getting them to do OTK stuff naked is also a challenge in itself.
Reply

flashgordon | 17th December 2016 19:26
What a great climax to this brilliant series! The whole thing has been simply the best entertainment ever. I love this fun approach to spanking, and the lads all entered into the spirit of the thing just the best you could possibly have wished. It's great! It's funny, it's sexy, it looked sore, but they all took it in their stride and laughed about it... I hope you have a chance to do more of these - it's really something special.

Dave - Straight Lads Spanked | 1st January 2017 17:27 (68 weeks ago)
So pleased you enjoyed this and I will definitely be making some more!
Reply

Ooleary | 17th December 2016 00:25
I've been checking on the hour every hour today waiting for this and now I've watched it 3 times already ,yes it is that good and will probably watch again later , the lads are so much fun and so are you too Dave.I'll comment more later but for now Dave you simply have to do another Spanking Game.xx

Dave - Straight Lads Spanked | 1st January 2017 17:26 (68 weeks ago)
Really glad you enjoyed this and I will deffo do another spanking game!
Reply

Ficwriterjet | 28th December 2016 06:54
I loved this one just as much as the previous two. So much fun to see the guys laughing at each other, and at themselves, as they try to take the pain. I liked the way they were joking and smiling the whole time. I think my favorite part was each time Dave said it wasn't hard enough, because no matter who was getting spanked at the time, they seemed to think it was plenty hard enough. LOL I do hope you do more of these, Dave. They're great.

Dave - Straight Lads Spanked | 1st January 2017 17:26 (68 weeks ago)
Thanks for the lovely feedback. They are just as much fun to film as they are to watch!
Reply