RELEASED: 28th October 2016
Spanking Game - Round Two
Josh, Jenson & Chris
This movie follows on directly from the first spanking game which you can watch here.
So in this next installment of the spanking game the three straight men, Josh, Chris and Jenson strip down to their underwear and continue to get spanked for cash!
It's a hot day and the three guys soon get all hot and sweaty as they spank each other with a variety of implements in different positions including over the knee spanking.
I really hope you enjoy watching this as much as I enjoyed directing it!
STREAM
VIDEO
Available streams for iPad, iPhone, Android, Chrome, Safari, IE or Firefox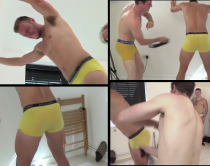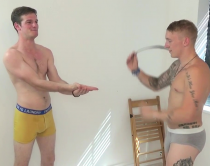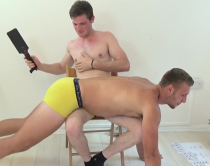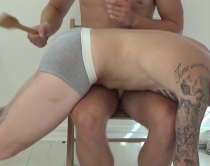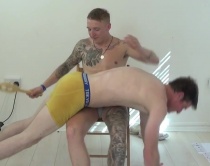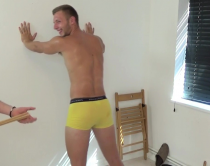 jacko | 2nd January 2017 04:04
A little light relief is a pleasant change from stressful beating. There was still pain and suffering but all in good fun so a very enjoyable movie. I suggest that you introduce a rule in such movies that the use of the "f" word will result in a swat with the bath brush. I notice that none of the models decided to pass a spanking on. They like their hard-earned too much and are reluctant to turn down a challenge, no matter how painful. How about introducing a wild card to this game (Eg, the joker) where the recipient of the fourth card nominates a spanking implement which is then used on the next person. More movies like this please! It is wonderful to hear the banter and laughter. It is essential that all participants be good mates. Perhaps prior to each round the models could have a shower or at least change their underwear. Sweaty underwear is not a good look.
Reply

Ficwriterjet | 27th November 2016 08:09
That was even more fun than the first round, since we got to see them shirtless for the whole thing. :) The entire film had me smiling, probably because the guys seemed to be having a laugh at, and with, each other as the game progressed.
Reply

memyselfandi | 31st October 2016 01:29
Love the fact that they are themselves and having a laugh in between.
Josh is my favourite, aside from the rest of his nice body he has such a nice smile.
Reply

SpankGuyUS | 29th October 2016 17:10
This was so much fun and really horny too! Dave and Art, not sure how you guys keep on doing it, but the movies get better and better.
Reply

Ooleary | 29th October 2016 01:14
This was so much fun , going to watch over and over again , the 3 lads work so well together, i just can't get enough and loved Dave stepping in if the spanks weren't hard enough ,boys took their spanks really well and lots of beautiful red bottoms on display in the end ,roll on part 3...please say you've filmed another spanking game like this ☺☺
Reply