RELEASED: 20th January 2017
Spanking Game - Round One
Karl, Fraser & Jay
I am delighted to welcome back three favourites from Straight Lads Spanked with this new instalment of the Spanking Game. We have Karl, Fraser and Jay.all participating in a game of cards where the loser gets spanked by the other players.
Round One starts off with all the lads fully clothed. However they don't hold back with the swats and you can see how hard they are all hitting! Lots of handsome, straight guys, lots of spanking and lots of fun! I hope you all enjoy!
STREAM
VIDEO
Available streams for iPad, iPhone, Android, Chrome, Safari, IE or Firefox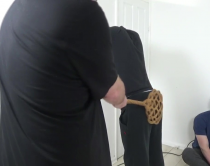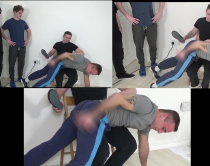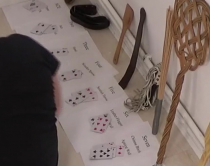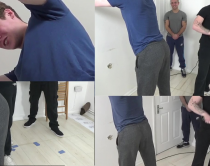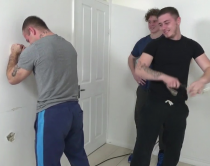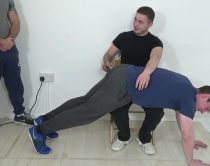 newspank | 8th March 2017 18:50
I'm going to put my twopenneth in on the swearing - I like it in the spanking games, it's just so natural and good banter between the models. It feels weird if they just say "oh golly gosh" and "heck and thump" rather than good, old fashioned swearing - it all adds to the fun and genuine situation they're in. Holding back on it makes no sense in this context. In "formal" spankings fine but with the lads larking about surely letting them act as they really are makes the whole thing better? It's exactly what they would say faced with the carpet beater. Let them be themselves, that what makes these game scenarios so much fun and so realistic. Imagine curbing the swearing in a Die Hard movie...unthinkable. It's part of the action and I love it.
Reply

Ficwriterjet | 4th February 2017 02:33
Hooray for another card game spanking game. :) I loved it. Very fun to see Jay, Karl, and Fraser together. Just like in the previous game movie, it was fantastic to see the three guys having fun, smiling, and laughing while participating. I smiled at Jay's comment about Mr. X getting spanked - clearly he doesn't know your stance on this subject. I thought it was nice to see you sitting in with the group, Dave.

Karl seems to stand out in this first part. Not only is he on the receiving end more often than the others, but he's pretty great at delivering a spanking, too. No hesitation in his swing. :)

I always find it amusing that while Jay is able to dish out a solid spanking, he isn't great at taking one - at least not stoically. But it's fun to watch him struggle with staying in place.

I'm looking forward to the next part. Thanks for doing another one of these movies.
Reply

jacko | 21st January 2017 09:55
Wonderful to see my two favourites, Karl and Fraser on my screen once again. I dreaded that they had been lost forever. Also fantastic to watch all three lads having fun of sorts. I much prefer movies like this to real punishment.

It is such a pity that because of the poor acoustics in a room without carpet or furnishings I failed to pick up much of the dialogue which I'm sure was worth hearing. However, as this film was predominately visual I knew exactly what was going on. The facial expressions, particularly when watching a spanking were very amusing.

So glad that you gave the warning about swearing, Dave. I suggest that you have the bath brush or small carpet beater on hand as a deterrent. The use of the "f" word turns me right off. While I can appreciate that the lads might not be swearing deliberately, it's time to keep them in line, Dave, with a little serious CP. It is important to make sure that "18-year-old" Karl (tongue in cheek) has excellent role models when he is playing with the older boys.

While Karl was certainly on the receiving end (no pun intended) of the majority of the forfeits, he didn't hold back when it was his turn to deliver. His involvement was a highlight and to his credit he was still laughing at the completion of round one.
Thank you Dave and lads for giving me such enjoyment. It has really brightened up my day.


Reply

Ooleary | 21st January 2017 03:01
Really enjoyed this,it was almost as good as the first spanking game ....poor Karl really got bad cards lol and Jay was brutal with that butt blisterer but he can't handle getting spanked himself. ..i love my Fraser xx
Looking forward to round 2,just hope Jay man's up and takes his swats better and feels everyone, the swats he got in this one were too fast coming.Dave you were brilliant in this movie yet again xx
Reply