RELEASED: 4th November 2016
Taylor - Caned
Traditional Punishment
The one thing you don't do is take trophies from the club that don't belong to you. Every player knows this!
Taylor knows this!
Taylor broke the rules.
When you break traditional rules you face traditional punishment!
In this case it is an old fashioned over the knee spanking followed by a harsh caning!
18 STROKES OF THE CANE!
6 over his shorts
6 over his underwear
and the final 6 administered to Taylor's bare bottom!
You can see the stripes appearing as the cane leaves it mark!
STREAM
VIDEO
Available streams for iPad, iPhone, Android, Chrome, Safari, IE or Firefox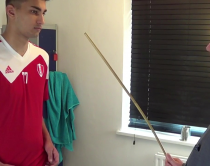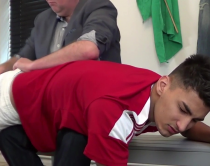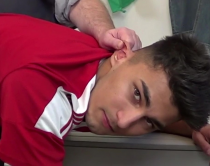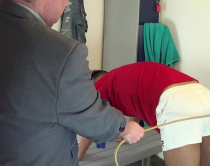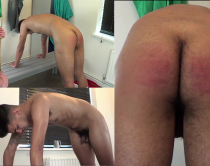 jacko | 12th January 2017 05:55
Two for the price of one! A hard spanking followed an even more painful caning. I hope that Taylor received double compensation for this effort. Even Fraser wouldn't have coped with this punishment!

I would comment about Taylor's brilliant acting but as revealed in his follow-up video he didn't have much choice other than to react to the obvious pain of this gruelling episode. It's not surprising that doesn't want to experience the cane ever again. With this movie, Taylor's acting was focussed on holding it all together so that he could last the distance although some of his facial expressions and reactions were unique and a highlight of the movie.

I, too, would prefer to see the mask restricted to Mr. X. His anonymity is vital in the job that he does so that those hefty rogues don't hunt him down and exercise revenge. But Dave is such a lovable, kind, compassionate gentleman. I'm sure that none of his spankings would offend. As for father, creepy or otherwise, I guess we have no choice but to accept the parents that bring us into the world and show due respect no matter how strict they are.

Thanks Taylor for your bravery and another outstandingly convincing performance. Dave, please take it a little easier on this lad. In retrospect I'm sure he would have preferred sitting in a jail cell. It would have been more comfortable.
Reply

Ooleary | 6th November 2016 14:04
Well done Taylor..watching it again and again this morning ...love this guy so much ...he is shy and not much of a talker but he has such emotional eyes and facial expressions.He took the cane well and those last 6 on tje bare bum they really left their mark,i feel terrible for saying this but I loved the wincing when you were touching the welts from the cane (sorry Tay).Also loved all the rubbing of his sore bottom after each stage .

Great to see you Dave without the usual masks and headless shots xx

I.think I might have asked you this before but any little interviews with Taylor??

I was also wondering if there is a part 2 when he gets home (wishful thinking xx)but if his Dad approved this punishment i guess that's the end of it.



Dave - Straight Lads Spanked | 8th November 2016 23:28 (76 weeks ago)
Hey Orla, just released an interview with Taylor now. I hope you enjoy it! :)
Reply

Jules00111 | 4th November 2016 15:27
Won't let me watch video on stream . Starts ok then just stops any ideas

wardcoleman | 4th November 2016 23:02 (77 weeks ago)
It worked fine for me, I was able to stream it and also download it without any problem

Ooleary | 5th November 2016 01:47 (77 weeks ago)
Same here xx No problem streaming video.
Reply