RELEASED: 8th September 2017
Todd
Bubble Bath Blues
This movies continues on from Todd Caught Cheating.
Todd's brother finds out that Todd has been screwing his now ex girlfriend and the boys have a fight where the poor younger brother ends up with a black eye, and a bruised ego and no GF. Dad comes home to the sight of his young son distressed & crying with a black eye and is not happy and shows it by bringing out the spatula to spank Todd with. If that's not embarrassing enough Todd's brother can hear it all in the next room. Every slap, every groan.
Fresh from a bath and in nice tight undies,Todd is lying on his bed when Dad barges in shouting, waving the spatula around. Dad starts the spanking hard and shifts between his hand and using the spatula ...all the while lecturing and telling Todd his brother can hear everything and when his spanking is done he has to show his brother his red bottom...how embarrassing...We now see him getting spanked on his bare bottom which is now bright red and very sore looking but Dad just 'keeps calm and carries spanking, covering every inch of that beautiful bottom .
Finally Todd has to count out his last 20 spanks and is given 10 mins to think about his actions and then he must go see his brother and show him his thoroughly spanked bottom. Unfortunately we don't get to see Todd showing his brother his sore bottom but we can imagine his embarrassment.
STREAM
VIDEO
Available streams for iPad, iPhone, Android, Chrome, Safari, IE or Firefox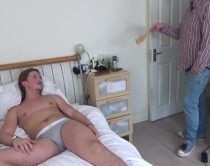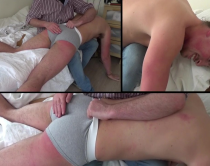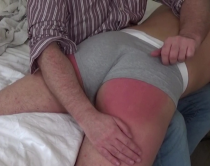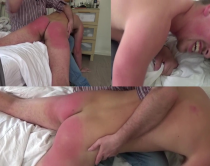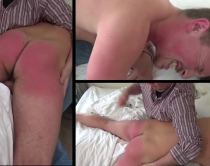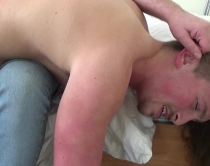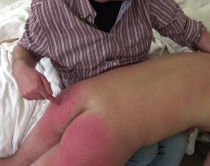 LucienG | 29th September 2017 10:22
Todd was great in this scene! That was an extremely well delivered spanking! What an intense shade of red! How is he able to take it? I couldn't care less about Todd's hair when he has such a lovely bum! I believe he's actually quite sexy! The shot of him after it was over, naked across the bed was classically beautiful! Thanks to Art for the excellent editing.
Reply

Rasputin | 11th September 2017 00:14
I liked Todd's performance, and I liked the way he was spanked OTK in those grey briefs and on his bare butt. If Todd's appearance weren't so unkempt -i.e., long, hair, beard and moustache - I would have given this video a 9 out of 10. Because of his appearance, however, I only gave it a 7 out of 10. Sorry about that.
Reply

Dave - Straight Lads Spanked | 8th September 2017 17:17
So who wants to have a go at writing the description for this movie?

Kass44 | 9th September 2017 18:00 (71 weeks ago)
Wonderful film! What I love about your actor Todd is how he refuses to admit his bad behavior. I also loved the idea of the little brother in the other room hearing his punishment. Just wish he had to go into the other room and show his behind to another one of your actors, like John for example, playing his brother - laughing at him as Todd showed off his red behind. Also love the father saying we'll be having dinner later as a family - classic!
Reply