RELEASED: 26th September 2013
Wayne - Bubble Bath Blues
Wayne is one very lazy teenage lad! He only seems to care about himself and is not helping his Dad with the household chores.
Well Dad has had enough!
Wayne come home and disregards the dirty plates in the sink and instead strips off and enjoys a long soak in the bath....
Dad comes home to find the house in a mess and his lazy son fast asleep!
Enough is enough! Dad drags Wayne out of bed and straight across his knee! Wayne can't believe he is getting spanked at his age!
His Dad is mad and gives the lads bottom a good hiding. Wayne thinks it is all over when suddenly is told to get Dad's slipper! He really knows how mad Dad is when he gets the slipper, full force spanked hard on his beefy, bare bottom!
Wayne ends up with a sore bottom and promising to sort himself out!
STREAM
VIDEO
Available streams for iPad, iPhone, Android, Chrome, Safari, IE or Firefox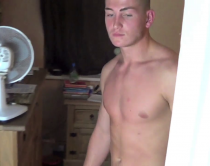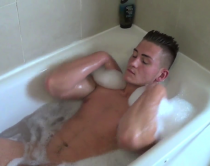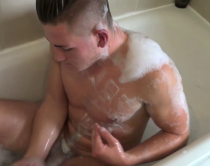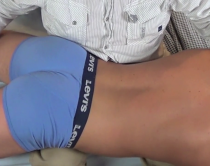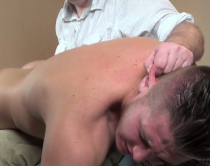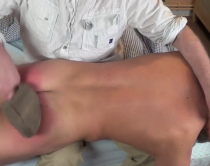 welshboy
|
Voted Video 10/10
| 26th September 10:43
WoW WoW WoW the last time I said that it was for Jay's first video. If this was Wayne's first video he did so well. I loved the bath scene in this video. What a body Wayne has, the slowing down of the image in the bath was just great, Well done to Art for this and again the three angle scenes in this video. Wayne you will become a star here, I loved the attitude you gave to your father, Top ear pulling again Mr X and I loved the use of the slipper, Wayne's bottom was truly red and I think he was very very sorry. Again I love the underwear used, and the close up's on Wayne's face as he was spanked was again top draw. Dave you are coming up with hit after hit, keep them coming.

Dave - Straight Lads Spanked
|
Not voted video yet
| 26th September 11:07
Hey Welshboy!! Well I seem to get the impression you liked this one!! :) I agree with you, for a first movie Wayne was exceptional. He looks great and took a decent spanking! You only have to see his facial reactions to tell how very real it was for him. So no objections to more Wayne then?

cami
|
Voted Video 10/10
| 26th September 11:37
OMG, Wayne can talk all night if he want's to. I love his accent.
Now about the the movie Wayne did a great job on his 1st movie. he is sexy & has a nice butt for sure. & he did a great acting job in this movie too.
Art as always awesome job just amazing how you do your movies & graphics.
& Dave, you are just a awesome just coming up with these story's & bring them to life. I just can't say enough about this site. :)

cami
|
Voted Video 10/10
| 26th September 11:37
oops need to vote :P


Dave - Straight Lads Spanked
|
Not voted video yet
| 26th September 14:10
Cami, Wayne is going to be zoo pleased to hear this! He actually asked me if any girls would see it or if it was jus for guys. He was thrilled when he thought girls might enjoy seeing him on film.... Oh and thanks for the lovely comments. I really am trying my best and it is lovely to hear such nice feedback.... Dave

Rasputin
|
Voted Video 9/10
| 26th September 18:32
This is a great video. Wayne is a great model - good-looking, muscular, smooth physique, clean-cut (e.g., minimal tattoos), masculine, and a demonstrative acting style. I loved the blue briefs he was wearing, and his smooth, round, firm "bubble butt" underneath the briefs. The split-camera angles were a nice touch, as well - good work, Art! You did your usual good spanking work, Dave. Congratulations all around.

matt
|
Voted Video 9/10
| 26th September 22:35
Wayne is a new star! I love that SLUK has the big, beefy, manly guys and the super cute, young, masculine models like Dom, Adam, and now Wayne. This is a great video. Wayne has a great, naturally muscular, body and a beautiful, spankable bottom. He's totally believable as a naughty boy just too old to be spanked, which makes the fact that he gets spanked OTK like a little boy totally hot. Excellent, committed acting from Wayne. Great work, Mr. X, great job cutting the video, Art, and great debut, Wayne. Can't wait to see more of Wayne. Love to see him getting spanked alongside Dom. Maybe each over one of Andy's knees? That would be ridiculously hot. Congrats all around. Love this debut.

newspank
|
Voted Video 8/10
| 27th September 13:42
What a family of bad boys you seem to have Dave :-) Great new star in Wayne - love the tattoo on his arse. The slow-mo in the bath was excellent Art. But Dave, I still think your slipper is too soft, mine is much firmer!

Art
|
Not voted video yet
| 29th September 20:12
A lot of really nice things said here by all of you. I love that you notice the editing. I've said that a lot, but want you to know how much I appreciate it.

Domfan
|
Not voted video yet
| 20th July 15:44
Beautiful kaduna. And loe when he pulls his bum cheeks apart to give us a nice peek at his hole

Wow how did i miss this movie it wouldn't stream on my phone just watched it now on my laptop Great job Wayne beautiful bum too and a nice little actor just needs to look at you more when your scolding and was that my Dom i could hear in the background xx

Cherylkay
|
Voted Video 9/10
| 12th October 15:05
If this was Wayne's first film, it was a bang up job. Great acting by Wayne as the lazy teenager. He has so much going for him--a gorgeous physique, pretty blue eyes and a sweet face. I love watching athletic, muscular guys like this get spanked (although I think that slipper is far too thuddy to actually hurt!). There's just something delicious about seeing a guy that thinks he's a tough guy getting spanked like a spoiled little brat that just does it for me.

Very, very nice acting by Wayne and Dave both. I like Dad's "we're just a couple of bachelors" approach to housekeeping. Dad was angry but not over the top. I like that Wayne wasn't contrite right away, but gave Dad some attitude at first. It makes seeing him get dragged over Dad's knee much more enjoyable.

Great editing, too Art! I love the split screens because facial expressions are part of what I love, too. I'm so glad we get those.