RELEASED: 13th April 2018
Zach
Helping Hand From Dad
Another week, another new addition to the Straight Lads Spanked stable!
The latest release from your favourite purveyor of male spanking movies introduces Zach, a young man in big trouble.
Zach seeks out his dad to confess that he is in a mess and needs help. He has lost his job, he has lost his girlfriend, he is being leaned on by a shady character to repay a debt or risk getting beaten up, and on top of everything else, he has been feeding an illicit habit by pinching money from his dad's wallet.
"I feel like I'm losing control of my life," he tells his dad, before going on to reminisce about the simpler times when his dad would keep him in line by punishing him with a smacked bottom when he deserved it.
But that was when he was 14.... Surely it's not going to be the answer now that Zach is 22.... is it?
Fortunately for Zach, Dad is prepared to do whatever it takes to give his son a helping hand.... and Zach is about to be reminded that Dad still knows exactly where to apply it – across his wayward son's bottom!
Zach goes over Dad's knee and gets a good spanking on the seat of his jeans, just like when he was a teenager. Then the jeans come down and the spanking continues on the lad's pants.
Already fighting back tears, Zach is by now a very sore and sorry boy, but Dad warns him that his punishment won't be over until he has been spanked on his bare bottom. Either he will be taking his pants down, or Dad will!
That sore red bottom means that Zach may be regretting turning the clock back, especially as Dad reckons that if he doesn't shape up, next time he's going to get the paddle!
STREAM
VIDEO
Available streams for iPad, iPhone, Android, Chrome, Safari, IE or Firefox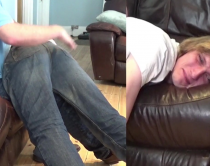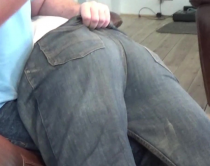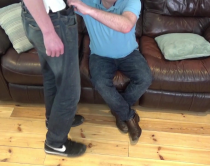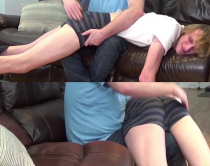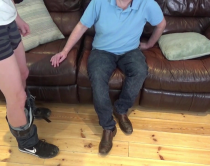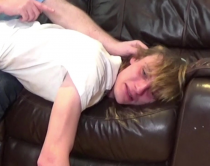 mstr_spkr | 17th April 2018 01:51
Welcome Zach! I have to agree with others. Either Zach was reliving something during the shoot or he's a great actor. I definitely shared his pain (in the heart, not the butt, of course.) He's a great addition to the cast. Dad may have a conundrum. Depending on how long and how much Zach was using, the chemicals may stay in his system much longer than the two weeks between tests. If he tests Zach and it shows positive, is it residue or is he still using? That would be an interesting situation to see resolved. Perhaps he's a good candidate for a Bubble Bath Blues episode if he confesses to a slip-up. In any event I definitely hope to see more of him. Thanks to all for a job well done.
Reply

Paddleboy | 16th April 2018 14:22
Another great addition Dave
Reply

JamieJones | 14th April 2018 15:26
Oh my goodness, that was tough. I had to pause this movie a couple of times when I first watched it as the emotions portrayed by Zach were so real it made it almost uncomfortable to watch. Either Zach was reliving a very real situation or he's worthy of an 'Oscar' for his acting abilities - I'd be interested to know which it is.

While 'Dad' has remained calm when dishing out punishments in other movies there was something else here, a sort of understated vibe that gave it a completely different feel and somehow elevated it to a whole new level of realism. I don't mean the spanking because Dave is always telling us that the spankings are real, it was more the relationship between a Father and his Son, that was just so believable it was amazing.

A huge 'Thank you' to Zach and Dave for creating such an incredible movie and to Art for the editing that just brought it all together so perfectly. I'm looking forward to seeing lots more from Zach and especially more with him and Dad.

Reply

Uchikimatsu | 14th April 2018 11:36
It is plainly evident, at least to me, that certain models are really uncomfortable in the "son" role, from their refusal to say the word "Dad" to the complete lack of eye contact with Dave while filming, the discomfort and reluctance can be plainly evident sometimes. I am super excited to note that Zach is not one of those models! In fact, Zach seems to have really embraced the role so convincingly that I agree with FraserFan and Orla, interviews are needed! It would be fun to see his real personality and learn a bit about his background. Is there something about Zach's history that makes him so perfect for this role, or is he just a natural born actor?

Even while over Dad's knee it seemed that Zach was truly reflecting on his behavior, rather than getting that blank, checked-out look newer models sometimes have when they're over Dave's knee, wondering just what in the hell they've gotten themselves into and focusing on the money they'll be paid just to get through the filming.

For me, Zach was very believable here. Everything was convincing; the well timed dialog, allowing Dad to pull down his trousers, the tears, and telling Dad he loved him. I am really looking forward to seeing more of Zach, not just in this role, but hopefully in an interview.

Thanks everyone for a great film!
Reply

FraserFan | 13th April 2018 21:20
Hi Dave

Another great video. I like Zach. My first thought was Zach looks very like youtuber Logan Paul. Though maybe Zach wouldn't want to hear that considering the amount of bad press Paul has received.

I think I saw real tears, and the hug at the end looked like a real comforting hug. Did you notice Zach was biting your leather couch at one point? I really do hope there is a before and after, interview with Zach similar to that with Jason (who I also hope to see again) I reckon more Zach.

FraserFan | 14th April 2018 00:18 (63 weeks ago)
PS Dave, I was saying Zach looks like Logan Paul - bad boy YouTuber, well Logan Paul would badly need one of Mr. X's spankings!!!

Uchikimatsu | 14th April 2018 11:12 (63 weeks ago)
Hey, FraserFan, I thought you would like Zach, he's got a good "crybaby" face! LOL
Reply

Orla | 13th April 2018 23:55
Another new model 😁😁.I know you make these stories up as you go along but was this actually based on a true life Zach story cos it felt so real and Zach is a good actor more Zach please plus I agree with FraserFan we need before and after interviews ASAP xx
Reply