RELEASED: 1st December 2017
Charlie
Wait Till Your Father Gets Home
This movie follows on from Bully Gets Spanked - Part Two
The last time we saw Charlie, he had young hooligan Ashley over his knee and was giving him a damn good hiding for bullying his brother, and not for the first time. He should have known that that wouldn't be the last he'd hear of it!
The latest male spanking movie from Straight Lads Spanked finds Charlie lying on his bed in his pants, when he is startled by his dad bursting in and shouting the odds. And Dad leaves him in absolutely no doubt that he is in for trouble with a capital T when he gets home later.
We learn that Dad has spent the day getting grief from Ashley's Step Father, as a result of Charlie taking the law into his own hands to punish Ashley. Dad is furious. And as Charlie knows only too well, you don't want to get Dad angry. You won't like him when he's angry....
The only way to keep Ashley's old man from involving the police is for Dad to deal with Charlie in the same way that the hot-headed lad dealt with Ashley. And that means taking his belt to him, and then sending Ashley's father a photograph of his welted bottom to prove that he has been suitably punished!
Dad is determined to teach his son to watch his temper in future, and whips off his belt to give the lad the sound thrashing he deserves. With his bottom propped up high on a pillow, Charlie bucks and yells as the leather cracks down across his beefy backside, first on the seat of his tight underwear, and then, when he is ordered to pull down his pants, across his bare bottom.
It's not long before Charlie's muscular legs are kicking and he is rubbing a very sore, red rear end and pleading with Dad to stop....pleading that members won't be surprised to learn falls on deaf ears.
As to whether this belting will teach Charlie not to be so hot-headed in future, well, let's just say maybe we shouldn't hold our breath!
STREAM
VIDEO
Available streams for iPad, iPhone, Android, Chrome, Safari, IE or Firefox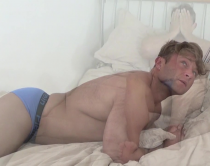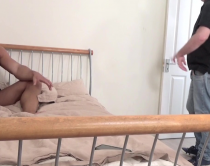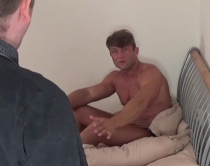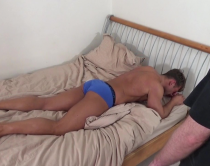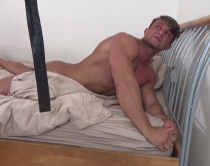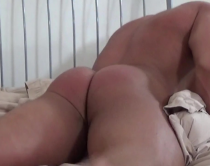 Edmund47 | 10th April 2018 18:36
Very handsome guy, great body
Reply

Rasputin | 2nd December 2017 21:35
I liked this video. Handsome Charlie's body is as smooth and muscular as ever, his buttocks are accentuated nicely by his tight, skimpy "pants", and he is a very good actor. I hope we see a lot more of Charlie on the receiving end of a spanking. Art did a good job of capturing Charlie's squirming and kicking and grimacing and groaning with his split-screen editing.

Allow me to make a small suggestion for these "WTYFGH" movies. Perhaps "Dad" could give his "son" a short, sharp OTK spanking on his briefs before stretching him out on the bed for a belting, and "Dad" should pull his son's pants down rather than have the son remove his underwear himself. It's more humiliating for a grown son to have his father pull his pants down as if he were a little kid.

I repeat, this is a good video.

mattnyc | 3rd December 2017 03:19 (72 weeks ago)
I second Rasputin's suggestion. I love Charlie and he's hotter than ever in this clip. But since I'm not particularly into beltings or the "laying on the bed" position, the clip isn't really for me. It's always great to see Charlie but if there's a brief OTK spanking before the belt in this series it would be great for the OTK fans of the site. A bit like the paddling series which always starts with an OTK spanking. I know there are belt fans who love these clips so that's a good reason to keep shooting them. Maybe there's a way to do both? If not, there's always plenty to love on the site.

Rasputin | 3rd December 2017 21:05 (72 weeks ago)
I agree with mattnyc. I'm not that fond of beltings, but I REALLY like OTK spankings, both with the bare hand and with a Heavy wooden bath brush. The longer the OTK spanking at the beginning of these WTYFGH videos, the better I will like them.
Reply

flashgordon | 3rd December 2017 15:38
That was a good belting!

Unlike some of the other contributors here, if the boy is getting the belt I actually prefer it when Dad goes straight in with the belt from the start, without any preliminary hand spanking. To me, it seems more realistic, somehow.

I wonder whether the filming of this episode took place on the same day as "Bully Gets Spanked Part 2". I'm picturing Ashley - the real one - sitting (as best he can, after that spanking he just got from Charlie) in the other room, and listening, through the wall, to the sounds of Charlie getting his comeuppance. I guess Ashley must have smiled a little, if he was there!
Reply

Uchikimatsu | 3rd December 2017 05:08
Oh, I do like this film quite a bit! I haven't been the biggest Charlie fan, but his acting skills really shine here I think.
First, I really believe in Charlie's discomfort at the beginning of the film. He is a giant beast that could likely squash Dave's head like a grape, but his body language conveys a nervous kid thats scared of his dad. Its positively endearing.

I loved the extended dialog between Charlie and Dad. This has come a long, long way from the earliest WTYFGH vids. The dialog was natural and believable. And again, Charlie's body language throughout was just icing on the cake.

One of my favorite things is when a model acts one way towards Mr. X or Coach (usually with the tough-guy attitude) and then is completely different around Dad (Declan is a really good example) and Charlie did a marvelous job of this, showing obvious love and lots of respect for his father.

The spanking was intense, without being brutal, and YASSSSSSSSSSSS!!!!!!!!!!!!! those kicking feet! They usually end up off camera but the film gods were with Dave that day and I got my wish.... Charlie kicking his feet as he's spanked also made him look really young, not physically, but that somehow the act of being spanked by Dad has brought back those memories of when he was younger! A regression of sorts!

I loved the begging, but it was *respectful* begging somehow. Even at the end when Charlie said "we're done!" he corrected himself by looking at Dad to ask if, indeed, they truly were done. Loved it.

Favorite line of the film:
"I heard you, I'm just not in a hurry." Laughed really hard! Comic relief is important in these films too!

I didn't think I'd like to see Charlie on the receiving end of a spanking because given his size, he's more suited as a spanker IMO, but this film really shines on many levels!
Reply