RELEASED: 7th September 2018
Jason & Marco
Office Discipline
Jason has a brand new job working in the bank. This is such a wonderful opportunity and even though he is only an office junior, Jason has high hopes and lots of ambition.
Travelling through London can be erratic at best and Jason messed up and was a few minutes late. This was noticed by his senior manager, Marco.
Marco is in charge that day and decides that Jason needs to have a better attitude. So in the privacy of the office, Marco decides that a spanked bottom might ensure Jason is not late again!
Jason can't belive it! This is not what he was expecting to happen in the workplace in 2018! It doesnt seem fair but Jason really feels he has no choice.
The 18 year old lad finds himself draped over Marco's knees. Marco is a big, muscular man and Jason is left in no doubt who is in charge has he feels Marco's hand spank his bottom.
It gets a lot worse for Jason when his trousers get pulled down and the spanking continues over his underwear.
It gets almost unbearable when he gets spanked on his bare bottom!
Sorry and sore Jason vows to be on time tomorrow!
STREAM
VIDEO
Available streams for iPad, iPhone, Android, Chrome, Safari, IE or Firefox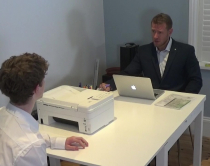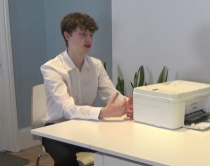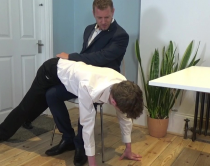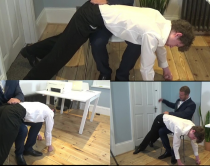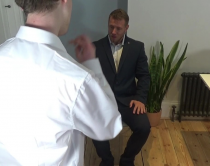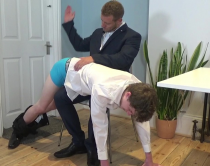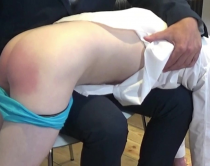 Uchikimatsu | 28th September 2018 00:08
This has instantly become one of my favorite clips, not just from this site, but ANYWHERE! Everything about this movie is fantastic, and I think Marco is hands-down THE BEST model spanker. Not just spanker, but *disciplinarian* which for me is an important distinction.

Marco is also a great actor, I mean really, really terrific. His timing, inflection, facial expressions, body language, all projected a strong message of authority and quiet strength. He wasn't menacing by any means, but still a little scary. I LOVED that his intentions seemed more noble that to just be a dick because he was given some authority while his boss was out. He genuinely seemed to think that some discipline was in order and that Jason, being as young as he is, would benefit from a good spanking. I was very appreciative of the lack of anger in his tone, words, and actions. I'm not a big fan of rage-spankings! LOL!

Jason is Jason, whats not to love? He is utterly spankable in every way! I completely lost count how many times he cycled through anger, indignation, and acceptance, and back again! Always such a delight to watch Jason get his bottom warmed. I love that in each and every single movie, after a spanking he falls into a reflective, almost pouty mood.

These two need their own series. Like, for realz. Please?

Uchikimatsu | 28th September 2018 00:25 (47 weeks ago)
Ah, and it looks like I am totally in the minority about what I'd like to see when the boss returns. I really, really don't want to see the hackneyed and cliche turn-about with the boss spanking Marco for being a bully. For one, I don't feel that he was bullying Jason at all. Marco, being a fine actor and seemingly understanding people, asked Jason what his parents would do when he acted up. Jason answered that he would get a spanking, and he readily put himself across Marco's knee without any objection at all. Marco was not disrespectful to Jason in any way, and, in fact, lectured him quietly but firmly about what he would need to change to become successful. In the real world, spanking your co-worker would be considered bullying, yes, but this is SLSville, where cheeky young men get their bottom smacked when needed and no one in the community bats an eyelash at it.

I would love to see instead the boss coming back and having a meeting with Jason and Marco, because Marco, being the responsible employee that he is, thought it best to inform the boss of what happened and not keep secrets. I think it would be interesting to see the boss, not angry at Marco, or Jason, but to kind of listen to Jason's protests, and then point out how much his work and attendance has improved with discipline and bring Jason around to the merits of his spanking. Then he could let Jason know that Marco with be supervising his discipline going forward.

Ok, ok, I know thats never going to happen. Give the (majority of the) people what they want, Dave....MARCO SPANKED BY THE BOSS.... lol!

Nevermore | 4th January 2019 20:03 (33 weeks ago)
I love your idea - would much rather see the boss spank Jason or make an arrangement like the one you describe in which Marco keeps an eye on Jason for the foreseeable future. :)
Reply

Ficwriterjet | 29th September 2018 18:54
I love Marco as the calm and calculating type of spanker, and I always love Jason as the spankee in anything, but I do wish Jason's infraction had been more serious. For me this movie would have been a clear favorite if Jason had really messed something up - like sending the wrong account info to someone and losing the company a customer because of it - rather than being a few minutes late and not knocking. Especially if Marco helped Jason fix his mistake either before or after the punishment.
Reply

LucienG | 20th September 2018 14:45
I enjoyed the video and I believe as the spanking went on, Marco improved as a spanker. I thought his first spanks were a not in good form but he seemed to find his rhythm and ultimately administered a good spanking. I loved the dialogue between the two actors and felt they both played their parts well. I do think the camera angle wasn't as varied as in the past. It didn't really cover directly over Jason--showing a view of his red butt from the top. Will Jason get to watch Marco's spanking--because we know he's going to get it? It's inevitable.
Reply

| 17th September 2018 11:22
I loved everything in this video Jason 10/10 Marco 10/10 the storyline and the dialogue esp. Marco but we all know when the boss comes back Marco will get what's coming to him for being a bully and hopefully young Jason will be allowed to watch.
Reply

Brumspanker | 14th September 2018 07:38
Really liked this one. Jason is a total cutie, and a bit of a fave on this site, and Marco has a really good line in cold and unamused glares!
Reply

TimeForASpanking | 13th September 2018 21:17
LOVE JASON VIDEOS! I am dying to see more Dad/Son of him getting spanked for real. I would love to see him spanked to tears with a bar of soap in his mouth. Maybe for acting up at church? Talking back one too many times? It was fun to see Marco as the spanker, though I would love for him to be stricter and more verbal during the spanking
Reply

Teacherman123 | 11th September 2018 02:39
Got back from holidays to see that this week's new movie featured Marco. Sadly he wasn't getting his own muscular bottom smacked on this occasion, but he certainly has no trouble dispensing a sore red rear end when he is the one administering the discipline....and he and Jason work very well together in this scenario.

Like other reviewers, I can't help but hope that the bank manager gets wind of what has been going on in his absence and decides to give Marco a taste of his own medicine, in front of Jason! It's about time that lad got his bare bottom warmed again!

Oh and by the way, Marco....I'm with mstr_spkr. Pants should be pulled down at least to the knees, if not the ankles!
Reply

Jasonfan | 9th September 2018 11:01
Thanks Dave. Glad to see jason again. He is so cute and I prefer to see more about jason. May be I am a little brutal. I want to see jason be spanked more harder. Especially be spanked by belt or cane.
Reply

flashgordon | 8th September 2018 16:42
This is great! Lovely to see Jason again, and Marco - and together! Marco is very good in this role - and it's nice to see another new spanker. Not that Dave doesn't do a good job, but everyone has a slightly different style, and the variety is refreshing.

But maybe I'm old-fashioned about these things, but why are they both not wearing ties? If office discipline is so important, where is office dress code? When The Boss gets back from wherever it is that he's been, he should have both the two of them into his office to explain why they're going around with open-necked shirts, and spank them until they promise to conform and wear ties. Another sore and humiliating experience for Jason, I'm afraid, but how much more embarrassing for Marco, with Jason standing watching him!

Curiously, Marco had always wondered why, in this computer age, The Boss always kept that old-fashioned wooden ruler on his desk...


Reply

mstr_spkr | 7th September 2018 23:08
Good job, Jason & Marco!

Marco gives a pretty good spanking and Jason, as usual, takes it very well. I'm glad Marco pulled his pants down more than other models have done in the past but he still did not pull them down enough to spank the upper thighs, the real place for getting the point across.

I wonder what will happen once Marco finds out that his spanking Jason was recorded on the internal security cameras. I don't know if Jason can spank Marco hard enough (would be a great video if he can) but he should definitely be an observer to Marco's punishment.
Reply

mattnyc | 7th September 2018 20:57
This is another dream pairing. What a great clip! Marco is one of my favorites. I loved seeing him OTK with that perfect body and butt but he also seemed like a natural spanker. And clearly he is. He's totally believable as an authority figure and he's really good with dialogue. Super handsome and intelligent. Jason is an amazing, natural actor and adorable. He's the perfect spankee in a older/younger scenario like this one. Dave, great job with the writing and directing on this clip. I gave it a 10 out of 10. I agree with Philimare; I don't think you've done this scenario before and it's done really well so it feels fresh and sexy. My one request, and bear in mind I stil loved it enough to give it 10 stars, is for less of the references to M/F and F/M spanking. I guess that's a turn on for some members so it's always going to be part of the site. But for those of us who are a bit turned off by it, I hope you'll consider continuing to also make scenes that have a more closed M/M world feel. I love the fantasy element of the m/m discipline being totally m/m. As I've mentioned in a past post, this has nothing to do with my feelings about the real world! It's just what turns me on in spanking erotica. Great job, Dave. I love how you keep surprising us with casting and new ideas and super hot models. This is a total winner. Great job, Art. Thanks and keep up the great work.
Reply

philimare | 7th September 2018 19:16
Very nice variation from the usual videos. Keep Marco as a spanker, he is very credible in this role. I am sure he can even progress further and, for ex, put some more variation in his spankings (faster by moments, harder by moments etc). His spanking seems hindered by the too long sleeve of his suit :-) it gives the impression that he is refraining himself by moments and/or using cupped hands (which is not nice). Josh wonderful as usual. Very encouraging evolution, hope to see more like this one.
Reply