RELEASED: 14th July 2016
Josh & Jenson
Lazy Lads
Part Two
This movie continues directly on from Part One.
Two straight lads getting spanked in front of each other. What can be worse than that? Well being instructed to pull down your pants in front of your mate and get your bare bottom spanked. That is worse! This is what happens next for Jenson and Josh.
Told to strip naked, Jenson has to go over his Dad's knee and get spanked hard whilst his mate Josh has no choice but to watch. What makes it even worse for Josh is the dread of knowing that he is up next!
Dad is really angry and you dishes out a very hard spanking. You can see the battering Jenson's bottom takes as it changes from white to red to purple!
Both lads are then ordered to kneel on the bed, side by side with their bottoms in the air whist Dad continues to spank them with the wooden spatula!
OUCH!
STREAM
VIDEO
Available streams for iPad, iPhone, Android, Chrome, Safari, IE or Firefox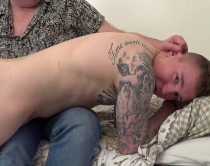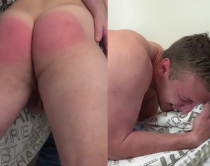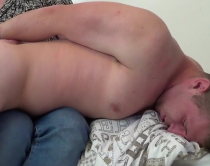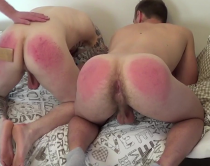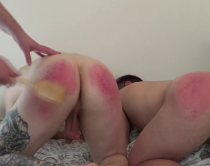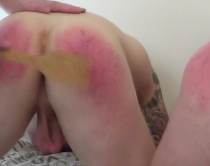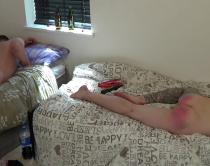 jacko | 14th February 2017 04:43
My review of this film as a whole can be found with Part One.

However, there are a couple of points that I would like to add which pertain especially to Part Two.

I must say that I do not appreciate spanking movies in which the lads kneel on the bed as was done in this film. It allows no opportunity to view reaction; in fact it is very difficult for the models to react in a way that can be observed, when in this position. I admire the curvature of a model's nude body but not when one part of that body is accentuated as in this case. I consider that OTYK, bending over a chair or in particular stretched out on the couch are far sexier poses than this. This view was like selecting meat cuts in the butcher's window.

I was particularly appreciative of the various angles from which the spanking was shot in this film. It helped to make the spanking more stimulating as it emphasised the body curves. This impression can be lost if the spanking is always filmed from behind or the side.

I would think that a spanker would be more satisfied with his work if the spankee provided evidence in addition to the backside's colour to substantiate the effectiveness of the spanking. If that is true, then the Dad would have been very pleased with his efforts by the end of this movie. Jenson, the son, with less protection and naturally, a harsher punishment, looked totally miserable by the end of it all. He constantly rubbed his bum which I found be indicative of a very sore backside rather than a low pain tolerance. Very well done, lads. I hope to see you together for many more movies.

Congratulations on a superb movie.


tufnell1 | 10th March 2017 18:31 (62 weeks ago)
I've tried several times to submit comments but they do not appear. This is brilliant film. I love the final position over the bed and Josh's uninhibited stance. The very best. Such a turn on.
Reply

Giuseppe | 8th August 2016 10:53
less talk more spanking. Thanks. Dave Jensen and Josh are too muche lazy lades and neeed more hand-spanking!!
Reply

LucienG | 24th July 2016 22:54
Excellent video! Josh's butt and thighs are awesome! So meaty and spankable! I loved when he and Jensen kneeled on the bed and Josh pushed his butt just a bit further. Beautiful!

LucienG | 24th July 2016 22:56 (95 weeks ago)
Also... one negative: Josh's spanking wasn't nearly long enough. 😉
Reply

Slipper Boy | 23rd July 2016 21:24
Just got back from holiday and just watch part 2 what a brilliant movie i like how the two naughty boys reacted to their spankings it was a fantastic movie I think the yet well done to Dave Josh and Jensen they are a credit to your website Dave
Reply

Kevinfan | 20th July 2016 21:05
Wow, very cute and sexy. Ticked all the boxes. Swinging nuts between legs, great side view angles. And to top it all a gobsmacking shot of Josh's asshole. What a sexy and naughty lad he is. 10/10
Reply

NovaDad | 16th July 2016 18:17
Yes, WOW... for sure!! Josh definitely knows exactly how to present himself. =;-)) I think there's no doubt that between Dave's firm hand and the wood, both lads knew they had received a good spanking by the end. Moreover, for lads that age, there is usually a bit of embarrassment associated with being spanked bare-bottom OTK in front of another lad and then having to get on hands-and-knees for some more while showing the world everything you've got. (#!#)
This is a great spanking video, I have no idea why it has a rating of only eight (8) stars so far (from seven raters).
Thanks, Dave, Art, and especially Jensen and Josh! I hope we will see even more of Jensen and Josh!


Reply

pridds | 16th July 2016 00:38
Wow. Josh knows how to work that camera :-)

To mirror what MattNYC said. When Josh bends across the bed and presents his bum so beautifully.

That is the great thing about this site. After this performance from Josh I had to go back to remind myself of his previous one ;-)


Reply

welshboy | 15th July 2016 16:00
I loved this part 2 from Josh and Jenson, as said both boys work well together, the spanking in part 2 was top draw both boys bums coloured up nicely. I do hope we can build on this story and I can't wait to see how Josh's dad will come down hard on Josh for messing up this job interview. Well done to all.
Reply

Ooleary | 15th July 2016 00:49
Loved it xx Josh and Jen worked so well together and Dad did not hold back, 2 very bright red bottoms indeed, although Jenson did get much more but then again he is the son.

So sweet when Josh offered to take the rest of Jenson's spanking.Not sure if i liked them kneeling up on the bed for the 12 swats with the spatula would prefer over the chair or against the wall but i guess that's just me but overall another great movie☺☺
Reply

mattnyc | 15th July 2016 00:45
Fantastic new clip! I loved part 1 and part 2 is even better. These two boys are so hot. Josh has one of the best bodies on the site. I love his big, beefy thighs, and totally spankable butt. He looked amazing in his tight underwear and the bare bottom round was even more amazing. I also loved that when he gets on the bed at the end he puts himself in such a revealing position. Incredibly sexy. Great clip, Dave. Art, not sure what the continuity issues you had to address were but mission accomplished. Great work all around.
Reply